Over 50 Percent of School Districts Report 'Desperate' Bus Driver Shortages Amid Wage, Vaccine Crises
More than half of all school districts are struggling to hire enough bus drivers amid low wages and vaccines mandates.
A recent survey conducted by the National Association of Pupil Transportation found that 50 percent of districts in the U.S. categorized their bus driver shortage as "desperate" or "severe." These shortages came as schools began to welcome back students for in-person teaching, necessitating swift action.
Across the country, NewsNation Now reports, districts have taken steps to address one of the biggest deterrents for potential drivers low: low pay. So far, this has involved raising wages, offering complimentary training, and offering major sign-on and retention bonuses.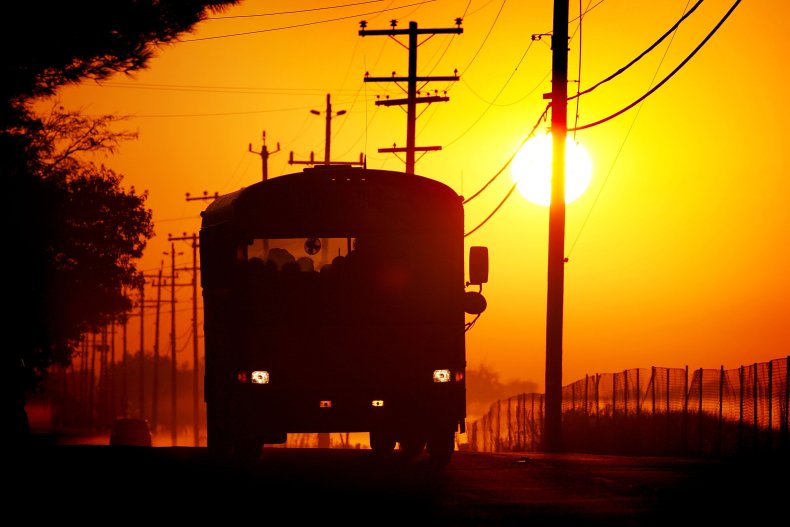 The national average pay for bus drivers is around $17 an hour. With the same commercial driver's license required to be a bus driver in the U.S., workers can instead pursue truck driving, which pays $24 an hour on average. One district in New Jersey, in an attempt to stay competitive, raised its bus driver pay to $23 an hour.
"We've had drivers leave our district to go to others that pay more; now we're hoping some will leave other districts to come to us," Kyle Newton, Chief Communications Officer for Anderson District 5 in South Carolina, said about the situation.
Another factor contributing to the bus driver shortage is vaccine mandates. With COVID-19 vaccination deadlines approaching for employers with over 100 workers, bus drivers, like workers in many other fields, have threatened to walk out rather than get the shots. In New York and Connecticut alone, NewsNation New noted, hundreds of drivers have already threatened to do so.
The threat of bus driver shortages has state governments taking big steps to avoid disaster. Earlier in the month, Massachusetts Gov. Charlie Baker deployed 250 members of the National Guard to drive school buses in the state.
"We've had conversations with colleagues in municipal governments about the issue with drivers, but nobody was really sure where it was going to land," Baker said. "Once it became clear that there were going to be communities that were shorthanded, wasn't going to be a vehicle issue, but an issue with [Commercial Driver's Licenses], we started talking to the Guard."
Around the same time in New York, Gov. Kathy Hochul introduced plans to speed up and simplified the licensing process for commercial drivers, hoping to lower the barrier to entry for hiring bus drivers.
These driver shortages have led some schools into the realm of the absurd. One high school in Boston, out of options to fill the demand for drivers, opted to bring in a party bus, complete with stripper poles and LED lighting, to transport students on a field trip.
"Yes, this is a true story," English teacher Jim Mayers said in a now-deleted tweet. "However, the entire day was in fact a phenomenal experience for all the kids, they didn't really care about the bus, and a lot of great planning by a lot of great people made for a fantastic day."