Over 500 Protesters Dead, 2,600 Detained in Myanmar Since February 1 Coup
Protests against the military seizure of Myanmar have persisted, with at least 521 protesters killed and 2,608 people detained since the coup last month.
Amid the ongoing protests, attacks on government forces have also escalated. Members of the Kachin ethnic minority attacked a police outpost on Wednesday, and leaders of the protest movement have sought alliances with ethnic minorities' armed forces to increase pressure on the military, the Associated Press reported. The minority groups have denounced the coup and promised to defend protesters in their respective territories.
"If all the ethnic armed groups unite, they can win," Isaac, a former solider said to Reuters. Armed minority groups, including the Kachin Independence Army, Karen National Union and the Rakhhines' Arakahan Army are fighting in solidarity for peace in the Myanmar's historically fractured border lands.
"I think this time around there will be more death," Ku Nong, a village chief, said to Reuters. "But we will definitely get democracy."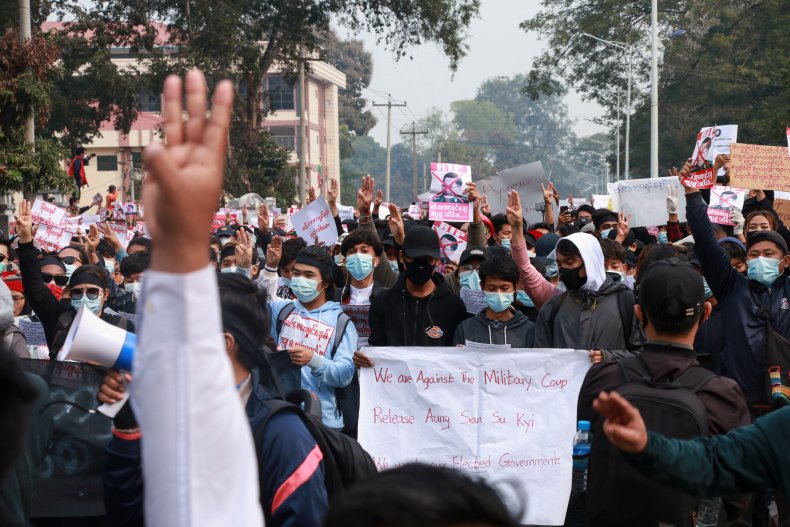 For more reporting from The Associated Press, see below.
More than a dozen of Myanmar's ethnic minorities have been seeking greater autonomy for decades, going through cycles of armed conflict and uneasy ceasefires.
The Kachin Independence Army, the armed wing of the Kachin Independence Organization, attacked a police station in Kachin state's Shwegu township before dawn in Wednesday, local outlets The 74 Media and Bhamo Platform reported. The attackers were reported to have seized weapons and supplies and wounded one police officer.
The Kachin have staged a series of attacks on government forces since the coup, saying the latest round of fighting was triggered by government assaults on four Kachin outposts. After one Kachin attack in mid-March, the military retaliated with a helicopter attack on a Kachin base.
Protests meanwhile continue in Myanmar's cities against the military takeover that reversed a decade of progress toward democracy in the Southeast Asian country that followed five decades of army rule.
Anti-coup protesters marched through an area of Yangon on Wednesday despite reduced numbers in the face of the ever-climbing death toll.
At least 521 protesters have been killed since the coup, according to Myanmar's Assistance Association for Political Prisoners, which counts those it can document and says the actual toll is likely much higher. It says 2,608 people have been detained, a total that includes Suu Kyi.
The mainly young demonstrators processed through the city's Hlaing suburb, stopping to honor a protester killed in an earlier confrontation with security forces.
The U.S. State Department on Tuesday ordered non-essential U.S. diplomats and their families to leave Myanmar, expecting the protests to continue. The U.S. earlier suspended a trade deal and imposed sanctions on junta leaders as well as restricted business with military holding companies.