Over 5,800 Americans Gave Up Citizenship In First Half of 2020, Double The Numbers Through All Of 2019
Americans are renouncing their citizenship at record levels, with twice as many people giving it up in the first six months of 2020 than the entire previous year -- a statistic some are attributing to the current political and social climate in the U.S.
A total of 5,816 Americans voluntarily relinquished their citizenship in the first half of 2020, compared to the 2,072 who gave it up in all of 2019, according to research conducted by Bambridge Accountants New York. The first six months of 2020 saw a 1,210 percent increase in renunciation compared to June through December 2019, in which just 444 cases were recorded.
Alistair Bambridge, a partner at Bambridge Accountants, attributed the sharp increase to the coronavirus pandemic and U.S. political climate.
"The huge increase in U.S. expats renouncing from our experience is that the current pandemic has allowed individuals the time to review their ties to the U.S. and decide that the current political climate and annual U.S. tax reporting is just too much to bear," Bambridge said in a press release.
Those who choose to renounce their citizenship must pay a $2,350 fee to the U.S. government, but are then free from filing U.S. tax returns. Renunciation is different from expatriation, as expats potentially still have to pay U.S. taxes and report their foreign bank accounts.
"For many Americans this intrusion is too complicated, and they make the serious step of renouncing their citizenship as they do not plan to return to live in the U.S.," Bambridge said.
Marylouise Serrato, executive director for American Citizens Abroad, wrote in an email to Newsweek that Bambridge's renunciation numbers for the first six months of 2020 "probably indicate a backlog from renunciations that were in process in the later part of 2019."
There is a significant time requirement for anyone wanting to renounce their citizenship, which would have been further exacerbated by the pandemic, she said.
"With many Embassies and Consulates shuttered due to COVID beginning in mid-March and still continuing (many are still closed), it would not have been possible to process renunciations these past months nor for individuals suffering under COVID restrictions to get to an Embassy or Consulate to begin the process even if they were open," Serrato said.
There are approximately 9 million U.S. expats, meaning Americans living abroad. Those choosing to keep their citizenship but continue living and working overseas are still able to receive federal benefits, including the $1,200 stimulus checks sent by the U.S. Treasury in April meant to help eligible Americans ease the financial burden caused by the pandemic.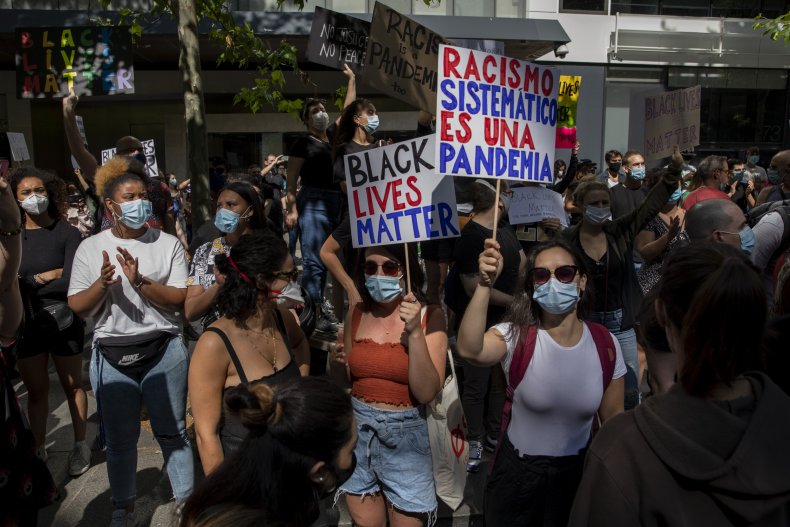 Nicole Caba told Newsweek she moved in September from New York to Lyon, France, under a French Tech Visa, a fast-track visa which allows non-European Union members to live in the country for at least four years. Visa holders can either join or invest in French startups or launch a technology company from France.
Caba chose the latter, creating Avvinue, an all-in-one relocation platform which coordinates the logistics for anyone wanting to move abroad. It was a resource Caba didn't have for her own move to Lyon, and she wanted to help make the complicated process more streamlined for others.
"People are moving left and right and we want to guide them in the process because it's really stressful," she said.
Caba, the daughter of an immigrant, moved to Lyon without knowing French or ever having visited the city. Her desire to live abroad and experience a new culture grew stronger as she reached her mid-twenties, she said.
"I always had this mindset of, 'You can live wherever you want,'" Caba said. "Your dreams could be somewhere else."
Caba said she has noticed an increase in both the expat community and in citizenship renunciations, but particularly since the beginning of the coronavirus pandemic.
When she first founded her relocation company, Caba noticed that many Americans were interested in moving abroad to either live a nomadic lifestyle or to study or work abroad.
"There was definitely an increase, and I think a lot of it has to do with people seeing on Instagram and YouTube that like, 'Wow, there's another world outside of the U.S.,'" she said. "There's so much to explore, and I think that really increased the interest for people."
Now, since the onset of the pandemic, Americans are re-examining their values, potentially choosing locations outside the U.S. that may better align with their belief systems, Caba said. This more emotional-based mindset is also a likely cause of the rise in citizenship renunciations, she added.
"Look at the climate in the U.S. with politics, Black Lives Matter movement—all of these different things that are coming out around the time of the pandemic really makes people wonder, 'O.K., why am I still tied back to the U.S. if I really have nothing connected?'" Caba said.
Complicated tax laws and the difficulties surrounding opening a foreign bank account are other significant factors in the decision to renounce one's citizenship, Caba agreed. For Americans who may have already lived abroad for many years, started families in another country and no longer have ties to the U.S., renunciation might be the best route, she said.
Update (08/11/20, 4:26 p.m.): This article has been updated to include a comment from American Citizens Abroad.