Over 60 Percent of Americans Say Trump Administration's Transition Delay is a Threat to National Security: Poll
More than 60 percent of Americans say that the Trump administration's transition delay is a threat to national security, according to a new poll.
The poll, which was conducted by Monmouth University, found 61 percent of Americans saying that President Donald Trump delaying the transition process following Joe Biden's projected win in the 2020 presidential election is a threat to national security.
Among the 61 percent, 35 percent said it is a major threat and 26 percent said it is a minor threat, while 36 percent said it's not a threat and 3 percent said they didn't know.
Additionally, the poll found 61 percent of respondents saying they disapprove of the way Trump is handling the transition process, with 46 percent saying they strongly disapprove and 15 percent saying they somewhat disapprove.
In comparison, 31 percent said they approve of Trump's transition process, with 20 percent saying they strongly approve and 11 percent saying they somewhat approve.
Monmouth University surveyed 810 U.S. adults from November 12 to November 16 and reported a margin of error of plus or minus 3.5 percentage points.
The poll's findings come amid election turmoil following Biden's projected win, with Trump and his campaign team repeatedly making seemingly baseless claims of widespread voter fraud.
Similar to the poll's findings, just last week, more than 150 former national security officials signed a letter saying that the government's delay in recognizing Biden as the president-elect is a "serious risk to national security."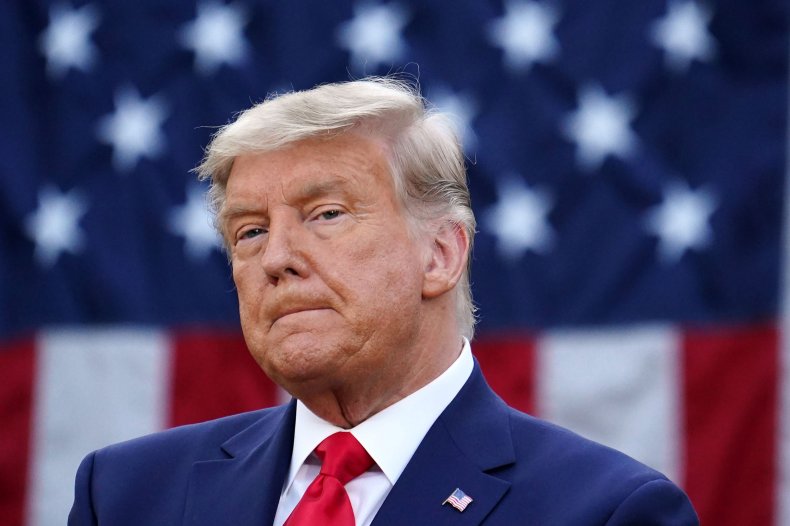 The letter, which was obtained by Politico, was sent to the General Services Administration, urged the agency to name Biden and Kamala Harris as the president-elect and vice president-elect, which would allow them access to information "needed to address pressing national security issues, such as the President's Daily Briefing and pending decisions on possible uses of military force."
On November 11, former Homeland Security Adviser Frances Townsend spoke with CBS This Morning and said that the delayed transition is "dangerous."
"Because the shorter the transition, the less prepared the new team is going to be in order to sort of exert their influence over all of the national security levers of power," Townsend said.
Additionally, South Carolina Senator Lindsey Graham, who has backed Trump on his claims of voter fraud, on Wednesday, said that he "would urge him [Trump] to give intel briefings to Joe Biden."
The poll also found that despite Trump's repeated criticism of the 2020 election, 60 percent of Americans said they are confident that the election was conducted fairly and accurately, with 44 percent saying very confident and 16 percent saying somewhat confident.
Newsweek reached out to the White House and Trump's campaign for comment but did not receive a response in time for publication.