Over 600 Vultures Found Dead in Mystery Incident Dubbed 'Conservation Disaster'
More than 600 vultures have been found dead in Guinea-Bissau, Vulture Conservation Foundation (VCF) has said. The death toll stood at 648 on February 28, and experts say the number is continuing to rise while no cause has been determined. The number was reported to have climbed to near 1,000 casualties as of March 5.
While it was initially suspected to be a case of poisoning, there is no evidence for this as poisoning incidents tend to be more concentrated. The deaths currently being reported have been spread across several areas in Bafatá province, north-central Guinea-Bissau.
Environmentalists say this is a devastating blow to an already vulnerable group of birds. The hooded vulture (Necrosyrtes monachus) is considered to be critically endangered and appears to be the species worst affected by whatever is causing this die-off.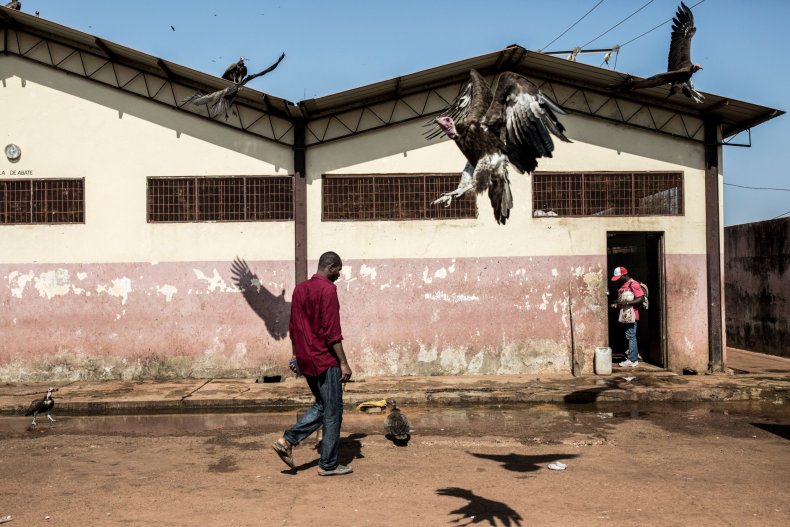 The VCF have praised the actions of the relevant authorities, including the Ministries of Public Health, Agriculture and Forestry, the Secretary of State for the Environment, and the governor of Bafatá. They said officials have been quick to respond and incinerate the vulture carcasses—which, if left to rot, not only risks spreading the cause of death but could threaten public health.
"The authorities so far have been very responsive and acted quickly—this needs to be maintained until the cause of mortality is found," José Tavares, VCF Director, said in a statement.
Though dramatic, these events are part of a general trend that has seen Africa's vulture populations plummet in recent years.
In the 30 years leading up to 2015, eight vulture species found across Africa saw numbers decline by an average of 62 percent, according to a study published in Conservation Letters. Seven had dropped more than 80 percent within the space of three generations. A combination of trade in the traditional medicine market and poison is thought to contribute to 90 percent of vulture deaths.
Restore Species, an organization working to prevent animal extinctions, warns that 11 of 16 species of African-Eurasian vultures could be gone in our lifetime. Statistics cited by Restore Species say that as many as 500 birds may be killed by one poisoned elephant carcass.
While vultures have developed a poor reputation thanks in large part to their taste for rotting flesh, the birds provide an ecological service—by eating the carcasses of other animals, they remove sources of anthrax, rabies and other diseases that may be harmful to other species.
The article has been updated to reflect the new death toll.