Cruise ship giant Carnival revealed in SEC filings Tuesday that there are still over 6,000 people still on ships at sea, while the company was said to be seeking $6 billion in funding to deal with the financial fallout from the COVID-19 pandemic.
There were said to be about 6,000 passengers on board ships owned by the company, in addition to crew members, who typically number at least the hundreds on large cruise ships.
"Substantially all our ships have disembarked their passengers," the company said in the filings. "There are approximately 6,000 passengers onboard ships still at sea that are expected to disembark their passengers by the end of April. Some of our crew is unable to return home, and we will be providing them with food and housing."
The company is one of many feeling the weight of the financial impact of the pandemic. It is reportedly seeking to repair finances with $4.75 billion in bonds and $1.25 billion in public stock offerings, while already carrying a $3 billion credit debt, according to Reuters.
The closed environments of cruise ships make them an especially dangerous setting for the spread of disease. Carnival and other major cruise ship operators have cancelled cruises due to the pandemic, with Carnival's cancellations extending into at least mid-May.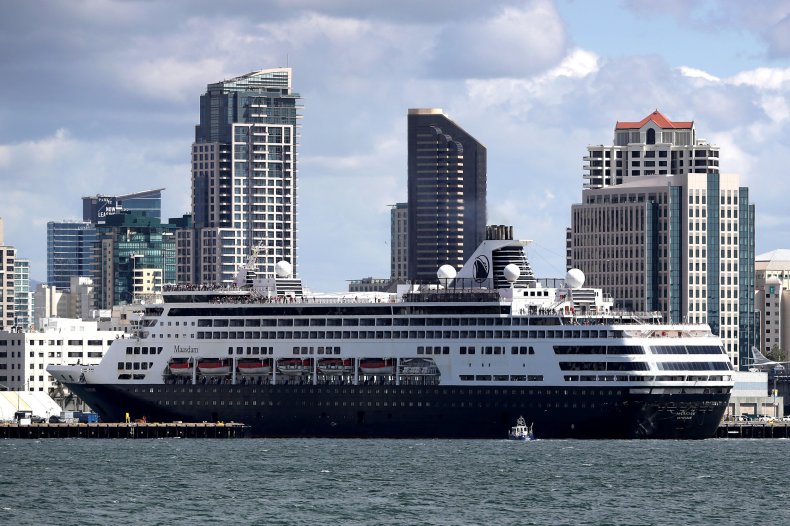 Before COVID-19 became a global pandemic, a large outbreak took place on board the Diamond Princess cruise ship, which is operated by Carnival subsidiary Princess Cruises. The virus began to rapidly spread on the ship in late January, with 712 people eventually becoming infected and at least 10 dying as a result.
Another Princess ship, the Grand Princess, was held the coast of Northern California for several days in early March after at least 21 people on board tested positive for the virus. Although the ship eventually docked, President Donald Trump spoke against the idea, saying that he did not want the number of COVID-19 cases to go up "because of one ship that wasn't our fault."
There were multiple vessels operated by Carnival-owned brands still at sea as of Tuesday. Two operated by subsidiary Holland America, MS Zaandam and MS Rotterdam, are currently stranded off the coast of Florida after officials in the state have refused to allow the ships to dock.
At least four deaths on the Zaandam have been attributed to a "flu-like illness" that has sickened a large number of passengers, although only two cases have been officially confirmed as COVID-19.
Florida Governor Ron DeSantis, a staunch ally of Trump, said during a Fox News appearance on Monday that he would not allow the ship to dock in his state partially because he believes some of the passengers are foreigners.
"I mean, I think a lot of these [people] are foreigners," said DeSantis. "We cannot afford to have people who aren't even Floridians dumped into south Florida using up those valuable resources."
"When we announced our pause in new cruises, we had 40 of our ships at sea at the time," a Carnival spokesperson told Newsweek in a statement. "All but a handful of those ships have returned and we expect to have three ships at sea by the end of this week. The ships that remain at sea were primarily longer cruises (including some world cruises) that were thousands of miles away at the time, still working their way back to home port."
Update 3/31 10:42 p.m.: This article has been updated to include a statement from Carnival Corporation.