One in 10 older people binge-drink, estimate researchers who warn that embarrassing social situations and high-risk sexual encounters linked to excessive alcohol consumption can happen at any age.
Binge drinking was defined as consuming five or more drinks on the same occasion for men, and four or more for women, in the study published in the Journal of the American Geriatrics Society.
Researchers examined data on a total of 10,927 adults aged 65 years old or over who completed the 2015 to 2017 U.S. National Survey on Drug Use and Health. They also looked at factors including the demographic status of participants, as well as whether they used drugs, had a serious mental illness and or chronic disease, and if they had visited an emergency department recently. This was used to calculate national binge drinking rates.
An estimated 10.6 percent of those aged 65 and over were binge drinkers, the researchers found. That figure is likely to be conservative, they said, as the analysis used a relatively high cut off for binge drinking, whereas the National Institute on Alcohol Abuse and Alcoholism sets the limit at three drinks per day.
Lead author of the study Dr. Benjamin Han, assistant professor at New York University's Division of Geriatric Medicine and Palliative Care, also highlighted to Newsweek that the data is from only non-institutionalized people in the U.S. and therefore does not capture older adults who may be living in long-term care settings such as nursing homes.
Senior author Joseph Palamar, an associate professor in the Department of Population Health at NYU Langone Health, told Newsweek: "People of all ages need to make sure they're in safe situations if they binge drink. Regardless of your age, binge drinking can lead to embarrassing social situations or even involvement in high-risk sexual situations.
"Sometimes we forget that alcohol can be a dangerous substance. People who drink—especially large amounts—need to try to prevent potential social and health consequences sometimes associated with use."
Han warned of the potential health risks in a statement. "Binge drinking, even episodically or infrequently, may negatively affect other health conditions by exacerbating disease, interacting with prescribed medications, and complicating disease management," he said.
A large chunk of the participants had conditions which would be worsened by too much alcohol, such as high blood pressure, diabetes, and heart disease, the authors wrote. Compared with those who didn't drink to excess, men were more likely to binge drink, as well as African Americans, and those who used tobacco or cannabis.
Palamar warned against binge drinking alcohol and using cannabis at the same time. "Using both may lead to higher impairment effects," he commented in a statement. "This is particularly important as cannabis use is becoming more prevalent among older adults, and older adults may not be aware of the possible dangers of using cannabis with alcohol."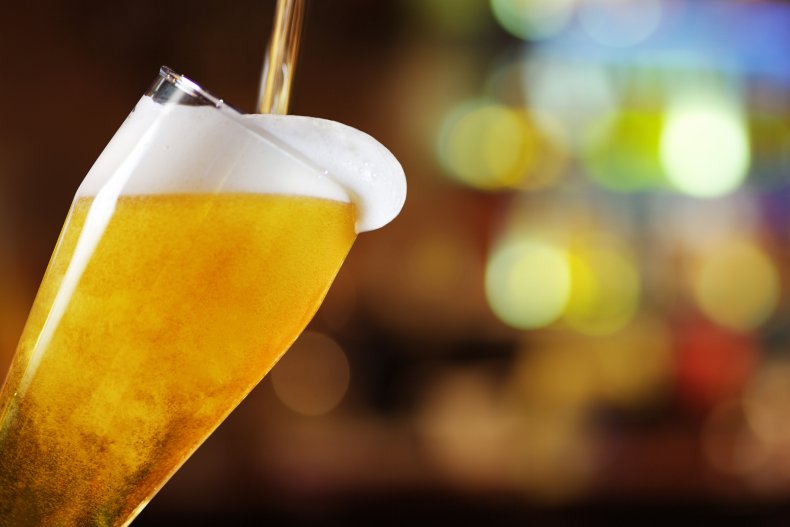 While this study linked binge drinking with a lower level of educational attainment in those aged over 65, past research cited by the researchers showed those with a higher level aged over 50 were more likely to binge drink. Binge drinkers were also less likely to have two or more chronic diseases.
Han explained in a statement: "Binge drinkers were less likely to have most chronic diseases compared to alcohol users who did not binge drink. This may be because some people stop or decrease their drinking when they have an illness or alcohol-related disease."
Existing studies show drinking, and in turn unhealthy levels of drinking, among older people has risen in recent years. Between 2001 to 2013, there was a 106.7 percent increase in alcohol use disorder among older adults. During the same period, there was a 22.4 percent increase in older adults who drank alcohol in the past year; and a 65.2 percent spike in high-risk drinking.
According to the Centers for Disease Control and Prevention, U.S. adults over the age of 18 consume over 17 billion binge drinks, or around 470 per binge drinker, each year. The behavior is most common in those aged between 18 to 34, however the organization warns more than half of the drinks binged each year are consumed by those aged over 35.
In the short-term, binge drinking can raise a person's risk of accidental injuries like car crashes, burns, and alcohol poisoning; and carrying out violence like homicides. In the long term, it can raise the risk of diseases like cancer of the breast, throat, mouth, espogahus, liver and colon; as well as conditions like high blood pressure, stroke, heart disease, and liver disease.
Palamar told Newsweek: "Studies in the future need to examine the contexts in which older adults are binge drinking. Similar to our concerns about young people who drink a lot, we need to make sure older adults are in safe situations when they're drinking."
About the writer
Kashmira Gander is Deputy Science Editor at Newsweek. Her interests include health, gender, LGBTQIA+ issues, human rights, subcultures, music, and lifestyle. Her work has also been published in the The Independent, The Independent on Sunday, The i Newspaper, the London Evening Standard and International Business Times UK.