As President Donald Trump has started suggesting that people should return to work soon instead of remaining quarantined amid the coronavirus pandemic, Americans overwhelmingly appear to disagree, with nearly three-quarters expressing support for a national lockdown in a new poll.
The survey, conducted by Morning Consult and Politico, found that 74 percent of voters support a national quarantine. Of those respondents, a plurality of 40 percent "strongly support" a nationwide lockdown, while an additional 34 percent "somewhat support" such a stringent measure to curb the spread of coronavirus. Only 19 percent of voters oppose the idea of a lock down, while 7 percent do not know or don't have an opinion.
When respondents were broken down into political affiliation, majorities of Republicans, Democrats and independents all supported a national lockdown. Eighty-one percent of Democrats backed a nationwide quarantine, as did 69 percent of independents and 72 percent of Republicans.
Among different generations, there was also majority support for the quarantine. Boomers, who are at more risk of serious complications and death from coronavirus, were the age demographic that showed the most support for a national lockdown, with 77 percent backing the stringent measure. More than 70 percent of Gen Z, Millennials and Gen X also believed a national quarantine is merited.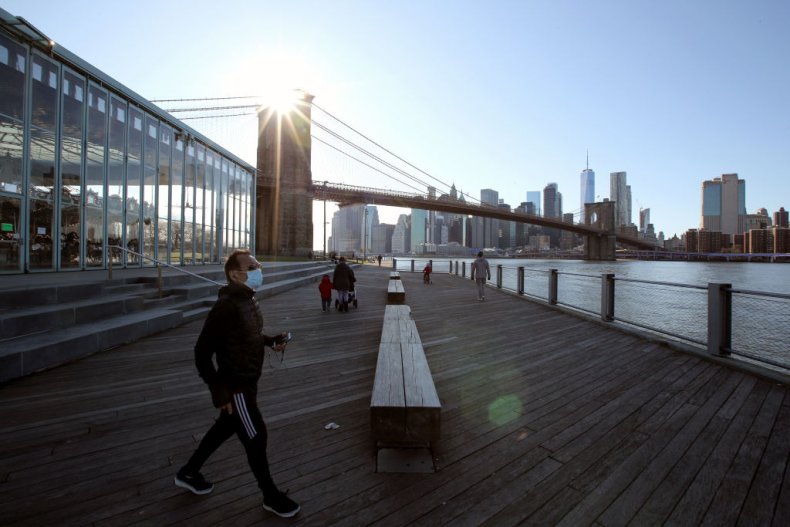 Despite the advice of health experts and doctors, Trump and his administration have dismissed the idea of a national lockdown. But many states and local municipalities have implemented their own "stay at home" and "shelter in place" orders to curb the spread of the coronavirus. Schools, restaurants, bars, gyms and public events have been shut down in many areas across the country.
Meanwhile, the president has said over the past few days that he wants Americans to return to work soon, suggesting Easter on April 12 as a good day. He has complained that the stringent social distancing measures will be worse for the country than the virus itself. The economy has slowed dramatically as millions of Americans have been forced to stop working as the novel virus continues to spread rapidly.
"We're opening up this incredible country. Because we have to do that. I would love to have it open by Easter," Trump said during a Fox News virtual town hall on Tuesday.
But health experts project that many weeks or even months of lockdown will be required to successfully curb the pandemic. Multiple studies have shown that such measures will prevent anywhere between 600,000 to 2.2 million deaths. Slowing the spread of the virus also helps keep hospitals from becoming overwhelmed by sick patients, with necessary medical supplies already running short in some areas.
Democratic presidential candidate Joe Biden strongly criticized Trump for suggesting the lockdown could end by Easter.
"He should stop talking," the former vice president said during a CNN interview on Tuesday afternoon, "and start listening to the medical experts. Talk about having an economic crisis; you want an economic crisis? Watch this spike. Watch the number of dead go up."
Billionaire and philanthropist Bill Gates, who founded Microsoft, also criticized the idea of re-opening the economy soon, although he did not mention Trump or any other lawmaker by name.
"There really is no middle ground, and it's very tough to say to people, 'Hey, keep going to restaurants, go buy new houses, ignore that pile of bodies over in the corner. We want you to keep spending because there's maybe a politician who thinks GDP growth is all that counts,'" Gates said during an interview with TED on Tuesday. "It's very irresponsible for somebody to suggest that we can have the best of both worlds."
"Bringing the economy back ... that's more of a reversible thing than bringing people back to life. So we're going to take the pain in the economic dimension — huge pain — in order to minimize the pain in the diseases-and-death dimension," he added.
Meanwhile, as states and cities have begun to implement lockdowns, the number of confirmed coronavirus cases has ballooned rapidly, with the World Health Organization (WHO) warning that the U.S. could become the new global epicenter for the pandemic.
The U.S. now has the third-highest number of confirmed cases of coronavirus of any country in the world, with more than 55,000 infections, according to a tracker updated by John Hopkins University. Already 802 people have died, while just 354 have recovered.
Uncommon Knowledge
Newsweek is committed to challenging conventional wisdom and finding connections in the search for common ground.
Newsweek is committed to challenging conventional wisdom and finding connections in the search for common ground.
About the writer
Jason Lemon is a Weekend Editor at Newsweek based in Brooklyn, New York. Prior to taking on the editor role, Jason's reporting focused on U.S. politics and international affairs. He joined Newsweek in 2018, and had previously worked as a founding editor at a Middle Eastern media startup called StepFeed. He also worked a year as a contributor to The Atlanta Journal-Constitution and has bylines in The Christian Science Monitor, The Palm Beach Post, Al Fanar Media and A Magazine. He is a graduate of the American University of Beirut in Lebanon and Andrews University in Michigan. You can get in touch with Jason by emailing j.lemon@newsweek.com. Languages: English, Spanish, French and Levantine Arabic