Over 70 Million Americans Have Already Voted—More than Half of the Total Votes Counted in 2016
One week before Election Day, early votes cast in the 2020 presidential election have already exceeded half the number of votes cast during the entire 2016 election.
A total of 70,032,485 early votes had been cast as of Tuesday, according to the United States Elections Project. When President Donald Trump won the election of 2016, the estimated total number of votes cast was 138,846,571. Early votes cast in the current election show Democrats with a substantial lead over Republicans in mail-in votes, while GOP voters have a modest edge in early in-person voting.
"Republicans need to vote in-person to make up ground on the Democratic mail voters, either early or on Election Day," an analysis appearing on the project's website explained on Sunday. "There is still some play left in the in-person early vote, but time is starting to run short such that Republicans will need to rely heavily on Election Day vote, which has traditionally been a strong day of voting for Republicans in recent elections."
Although the surge in early voting could merely indicate that more people who normally vote are choosing to vote early, some believe it is a hint that overall turnout could far exceed that of the previous election. In 2016, around 21 million people had voted a week before the election, with a total of 47 million having voted on the day before Election Day.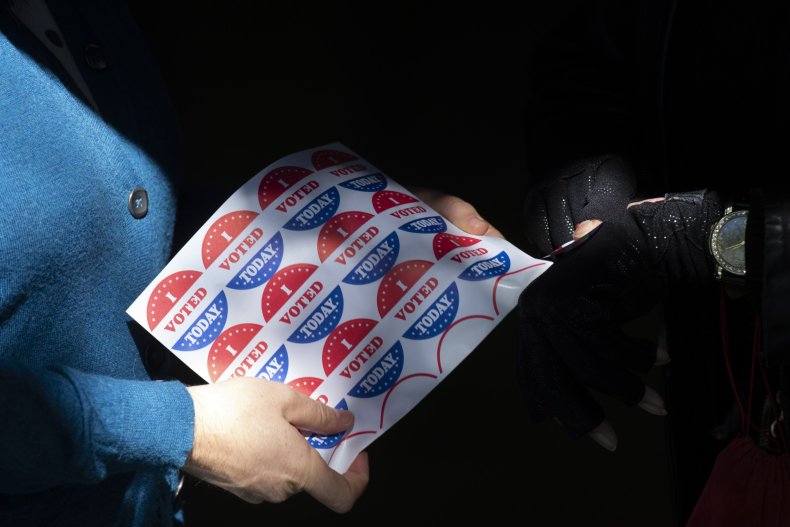 Early voting is not uniform across the U.S., with different rules for how and when votes may be cast applying depending on the state. In six states, early voting is not allowed at all. In several states that had yet to complete early voting periods as of Tuesday, early votes had already eclipsed totals from the last election.
The demographic makeup of those who vote will be crucial in determining the outcome of the election regardless of overall turnout. In a poll released by Harvard University on Monday, Democratic presidential nominee Joe Biden had a 63 percent to 25 percent advantage over Trump among young people likely to vote. The number of young voters who said they would "definitely" vote matched a high seen before the 2008 election.
In Texas, where the 7.8 million early votes already cast represent well over 80 percent of all votes in the 2016 election, Democrats believe turnout among young voters could smash previous records. Some recent polls in the state have also suggested that the race in the typically Republican-leaning state could be closer than expected this year.
"Young voters will decide this election," Texas Democratic Party Communications Director Abhi Rahman said in a statement. "We couldn't be more thrilled with the records being broken every single day from young voters making their voices heard. There is a long way to go. For Texas Democrats to win up and down the ballot we need every youth voter to turn out to the polls. There are still 3 more days left of early voting and then election day itself."
Newsweek reached out to the Trump and Biden campaigns for comment.