Over 8,000 Air Force Service Members Miss Vaccine Mandate Deadline
More than 8,000 active-duty members of the U.S. Air Force have missed the deadline for getting a COVID-19 vaccine, including 800 who have refused to get the shot and almost 5,000 who are seeking religious exemptions.
According to the Air Force, 95.9 percent of the military branch's 326,000 active-duty members are fully vaccinated as of Wednesday. Another 1 percent have received one shot.
Tuesday, November 2, was the Air Force's deadline for all active-duty members to comply with a vaccine mandate.
The Air Force said 8,486 service members remained unvaccinated as of Tuesday. Of those, 800 had "refused" the vaccine while 4,933 had sought religious exemptions and their requests are pending. Another 2,753 people had not started the process of getting vaccinated for reasons that were not specified by the Air Force.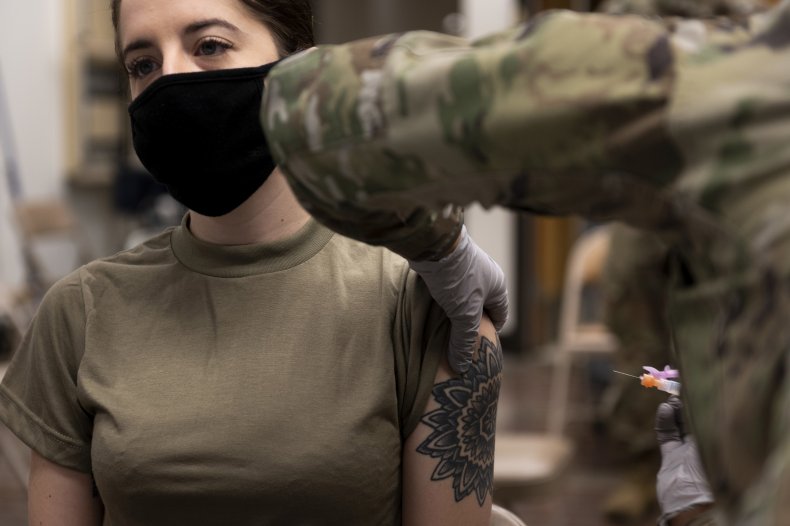 The Air Force said 1,866 requests for exemption on medical or administrative grounds—such as pending retirement—had been approved, but no religious exemptions had been granted so far.
The Air Force said it would review requests for medical and religious exemptions over the next 30 days.
Service members who are not fully vaccinated, including those who have exemptions or pending exemption requests, will be required to undergo at least weekly COVID-19 testing to enter any military facility.
"Our airmen need to be prepared to operate anytime, anywhere in the world," said the Air Force Chief of Staff, General Charles Q. Brown Jr., in a statement. "Getting vaccinated ensures we are a ready force to meet our commitments to the nation while protecting the health of our team and families."
The Air Force set the earliest deadline for active-duty service members to comply with a COVID-19 mandate announced by Defense Secretary Lloyd Austin in August. The deadline for civilian members of the Air Force is November 22, while Air National Guard and the Air Force Reserve have until December 2.
The deadline for the Navy and the Marines is November 28, while the Army has set a date of December 15. Service members who refuse to comply with the mandate could face disciplinary action.
At a press briefing on Wednesday, Pentagon spokesman John Kirby told reporters that Secretary Austin was "not unmindful" of the fact that some service members are refusing the vaccine or seeking exemptions.
Kirby added: "He trusts that the leaders of the military departments, the service secretaries and the service chiefs, will continue to manage this mandatory vaccine regimen in a compassionate and professional manner."
More than 73,000 COVID-19 infections have been recorded in the Air Force since the start of the pandemic and 139 service members have died.
According to the Centers for Disease Control and Prevention, 78.3 percent of the U.S. population over the age of 12 has had at least one dose of a COVID vaccine.