Over 8,600 Illinois Children Infected With COVID Since School Began, Averaging 180 Infections Per Day
More than 8,600 school-aged children in Illinois have contracted COVID-19 since mid-August, amounting to around 180 infections per day.
Nearly two months into the school year, Illinois public health officials say they have verified coronavirus outbreaks in at least 44 school buildings, but declined to say where those cases occurred, according to a collaborative investigation between ProPublica Illinois and the Chicago Tribune.
Unlike many other states, Illinois does not publish the number of cases linked to schools or which schools specifically have been affected. In New York, for instance, Governor Andrew Cuomo launched "The COVID-19 Report Card," an online dashboard tracking real-time coronavirus infections and testing operations of every New York school and school district.
The schools, local health departments and testing labs must each independently report its COVID-19 data to the state to ensure proper numbers are being collected, according to Cuomo's executive order.
But in Illinois, state health officials released the numbers only to ProPublica Illinois and the Tribune upon their request. They also acknowledged that the virus's spread in schools could be larger than what is currently known, as contact-tracing efforts have likely missed some school-related cases.
More than 1,800 public schools and an unknown number of private schools are operating in person for at least part of the time this year. Students and staff at about 25 percent of public school districts are operating entirely in person, and nearly 70 percent are spending at least some of the week in person, the investigation found. These districts amount to a total of about 685,000 students.
For Illinois children ages 5 to 17, about 8,668 people have tested positive for the deadly virus between August 15, when schools began to reopen, and October 2, state health officials told ProPublica and the Tribune. This is an average of around 180 new infections among children each day since school returned, the investigation found.
Between March and early August, when schools were either operating entirely remotely or closed for the summer break, there were 11,953 confirmed COVID-19 cases among children, averaging around 72 per day. Fewer than five school-aged children have died from coronavirus, according to the Illinois Department of Public Health (IDPH).
Many of these COVID-19 cases seen among children are tied to gatherings outside of school and other community events, state health officials said. The school-related cases have been quite small, according to an analysis of state education data.
Each school as seen around two or three cases, but at least 105 students and 73 employees at public and private schools have been affected, ProPublica and the Tribune found.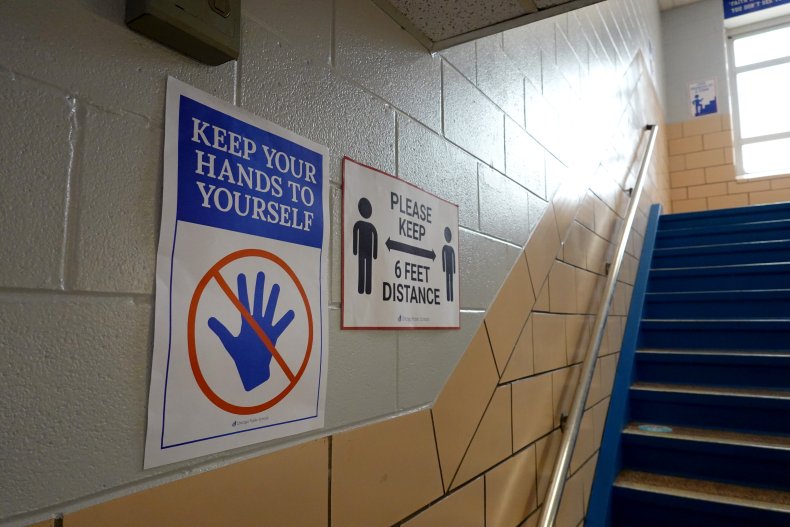 Still, health department officials are debating whether to make the infection data publicly available to parents, students and school employees.
"Obviously we want to be as transparent as possible and get information out that people can use. That's why we have on our website the county-level data. That way, counties can make their own decisions about what they want to do," IDPH spokeswoman Melaney Arnold told ProPublica and the Tribune. "We've certainly received a lot of interest in this data. We've received interest from many different groups."
Health officials are concerned that publishing COVID-19 data tied to schools could identify students and staff and violate their privacy, Arnold told ProPublica and the Tribune. The department, however, publishes case counts for other facilities including nursing homes and psychiatric hospitals, the investigation found.
Illinois Governor J.B. Pritzker responded on Wednesday to questions during a press conference regarding whether the state would publish data on school-related COVID-19 infections.
"I'm sure that IDPH is looking at school-specific reporting," Pritzker said. "I'm very much in favor of trying to get our kids back into in-person learning; however, we want to make sure that it's safe. And it's very difficult at the state level to dictate how each school—of the 4,000-plus schools that we've got across the state of Illinois—can do that."
Many Illinois parents argue that being armed with this information would help them make better-informed decisions about the safety of sending their child back into the classroom. Several of the school districts gave parents a choice between in person classes and online learning.
"Parents are in the dark about infection rates. How can we make an informed decision about whether or not to send our kids back to school when we don't know how it is actually going at the schools that have returned to in-person school?" Mary Fahey Hughes, a parent liaison for Raise Your Hand for Illinois Public Education, told ProPublica and the Tribune.
Some Illinois school districts, like New Trier Township School District 203, has decided to publish their own statistics through a COVID-19 dashboard. Officials update the online data twice a week with the number of staff and student cases, as well as the number in quarantine, according to the investigation.
Others, like the Highland Community Unit School District 5, send families a weekly summary with a tally of the week's confirmed COVID-19 cases.
The IDPH is committed to ensuring students and parents have the information they need to stay healthy and safe, Arnold wrote in an email to Newsweek. Schools are required to communicate with all parents when there are new cases of COVID-19, and must also report that information to the local health department.
"Local health departments will therefore always have the most up to date information for cases in their region," Arnold wrote. "IDPH also works closely with our local health departments as new cases and outbreaks arise and is working to post the statewide data in a way that protects the privacy of both students and staff."
Statewide, Illinois has reported a total of 307,642 positive tests since the crisis began earlier this year. Nearly 9,000 people have died as a result of the disease.
Update 3:50 p.m. ET: This article has been updated to include a comment from the Illinois Department of Public Health.