Over 900 Florida Healthcare Workers Sign Petition Asking Governor to Order People to Shelter in Place Amid COVID-19
A new petition signed by over 900 Florida healthcare professionals urged the state's governor, Ron DeSantis, to implement new precautionary measures to combat the novel coronavirus. It listed seven different actions that should be implemented, including an immediate statewide "shelter-in-place" order.
"We are the healthcare workers on the frontlines of the COVID-19 pandemic in Florida and we urge you act dramatically to mitigate the spread of the disease, protect, and support healthcare workers, and ensure that patients have access to all the necessary medical and social services during the crisis," the petition read.
In addition to asking for a statewide shelter-in-place order, the petition also urged DeSantis to ensure that Florida's healthcare workers have adequate supply of protective equipment, "including surgical masks, respirators, gowns and gloves"; order a directive to insurance companies to allow medical costs of coronavirus patients to be waived; create isolation centers to limit the spread between family members and the community; support telehealth visits to reduce the spread of the disease; provide housing and food security to Florida's residents; and to downsize jails and prisons that "is essential to decrease transmission of COVID-19."
"We applaud the state of Florida's current efforts. But we must do more to stop the spread of COVID-19," the petition added.
Meanwhile, another petition, created by Doctors for America and signed by over 500 Florida healthcare workers, asked DeSantis to "issue a stay-at-home order immediately to fight the COVID-19 pandemic."
"We know how big a decision this is," their petition read. "But the stakes are too high for both our health and our economy to delay. We must act now to safeguard both. In fact, the faster we enact stay-at-home across Florida, the faster we can get this virus under control and life can get back to normal."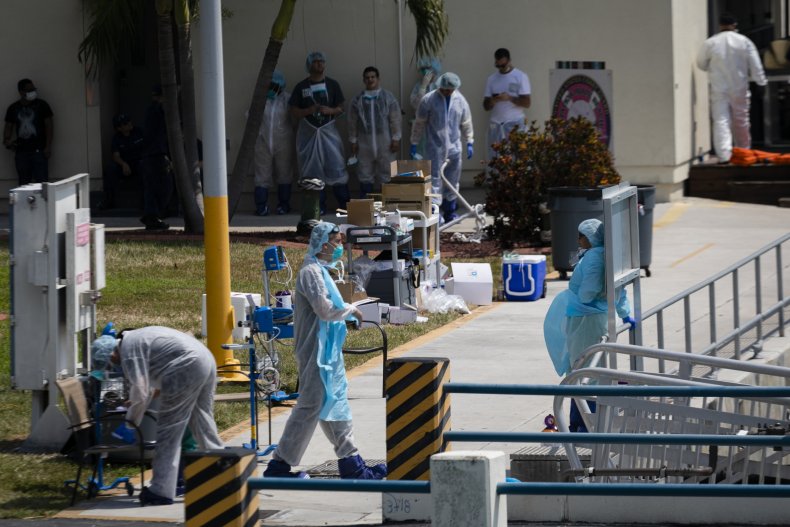 While the two petitions are calling for DeSantis to enact policies in the state of Florida in response to the coronavirus, there is a noticeable difference between a shelter-in-place and stay-at-home order.
A shelter-in-place order is usually implemented after a situation (like a destructive hurricane or an active shooter) and orders to not leave their homes at all costs. On the other hand, a stay-at-home order (like the ones in New York and California) urges residents to stay inside, but they are allowed to leave for essential reasons, like going to the doctor or the supermarket.
DeSantis' office did not respond to a comment request from Newsweek. According to The Tampa Bay Times, a spokesperson for his office said that she was not aware of the petitions until the publication told her about it.
As the novel coronavirus continues to spread throughout the U.S., Florida has become the state with the fifth most-reported cases. According to a tracker from Johns Hopkins University, there are over 92,000 cases in the U.S, with at least 2,900 of them in Florida. The state has also seen at least 35 deaths related to the virus.