Over a Dozen Yachts Owned by Russian Oligarchs Out of Reach of Sanctions
More than a dozen Russian oligarch-owned yachts have been moved to remote ports to try to avoid their seizure after Western nations sanctioned their owners.
Sanctions on the oligarchs have increased as Russia continues its invasion of Ukraine. Some of their vessels are being moved to or already are sitting in ports in other nations, according to the Associated Press.
While some oligarchs have already had their yachts seized, others are attempting to get their vessels out of the sanctioning countries' reach.
Several superyachts have been seized in the European Union so far. Russian billionaire Alisher Usmanov's yacht Dilbar was anchored in Germany when the sanctions were announced. On Thursday, an anonymous official told CNBC that the vessel was restricted from leaving the area.
Dilbar has enough space for two helipads and a swimming pool long enough for a second superyacht, according to AP. When it was launched, it cost more than $648 million, but it began undergoing renovations last year worth another few hundred million dollars.
U.S. sanctions mean that any transactions in U.S. dollars related to the yacht, including maintenance, staffing and docking fees, are not allowed, CNBC added.
To avoid similar sanctions, some have taken their yachts to places outside of the sanctioning countries' reach. AP reported that three yachts were in Dubai, while three others had gone dark, their transponders last showing they were near Bosporus, Turkey.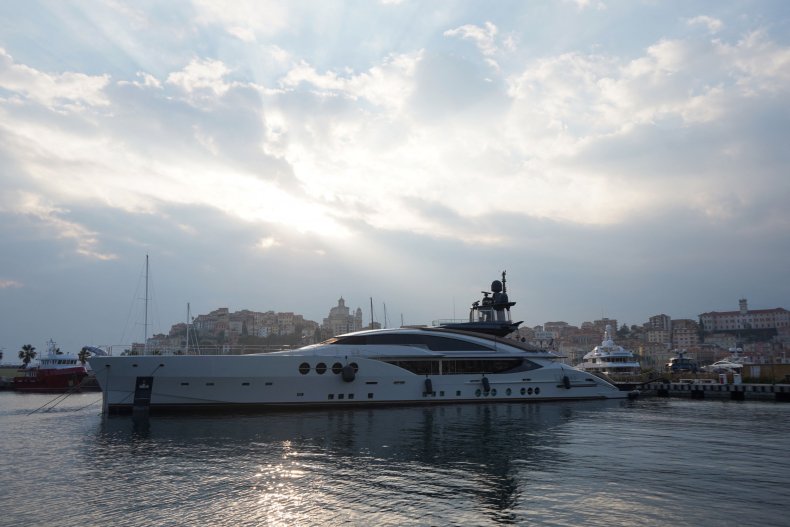 A superyacht many believe that Russian President Vladimir Putin owns was moved from a German repair yard to a Russian port just two weeks before the invasion began, AP reported.
The yacht Lady M, belonging to billionaire Alexei Mordashov, listed as Russia's wealthiest man, was seized in the Italian port town of Imperia on Friday, according to AP. However, Nord, another one of his yachts that is twice as big as Lady M, is anchored in Seychelles.
Most of the yachts are concentrated in areas like the Caribbean, the Maldives and the United Arab Emirates.
Jack Sweeney, the 19-year-old University of Central Florida student who made headlines by tracking the movements of Elon Musk and other billionaires' private jets, has begun to track the yachts. He tweeted on Saturday that he had set up the account @RussiaYachts to post updates on the vessels' whereabouts. As of Monday afternoon, it had more than 14,000 followers.
Update 3/7/22, 3:38 p.m. ET: This story was updated with additional information.