The price of used cars around the United States is skyrocketing.
Automobile website Edmunds reported that the average cost of a used vehicle in November was $29,011, a 39 percent increase from November of 2020. The increase comes amid the sharpest inflation jump in nearly 40 years—6.8 percent in 12 months ending in November—leaving more than half of American households without enough money to buy a used vehicle.
The numbers are not looking much better for new cars, either. Edmunds reported that the average price of a new vehicle is around $46,000, largely a result of low inventory caused by a computer chip shortage. New car dealers nationwide only have around 1 million cars available. The price of new cars could continue to increase until the nationwide inventory increases to 2 or 2.5 million cars.
"I've never seen anything remotely close to this—it's craziness," said used car dealer Jeff Schrier, who has been selling cars for around 35 years. "It's quite frustrating for so many people right now."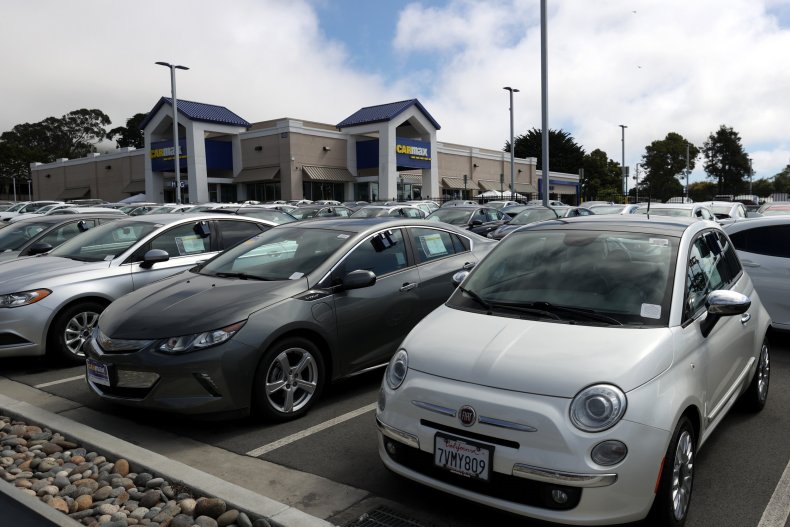 The blame can be traced directly to the pandemic's eruption in March of last year. Auto plants suspended production to try to slow the virus' spread. As sales of new vehicles sank, fewer people traded in used cars and trucks. At the same time, demand for laptops and monitors from people stuck at home led semiconductor makers to shift production from autos, which depend on such chips, to consumer electronics.
When a swifter-than-expected economic rebound boosted demand for vehicles, auto plants tried to restore full production. But chip makers couldn't respond fast enough. And rental car companies and other fleet buyers, unable to acquire new vehicles, stopped off-loading older ones, thereby compounding the shortage of used vehicles.
Including taxes, fees, a 10 percent down payment, and an interest rate of around 7.5 percent, the average used vehicle now costs $520 a month, even when financed for the average of nearly six years, Edmunds calculated.
To make that payment and afford such other necessities as housing, food and utilities, a household would have to take home about $60,000 a year, or $75,000 before taxes, said Kimberly Palmer, a personal finance specialist at NerdWallet. In 2020, the U.S. median pretax household income was $67,521, the Census Bureau says.
"The average person," Palmer said, "can't afford the average used car right now."
Ivan Drury, a senior manager at Edmunds, said that while he doesn't track used vehicle prices relative to household income, he thinks November marked a record "in the worst way possible for affordability."
Monthly payments for the average used vehicle, he noted, were $413 two years ago, $382 five years ago and $365 a decade ago. The November average payment of $500-plus for a used vehicle, Drury said, is about the average that was needed five years ago for a brand-new vehicle.
"People are going to have to make hard decisions, maybe cut back in other areas," Palmer said. "It means that it's stressful for a lot of families."
The availability of vehicles will be tight because traditional sources of used vehicles—autos turned in from leases and trade-ins or sold by rental companies—have essentially dried up.
For the past decade, cars returning from two- and three-year leases were a leading source of almost-new used vehicles. But that was when more than one-third of U.S. new vehicle sales were leases, a figure now down to 22 percent, said Edmunds' Drury. Because there aren't many new autos, people with expiring leases are often buying those cars once their leases end.
Rental companies, another key source of late-model used cars, can't buy new ones now and are holding the ones they have. Some rental companies are even buying used vehicles. Given all those factors, Paris expects the shortage of used cars to worsen through 2024.
Among the few consumers who stand to benefit are those who want to sell a used car and don't necessarily need to replace it. The average trade-in value in October, J.D. Power's David Paris said, was $9,000—twice what it was a year earlier.
Paris says that if they can afford it, buyers should consider a new vehicle. He recently managed to get a couple thousand dollars whacked off the sticker price on a new Ram pickup, though he had to travel from the Washington, D.C., area to Philadelphia to reach a willing dealer he had located by searching internet forums.
"If you look hard enough and are willing to wait and travel," he said, "you can find deals across most brands."
The Associated Press contributed to this report.