Over Half of Asian Americans Regularly Feel Unsafe in Public, Poll Shows
A poll conducted by the Associated Press-NORC Center for Public Affairs Research found that 57 percent of Asian Americans feel at risk "often" or "sometimes" when in public places because of their race.
Between March 2020 and 2021, the Stop AAPI Hate reporting center has cited over 6,600 hate incidents that targeted Asian Americans, including verbal harassment and fatal attacks. Additionally, California State University's Center for the Study of Hate & Extremism found that anti-Asian hate crimes grew by 145 percent from 2019 to 2020 in the largest U.S. cities, while hate crimes in general decreased by 6 percent.
More Americans, regardless of race and ethnicity, also believe that Asian Americans are being increasingly targeted with hate crimes and prejudice. The Associated Press reported that 60 percent of Americans believe discrimination against Asian Americans has gotten worse over the past year after they were designated as scapegoats for the COVID-19 pandemic.
Renee Tajima-Pena, a professor of Asian American Studies at the University of California, said that the increased reports of anti-Asian crimes and discrimination have thrust the issue into the public spotlight.
"That's why people understand now the violence Asian Americans face," Tajima-Pena said. "People couldn't avoid it in the press or the national conversation. People are gathering data and talking about it."
For additional reporting on this story, see more from the Associated Press below.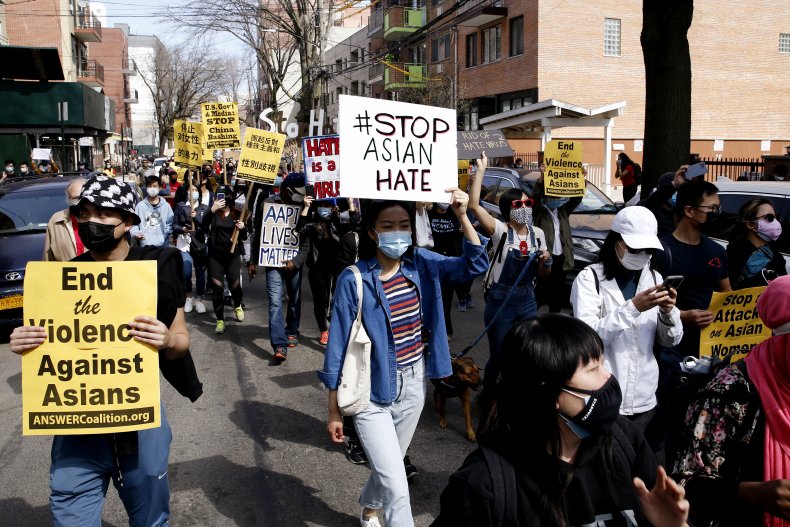 Glendon Yuri-Sweetland, 34, of Brewer, Maine, blames former President Donald Trump for the increased discrimination against Asian Americans. Trump's constant referrals to COVID-19 as the "Chinese virus" and other racist terms are still embedded in a lot of minds, he said.
"As my husband would say, 'It's only stirring the pot,'" Yuri-Sweetland said. "But I think that even just having that platform for a while, our former president probably has had enough exposure to get his message out."
Close to half of Americans are "very" or "extremely" concerned that incidents of violence targeting Asian Americans have increased because of the COVID-19 pandemic, according to the poll, including about two-thirds of Asian Americans.
President Joe Biden last week signed the COVID-19 Hate Crimes Act. The legislation will put a Justice Department official in charge of a review of anti-Asian hate crimes and will allot federal grants for law enforcement training and hate crime hotlines.
Tajima-Pena believes the visibility of Asian Americans outside of their communities has fundamentally changed in the past year and it isn't going to fade. And videos like the one showing the brutal beating of a Filipino American woman in New York City as three people stood by and watched have undoubtedly contributed to the greater awareness.
"I think the narrative is shifting," Tajima-Pena said. "It's like 2020 was really the year where our response was 'Stop AAPI hate'. ... The flip side of it is in 2021, people are really looking at solutions and solidarity."