Over Half of Democrats Want Party to Back Alternative to Biden in 2024: Poll
Just over half of Democrats say they want their party to nominate a different candidate than President Joe Biden in the 2024 presidential election, according to a new poll.
The poll, released by CNN on Sunday, asked registered Democrats and Democratic-leaning independents who they believe the party "should nominate as the party's candidate for president in 2024," giving them the options of Biden or a different candidate.
Forty-five percent of Democrats said the party should renominate Biden, while 51 percent said they preferred an alternative. Five percent said they had no opinion on the matter.
Of the Democrats who said they wanted a different candidate over Biden, 31 percent said it's because they don't want the president to be reelected, while 35 percent said it's because they don't think Biden could win against Republicans. Nineteen percent noted concerns about the president's age—Biden is 79 years old.
Most who said they wanted the party to nominate a different candidate didn't offer specifics. CNN noted that only 12 percent of them noted a preference, and none received more than 5 percent of support from Democrats who don't want Biden to run.
The poll surveyed 522 registered Democrats, or Democratic-leaning independents.
Former President Donald Trump also received support from only half of Republicans polled. Fifty percent of registered Republicans polled said they wanted the party to renominate Trump in 2024, while 49 percent said they wanted the GOP to nominate a different candidate. Trump hasn't launched another presidential campaign, but has suggested he will run again.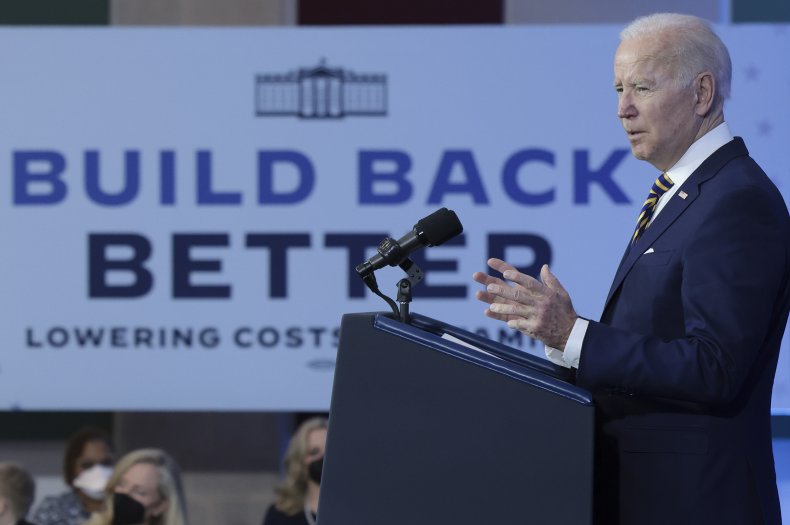 CNN pointed out that Biden and Trump's numbers are low compared to past surveys. In March of 2010, a poll found that 79 percent of Democrats and Democratic-leaning voters wanted then-President Barack Obama to be renominated for the upcoming presidential election. And a March of 2018 poll showed 77 percent of Republicans wanted Trump to be nominated again in 2020.
A separate poll released this month shows that Biden's approval rating is slightly higher than Trump's was at the same stage in his presidency.
The survey from Investors Business Daily (IBD)/TIPP found that Biden's approval stands at 44.4 percent. In February of 2018, Trump had 40 percent approval in that poll. That poll came the same year Republicans lost control of the House of Representatives during the midterm elections.
In November of 2018, the month that the midterms took place, Trump's approval rating was 42.6 percent.
Newsweek reached out to the White House for comment, but did not receive a response before publication on Sunday morning.