Over Half of States Seeing Major Decline in COVID Since Omicron Peak
A majority of U.S. states are reporting drops of 60 percent or more in new reported COVID-19 cases after infections surged last month.
Health officials have widely attributed the rising case rates experienced in December and January to the rapid spread of the Omicron variant. While the surge resulted in daily case numbers exceeding 1 million nationwide, many states have begun reporting declining case numbers and started to ease restrictions put in place to slow the variant's spread.
The country's seven-day new case average was at its highest on January 15 with an estimated 805,902 new daily cases. That average has now dropped to 313,117 new cases per day, according to U.S. Centers for Disease Control and Prevention (CDC) data.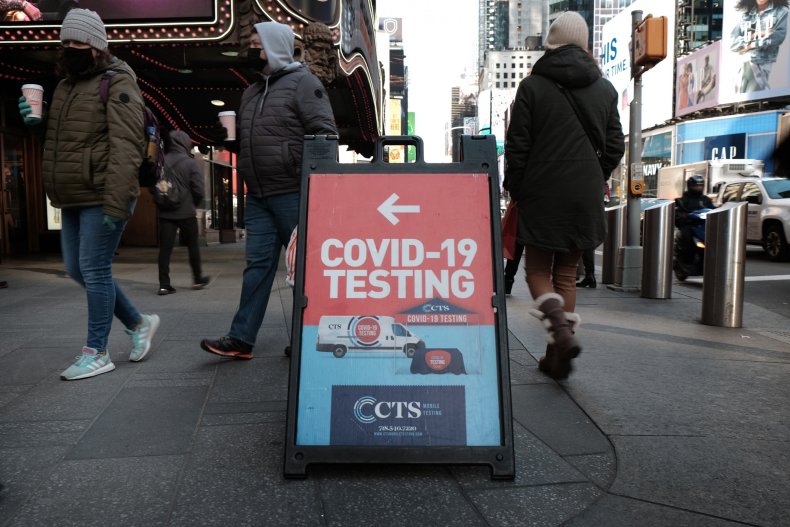 The CDC compiles seven-day new case averages for each state, with each most recently updated on February 4 as of Monday morning. Newsweek's review of the data found 31 states have reported 60 percent declines in their seven-day new case averages since experiencing their Omicron variant peaks, which occurred in the middle or end of January for most states. Seventeen states have reported a 70 percent decline or more in new daily cases, and eight states—Connecticut, Delaware, Maryland, Massachusetts, New Jersey, New York, Rhode Island and Wisconsin—reported an 80 percent drop or more in new cases.
The Omicron variant was first detected ahead of the holiday season in South Africa. The World Health Organization identified it as a variant of interest" in late November. The first U.S. confirmed case of the Omicron variant was identified in California on December 1, and all 50 states had confirmed the variant's presence among their residents before the end of the month.
By January 1, the CDC estimated the Omicron variant accounted for about 89.3 percent of all U.S. cases, and its presence in the country continued strengthening in the weeks that followed. During the final week of January, the CDC estimated the variant accounted for about 99.9 percent of all U.S. cases.
More than 76.6 million cases have been detected in the U.S. since the pandemic began, according to Johns Hopkins University data. University researchers estimated more than 903,000 people in the U.S. died after contracting COVID-19 as of February 7.
Last week, President Joe Biden acknowledged that the country had exceeded 900,000 COVID-19 deaths in a statement released by the White House. The president, who described the number as a "tragic milestone," encouraged Americans to get vaccinated against the virus if they have not already done so and to seek out a booster shot if they are eligible to receive one.
The CDC estimates 64.1 percent of Americans eligible to receive a COVID-19 vaccine have been fully vaccinated, with an estimated 75.6 percent partially vaccinated.