Over Half Of Ukraine Reactors Are Offline After Russia Takes Nuclear Plant
More than half of Ukraine's nuclear reactors are offline after Russian forces seized the Zaporizhzhia power plant—the largest in Europe.
According to the State Nuclear Regulatory Inspectorate of Ukraine, eight of the 15 Soviet-era reactors located in the eastern European nation were disconnected from the power grid as of March 4. The nuclear reactors are located in four complexes spread across the country.
At the Zaporizhzhia plant, located roughly 400 miles from Kyiv, five of the six reactors were reported to be offline.
The attack on the plant by Russian forces caused global alarm, as its training facility was engulfed in flames due to shelling. Ukrainian firefighters reported being unable to access the fire at first, according to officials, but the attack was paused and the fire was ultimately put out.
But now the plant is occupied by Moscow's troops. The U.S. Embassy in Kyiv called the power plant attack a "war crime" and said Vladimir Putin's decision to shell the plant "takes his reign of terror one step further."
President Joe Biden spoke to Ukrainian President Volodymyr Zelensky late Thursday about the situation, according to the White House. Zelensky has called the attack on the Zaporizhzhia plant "nuclear terrorism" by Russia.
Zelensky said that if an explosion were to occur at the site, it could have caused a disaster equal to "six Chernobyls." The Chernobyl power plant had four nuclear plants but only one exploded in 1986.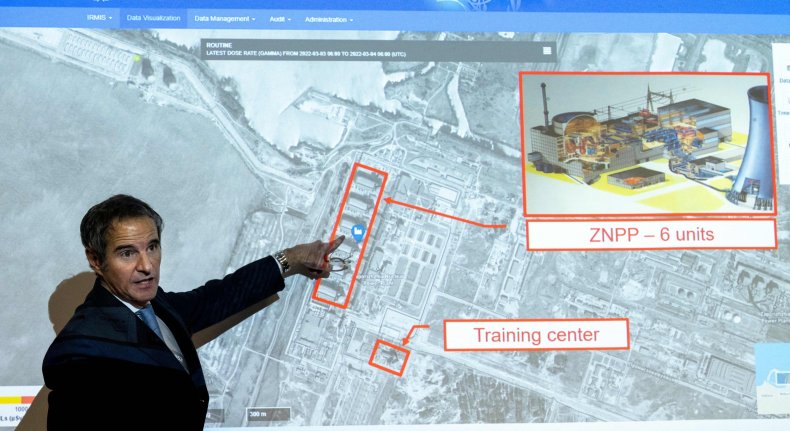 Rafael Mariano Grossi, the head of the United Nations' atomic watchdog agency, said in a press conference Friday that a "projectile" hit a training facility at the plant that is not part of the reactor.
"It's important to say that all the safety systems of the six reactors at the plant were not affected at all, and that there has been no release of radioactive material," Grossi said. "No release of radioactive material."
Grossi added that the radiation monitoring systems are also fully functional.
The one remaining reactor still online at Zaporizhzhya is operating at 60 percent capacity, according to the United Nations.
Russian forces launched their full-scale attack on Ukraine on February 24. In the week since the invasion began, at least 1 million Ukrainians have fled to neighboring countries. The United Nations has reported at least 752 civilian casualties in Ukraine, including 227 people killed and 525 people wounded, between February 24 and March 2.
Russia's defense ministry announced Wednesday that 498 Russian troops had been killed in the conflict and 1,597 have been injured.
Newsweek has reached out to the State Nuclear Regulatory Inspectorate of Ukraine for comment.