Sexual Harassment: Over One-Third of British Girls Harassed While Wearing School Uniforms, Report Reveals
More than one-third of schoolgirls in the U.K. have been harassed while wearing school uniforms, a new study has revealed.
According to the research by Plan International U.K., two-thirds of girls surveyed first experienced undesired sexual contact or harassment when they were 12 or even younger. Describing the studies findings as "unacceptable" and "horrifying," some British leaders have already called for immediate action to tackle the problem.
"Most appallingly of all, girls as young as 11 are having to deal with sexual harassment out in public places," Maria Miller, a member of the British parliament and the chair of the Women and Equalities Committee, told The Independent. "We need to have a clearer strategy to tackle this because it is completely unacceptable."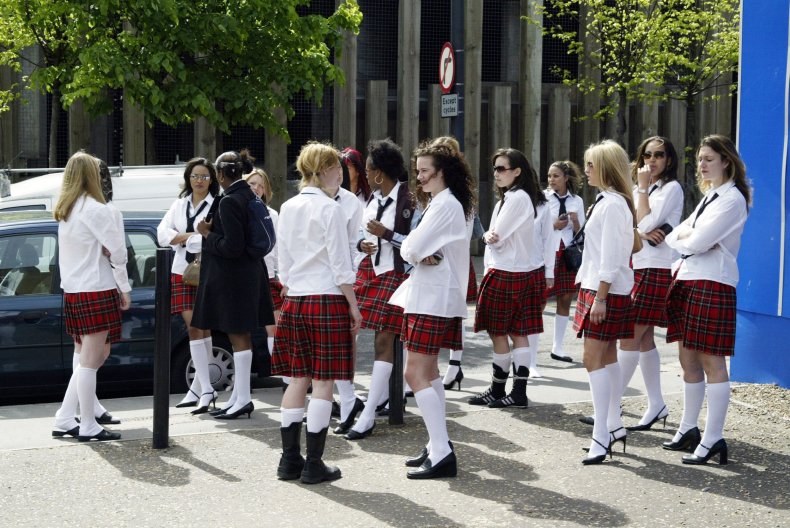 Newsweek subscription offers >
Mary Bousted, joint general secretary of the National Education Union, told the British newspaper that she believes the problem of harassment is getting worse.
"All the gains that were made in the 1970s and the 1980s by feminism are just being eroded," Bousted said. "The focus and attention in many schools has gone on to the academic curriculum, and schools not being given the opportunity and the space to do the real thinking of what sort of people do we want the current pupils to grow up into."
Some parents have also taken matters into their own hands.
"I'm not allowed to go out in my uniform anymore," a student named Nyasha, 14, told researchers, The Washington Post reported. "My mum says I look older than I am."
Newsweek subscription offers >
Natasha, a 25-year-old woman, told researchers that it made her "feel sick" when a man whistled at her 10-year-old sister, who was wearing a uniform. "How can you not see they're children?" she asked.
Conducted in June, the survey asked 1,000 girls and young women aged 14 to 21 about their experiences with sexual harassment across the U.K. It found that a disturbing 66 percent said they had experienced unwanted sexual attention or sexual or physical contact in a public place, the BBC reported. Of those, 35 percent reported being touched, groped or grabbed.
Tanya Barron, the chief executive of Plan International UK, told the British broadcaster that the findings were "shocking and deeply concerning."
"It's simply not acceptable that girls as young as 12 are being wolf-whistled at in public, touched against their will, stared at or even followed," she said. "This disgraceful behavior needs to be called out and stopped."
Sexual Harassment: Over One-Third of British Girls Harassed While Wearing School Uniforms, Report Reveals | World