Over a Third of Americans Want to Continue Working From Home After Coronavirus Restrictions Are Lifted, Poll Shows
Over one-third of Americans who have been forced to work from home during the coronavirus pandemic want to continue doing so, despite an increase in expenses, according to a new survey.
The poll, which was conducted by CreditCards.com, surveyed 2,768 U.S. adults from May 21 to May 22. The margin of error is plus or minus 2 percentage points.
According to the survey, 35 percent of Americans forced to work from home want to continue doing so, even after coronavirus restrictions are lifted. In comparison, 21 percent of the same group would like to continue working from home at least four days a week, 26 percent said two to three days per week and 82 percent said at least two days per week.
Additionally, 7 percent would like to work from home once a week, 6 percent would prefer to work from home less often than once a week and 4 percent never want to work from home.
In an email sent to Newsweek, CreditCards.com Industry Analyst Ted Rossman suggested that over 30 percent of Americans want to continue working from home because of the "freedom and flexibility."
"Many workers—myself included—are really enjoying the commute downstairs as opposed to taking two trains and spending 90 minutes getting to the office," Rossman added.
In his email sent to Newsweek, Rossman also spoke about why he thinks there's a "good chance that working from home will become more commonplace in the long run."
"For a lot of people, that may not mean working from home full-time, but even a day or two per week could be a really positive change. Personally, I think that would be a nice balance. Because there are benefits to getting up and getting out and seeing people and conversing and collaborating, just like there benefits to skipping the commute. I think we might see some sort of hybrid—especially if employers and employees stagger which days people are at home, it could require less office space and traffic, too," Rossman continued.
Despite the large number of Americans wanting to continue working from home once restrictions are lifted, the survey also found that those working from home have seen an increase in their monthly spending.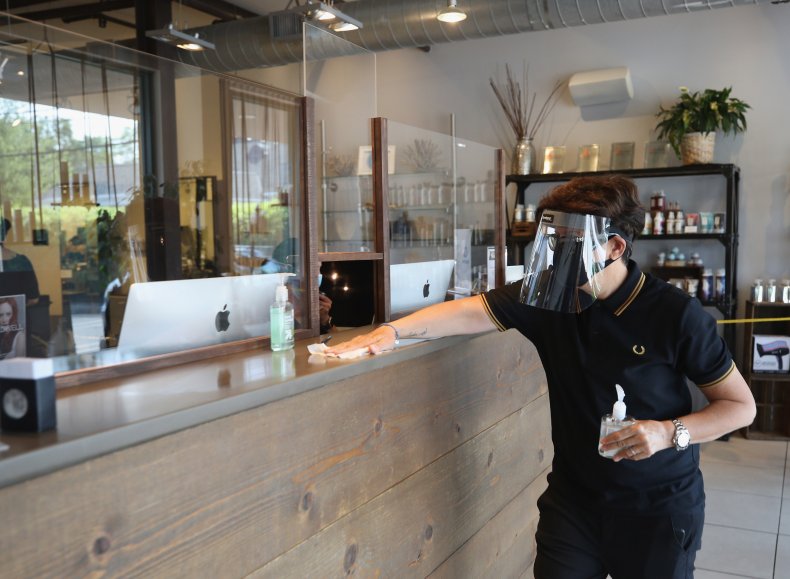 The survey looked at different expenditures, such as groceries, utilities, restaurants/take-out, gas/public transit, clothes/dry cleaning and child care. On average, the survey found that those working from home spent $108 more per month across these different expenditures.
The survey found that Americans working from home saw the largest increase in spending in groceries, with an average net spending increase of $182. After groceries were utilities, with the survey finding an increase in spending of $121 per month.
On the other hand, the survey found that those working from home saved an average of $27 per month on restaurants/takeout, $33 on gas/public transit and $34 on child care.
"Surprisingly, average expenses have gone up for people working from home, but it's a tradeoff most are very happy with," said Rossman. "Most workers seem content to skip the commute and potentially work in their pajamas, even if it means spending more on food and utilities."
A separate survey, conducted by IBM in early May found similar results, with 54 percent of 25,000 respondents saying they would like to primarily work from home. This poll also found that 40 percent said they feel strongly that their employer should offer opt-in remote work options following the removal of restrictions.
The polls' findings come as many states continue to reopen and lift coronavirus restrictions. Along with the phased reopenings across the U.S., a number of states, such as Florida, Arizona and Texas continue to see a rise in COVID-19 cases and hospitalizations.