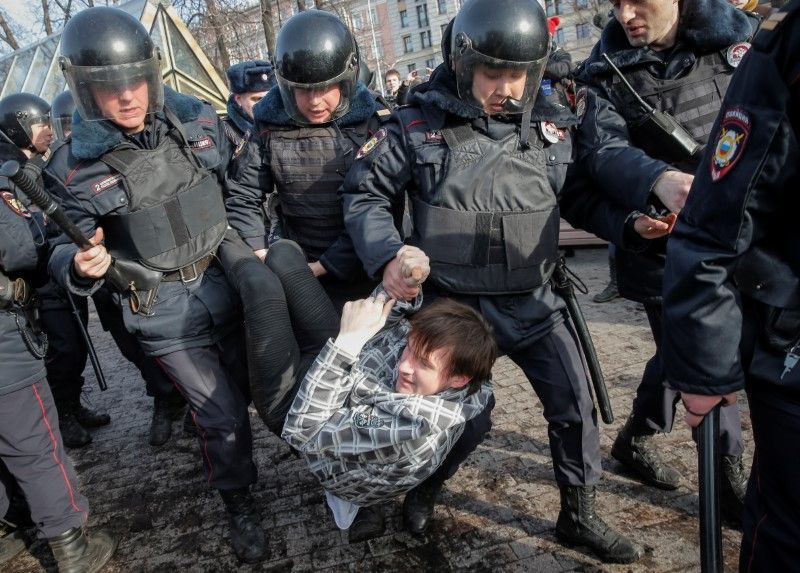 Russian parliament has blocked a probe into the corruption allegations against Prime Minister Dmitry Medvedev, even as over a third of Russians were found to support opposition protests against the premier.
Anti-corruption blogger and one of the most recognizable faces of the Russian opposition, Alexey Navalny, published an explosive documentary last month, alleging Medvedev had acquired vast properties in Russia and abroad. The video attracted millions of viewers online and thousands joined Navalny for protests in Moscow and other cities last month.
Medvedev dismissed the allegations and earlier this week accused Navalny of using it to enhance his own chances of running for president next year. A fraud conviction, controversially given to Navalny three years ago, will most likely keep his name off the ballot.
During a parliament session on Wednesday, the legislature rejected a motion to study Navalny's allegations against Medvedev, put forward by three members of the country's second largest party, the Communist Party. For Russia's lower house of parliament to launch a protocol study into anything, a majority of its 450 lawmakers have to support it.
Only 43 lawmakers backed the probe, the Interfax news agency reports, though only two parliamentarians opposed it directly. The remainder abstained. The majority of lawmakers in parliament belong to Medvedev's United Russia party.
The protests do seem to have resonated with Russians nonetheless. A Levada Center poll released on Thursday has found that 38 percent of Russians either "definitely" or "largely" approve of Navalny's protest action and those organizing it. According to business daily newspaper Vedomosti this figure almost tied with the share of Russians who disapprove of the protest's organisers - 39 percent.
The protests have raised Navalny's profile to a record high level, with the Levada Center reporting on Thursday that 55 percent of Russians know who the blogger is now, higher than at any point before, and includes his highly public campaign in 2013 to be Moscow's mayor.
Of those, 31 percent are aware of his presidential campaign, and 28 percent think he is working "in the interests of the West."
Regardless of parliament's decision to dismiss the motion, Medvedev has suffered some damage, with his approval rating plummeting to its lowest in a decade last month, at 42 percent. Navalny, whose popularity is much lower, has reportedly increased his ratings, with liberal news site Republika estimating 10 percent of Russians now approve of the blogger, citing a commissioned Levada poll.