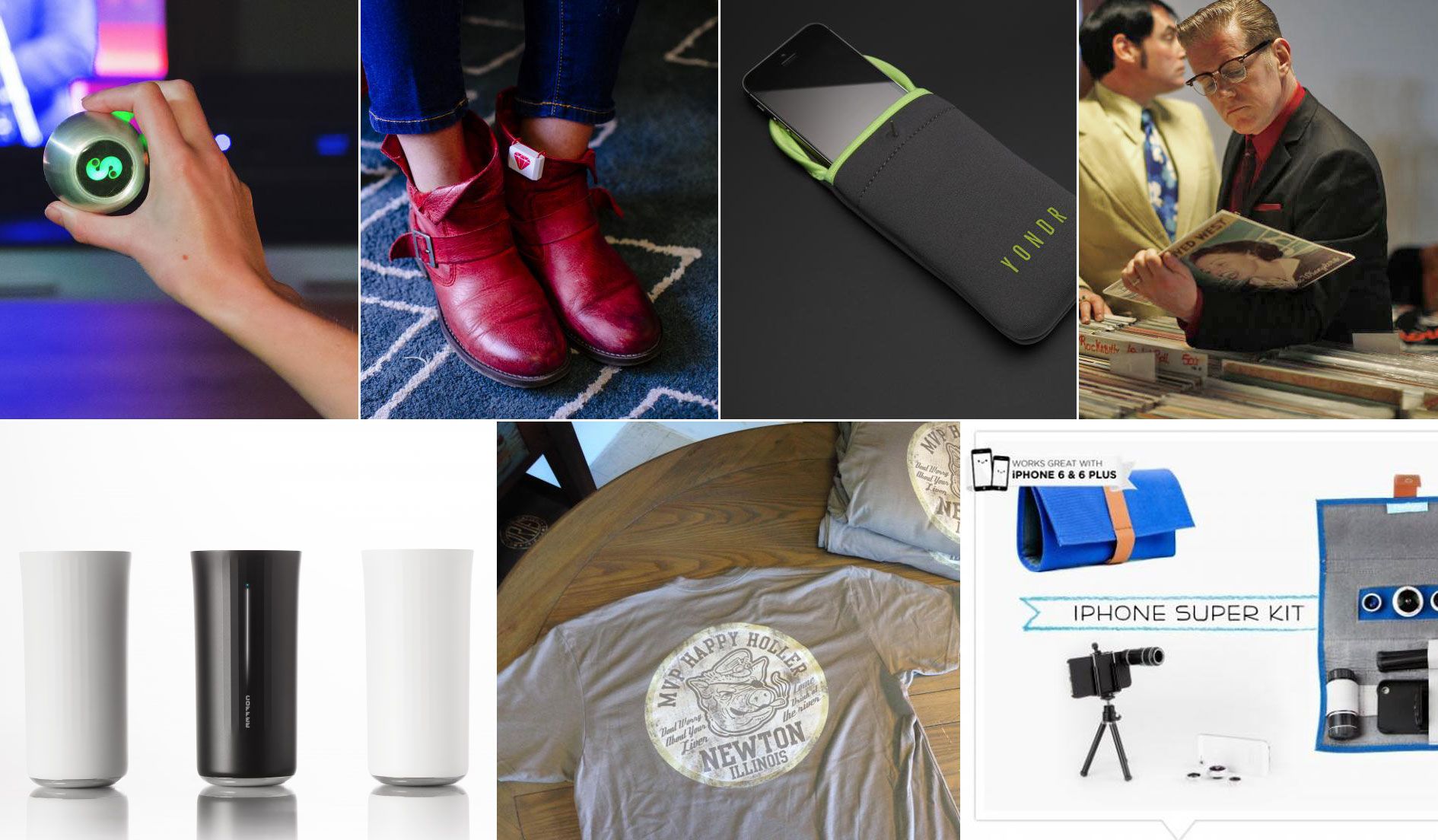 Ebola. ISIS. Downed airlines. Ukraine. 2014 threw up some confounding dilemmas. Our "Silver Bullets" series comes to the rescue with seven big solutions to some of the most complex problems the world is facing. But we also decided to turn our attention to some of the world's smallest problems, from getting out of a date with a click of your heels to an eternal question: Where am I going to find the perfect dive-bar T-shirt?
Each day for a week we rolled out an idea dreamed up by an enthusiastic entrepreneur or company to solve a problem that seems quite small in the context of the world's biggest issues, petty even. Unless it's your problem.
Are these solutions as important, and as inspiring, as our "silver bullets"? No, but they prove once again that there are no limits to human ingenuity—or to the messes humans can cook up. - Jackie Bischof
For $199, This Cup Tells You What It's Holding
Vessyl's smart cup uses a technology that allows the glass to "read" the liquid poured into it, determine its nutritional value and send that information to a smartphone app. Manual-entry calorie tracking applications are already popular, so the founder believes the value of Vessyl is in its automated process, designed to encourage healthier living. — Polly Mosendz
You Look Stupid Taking a Photo With Your iPad, But It's OK
Most smartphones and cameras take decent photographs. But what if you want to get a selfie with your entire fencing squad or take a close-up shot of a majestic mountain goat? Well, you could get a camera. Or you could buy one of the external lenses now available on the market. Warning: You may look silly doing it. — Doug Main
You Can Convert Your MP3's to Vinyl Records—But Will You Be Able to Tell the Difference?
Vinyl is back—7.6 million sales in 2014—and consumers are now looking to retrofit their digital music collections. Enter a crop of services, like vinylrecorder.com, that allow consumers to convert MP3s to vinyl records. But why pay nearly $4,000 for a copy of a copy of a copy? — Taylor Wofford
A T-Shirt a Month Equals a Journey to America's Diviest Haunts
After spending a year as an unsatisfied T-shirt club member (surfing themed; boxy, unflattering cuts), Cody Shoemake decided to create his own company: the Dive Bar Shirt Club. DBSC's members get to travel to the nation's diviest watering holes one soft, ringspun T-shirt at a time. It's been a burgeoning success, which may not be as surprising as it sounds—analysts say there's a growing market for quirky interest subscriptions. — Lucy Westcott
New App Lets You Click Your Way Out of a Bad Date
Ever been on a bad date and prayed for a polite way to excuse yourself? The Dorothy app syncs your smartphone to Ruby—a device that clips into your shoe. Click your heels three times and receive a call from a fake contact, or text your location to friends. The app is in beta, but the team is already thinking of ways to build in other functions, from ordering your favorite pizza to acting as a panic button. — Lauren Walker
A Remote Control for Your Whole Life
The tech boom aims to simplify life, but that comes at a price: more devices and remote controls to keep track of. Enter SPIN, an ergonomic and aesthetically pleasing remote that connects all of your gadgets. A device to remind us that we have too many devices? That's meta. — Paula Meija
Over Yondr, Where There Are No Phones
Phones have fundamentally changed the way people experience live performances and social interactions, says Graham Dugoni. His company, Yondr, aims to check the compulsive phone-checking and documenting that distracts people from real life. The San Francisco-based company's first product is a locking system that allows music venues, schools or businesses to create phone-free zones. — Stav Ziv