In Overturning Roe, the Supreme Court Has Endangered Black Women | Opinion
Progressive women across America are rightfully angry and terrified. The Supreme of the United States took away our constitutional right to safe and legal abortion this Friday. As I watched the news break, I looked at the faces of my two young daughters and wondered what I should tell them about what it now means to grow up female in the world's richest democracy.
Scrolling through Twitter, I felt the tangible rage of my fellow reproductive justice colleagues and thought about all the people (read: men) who told us for years that abortion would never be taken away from American women, and we were all just being "hysterical."
The irony of being dismissed because of alleged hysteria is not lost on me. In fact, it's the core argument of my book, The Pain Gap: How Sexism and Racism in Healthcare Kill Women, in which I urge women to redefine the term. For too long, the idea of "hysteria" shaped how we view and dismiss women's health concerns. And yet, this age-old notion, that women's pain is in our heads, continues to impact whether women get a diagnosis—or are dismissed, often to death.
Today, as the fear of so many feminists materialized, I have never felt more, well, hysterical.
But as a woman of color, I have the right to feel extremely vulnerable. While the reversal of Roe will impact all American women one way or the other, it will be Black and brown women who will feel the loss of Roe way harsher than white women, many of whom will still be able to get their abortions.
Women of color were already paying with their lives for restrictive abortion laws across America. More than half of the America's Black population lives in the South, where women of color, including Hispanic women, make up a significant part of the population. Moreover, according to the Kaiser Family Foundation, which follows and tracks health statistics, the numbers are clear when it comes to the impact this decision will have on the lives of minority women: they will bear the brunt of the needless suffering and death Friday's SCOTUS decision will cause.
For example, in Mississippi, people of color make up 44 percent of the population but 81 percent of women receiving abortions. In Texas, people of color make up 59 percent of the population and 74 percent of people receiving abortions. In Alabama, the numbers are 35 percent and 69 percent. And in Louisiana, minorities represent 42 percent of the population, according to the state Health Department, and about 72 percent of those receiving abortions.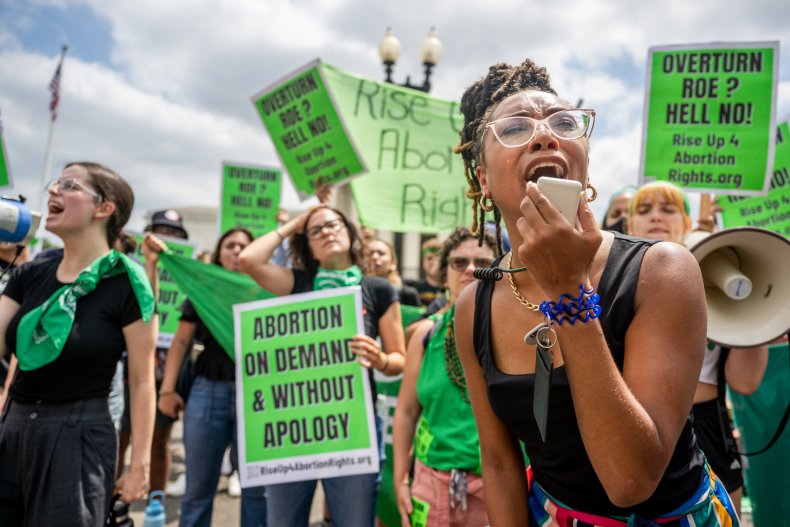 "Women are going to die," Dalton Johnson, who owns an abortion clinic in Huntsville, Alabama, said in an interview with NBC News. "It might not be as many as it was in the '70s because we have medication abortions. There are groups that are going to have access to those—whether legally or illegally. But everybody's not going to be able to do that and women are going to die."
Let us not forget that the end of constitutionally-protected abortion rights is just the latest blow to women's health and rights in the United States, which already has the highest maternal-mortality rates amongst rich nations. And that number is not only worsening but also disproportionately killing Black women, who are three to four times more likely to die giving birth in America than their white counterparts, regardless of education or income.
The loss of reproductive freedom at home will also be felt by women of color globally, even in countries where abortion is legal. Why? Because not only is the United States the world's largest donor to global public health, but because our country's dirty little secret is that we export our domestic abortion politics around the world through a U.S. foreign policy called the Mexico City Policy, dubbed the Global Gag Rule by advocates. And we've been doing it for decades. With the loss of Roe, the U.S. will likely codify and make this dangerous policy permanent.
Giving birth in America over a decade ago, I never thought I could die in childbirth. But I almost did. That experience not only framed my book, but put me on a journey to understand how women—especially women of color—are dismissed to death by systemic sexism and racism in American healthcare.
With Friday's SCOTUS decision, I find myself again trying to understand how a country that I as a little girl in Bangladesh in the 1980s watched champion women's health and rights around the world could be denying American women that very right to bodily autonomy.
And I am more determined to fight for mine and my daughter's rights for reproductive justice and freedom than ever.
Anushay Hossain is a writer and a feminist policy analyst focusing on women's health legislation. She is a regular on-air guest at CNN, MSNBC, and PBS, and her writing on politics, gender, and race has been published in Forbes, CNN, USA TODAY, The Daily Beast, and more. Hossain is also the host of the Spilling Chai podcast and author of "The Pain Gap: How Sexism and Racism in Healthcare Kill Women."
The views expressed in this article are the writer's own.