Overusing Hand Sanitizers With Methanol Could Have Deadly Consequences
Using hand sanitizer can help prevent the spread of the coronavirus, but overusing a product that contains methanol can cause serious health complications.
The Food and Drug Administration warns people not to use more than 90 different hand sanitizers because tests revealed they contain methanol. Methanol is not an "acceptable ingredient" in any drug, the FDA said, and can be toxic to the point of causing death.
Using methanol in limited amounts on intact skin isn't likely to cause significant problems, experts told Newsweek, because the human body can metabolize it. However, Dr. Asim Tarabar, a medical toxicologist and chief of emergency medicine at the Veterans Affairs Connecticut Healthcare System, said if people have been using a hand sanitizer with methanol multiple times a day since March, when the product was flying off shelves, they could experience side effects.
"It all depends on when their system is overcome or overwhelmed," Tarabar said. "Everything depends on concentration and how much it is ingested in the body."
Symptoms of methanol toxicity include lightheadedness, nausea, vomiting, heart palpitations and headaches, Dr. Jennifer Love, an adjunct instructor at Oregon Health and Science University, told Newsweek. It can also cause permanent blindness, seizures, coma and permanent damage to the nervous system or death, the FDA warns.
Fortunately, Tarabar said, if people who have been using a methanol-based hand sanitizer since March haven't experienced symptoms yet, they're likely in the clear if they stop using the product.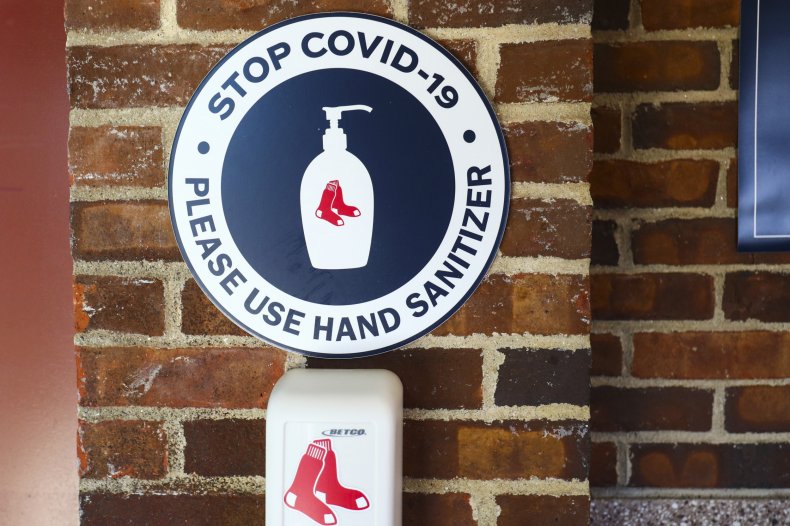 People with underlying skin disorders, such as eczema, are particularly susceptible because their skin doesn't have a barrier against absorbing the methanol. Although there's a risk when using methanol-based hand sanitizers on the skin, the real danger comes when a person ingests the substance.
Children frequently put things in their mouths that aren't intended to be there, and the colorful packaging or glitter in hand sanitizers could attract their attention. As of June 30, poison control centers had responded to 11,363 cases of children under 12 being exposed to hand sanitizer, according to the American Association of Poison Control Centers. Licking a small amount off their hands likely won't be a problem, but children who drink hand sanitizer could experience methanol poisoning.
The possibility of a person drinking hand sanitizer that may contain methanol increases in prisons,Tarabar said. Without access to alcohol, incarcerated people may consume hand sanitizer as a substitute.
"So that could be really very important for people if they're running a jail or another institution," Tarabar said. "Or if you are in charge of supplying it for a business, you have to be very careful."
While the FDA is working to recall products and people should pay attention to the ingredients, the agency notes that not every product that contains methanol has the ingredient listed. And, in an era of online shopping, the internet, which may be believed to have more regulation than it does, is a "big problem," Tarabar said.
Ultimately, if people start having symptoms of methanol poisoning and recently introduced a new hand sanitizer into their routine, they should stop using it and see a doctor, he said.