'Overwatch' Anniversary 2018 Skins Leaked: Bio Torb, Sherlock McCree and More
Overwatch's upcoming Anniversary event may have just had all its skins leaked. Reddit user digitai1234 posted a few images to the game's subreddit that he claims were taken from a "Taiwanese Overwatch fan club" on Facebook. The images feature the Anniversary event skins, the new map Petra and a map game mode. The pictures are in Mandarin and reddit detectives aren't the most trusty translators, so we are still unsure what any of the skins English names will actually be. Here's the full album of screenshots taken directly from the unknown player's client.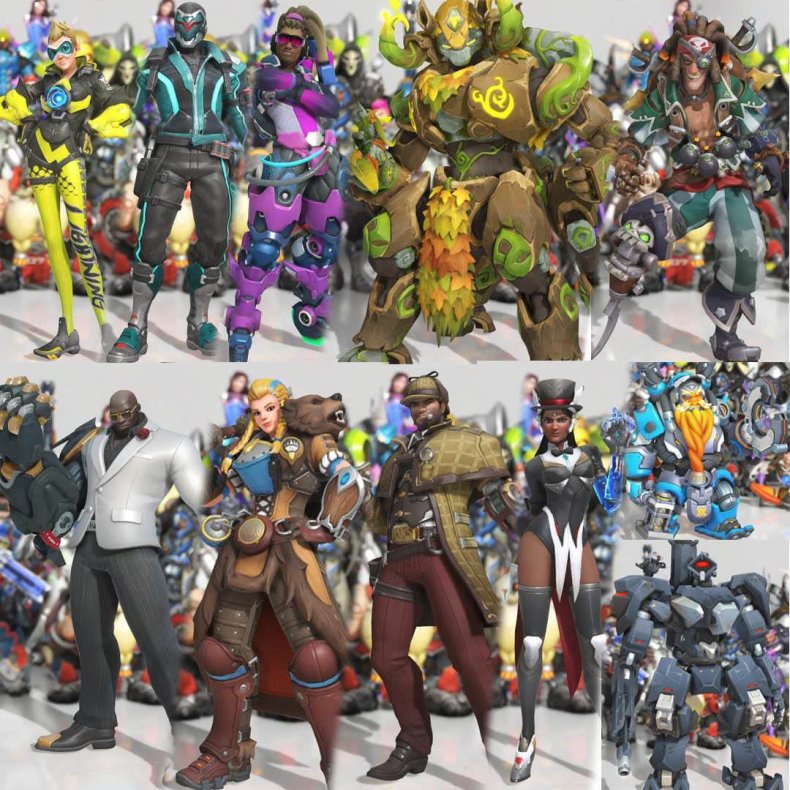 According to user GregoriusDaneli, here are the unofficial Chinese translations for the Anniversary event skins:
Sherlock McCree
Bit-rate Lucio
Shield Maiden Brigitte
Magician (?) Symmetra
Formal Wear Doomfist
Pirate Junkrat
Bio Torb
Dryad Orisa
Stealth(?) Bastion
Venom Soldier:76
There are 11 skins in total, showing off the Overwatch cast in the continued tradition of their most ridiculous costumes. The nine that have never been seen before are all Legendaries. Sherlock McCree comes equipped with a pipe and dapper jacker. Bio Torb is ready to fight the Zerg, or at least some omnics in space. Dryad Orisa might have less emotive eyes, but it doesn't make me love her any less. My favorite has to be Stealth Bastion, whose look is inspired by my favorite Transformer Decepticon Soundwave. That robot Ganymede is enough to make any Overwatch fan need that skin.
There's also our first look at Petra, a Grecian battleground full of marble columns. The new "Death Match" mode will pit eight players against each other on Petra, though that's all the information we know about the mode. It will join the other limited time game modes like Lucioball and Mei's Yeti Hunt that will return during this year's Overwatch Anniversary Event.
There is no concrete evidence that this leak is real. It just popped up online from a random source and could be an extremely elaborate prank. I'm willing to believe that it's legitimate, simply because of the level of quality put into all of these skins. If a fan is willing to put this much effort into a project just to troll the world, then they seriously deserve a job at Blizzard.
Newsweek has reached out to Blizzard for comment about the legitimacy of this leak. We will update the story if we receive official word from the publisher.
Blizzard already announced they'll release more information about the Anniversary on Saturday night's Overwatch League stream. Assistant Game Director Aaron Keller and Lead Writer Michael Chu will hit the stage to discuss what's coming in next week's event. Hopefully, we can find out what's real before the event starts on May 22.