'Overwatch' Bastet Challenge Guide: How to Unlock Free Bastet Ana Skin
Overwatch players can earn the Bastet skin teased in Monday's short story by playing games during the month on January. The Bastet Challenge starts today and ends January 21, allowing players to earn exclusive icons, sprays and a new Epic skin designed after Ana's new costume. This week Overwatch players got a new balance patch, dozens of new Soldier:76 "daddy" memes and access to a free skin. Being a Blizzard fanboy doesn't seem that bad.
Starting today, Overwatch players can also buy in-game skins for tall the new teams coming to the Overwatch League. If you have been waiting to show your Chengdu Hunter pride, this is your chance.
How to Unlock Overwatch Bastet Challenge Skin
Wins in Quick Play, Competitive Play or Arcade during the event will earn you three new items. For winning three games, you'll get a player icon showing off the evil Egyptian wolf. Win six games and you'll get a Victory Pose of Ana kneeling down and praying for her next team to feed less. After securing nine wins during this event, you'll unlock the exclusive Bastet skin.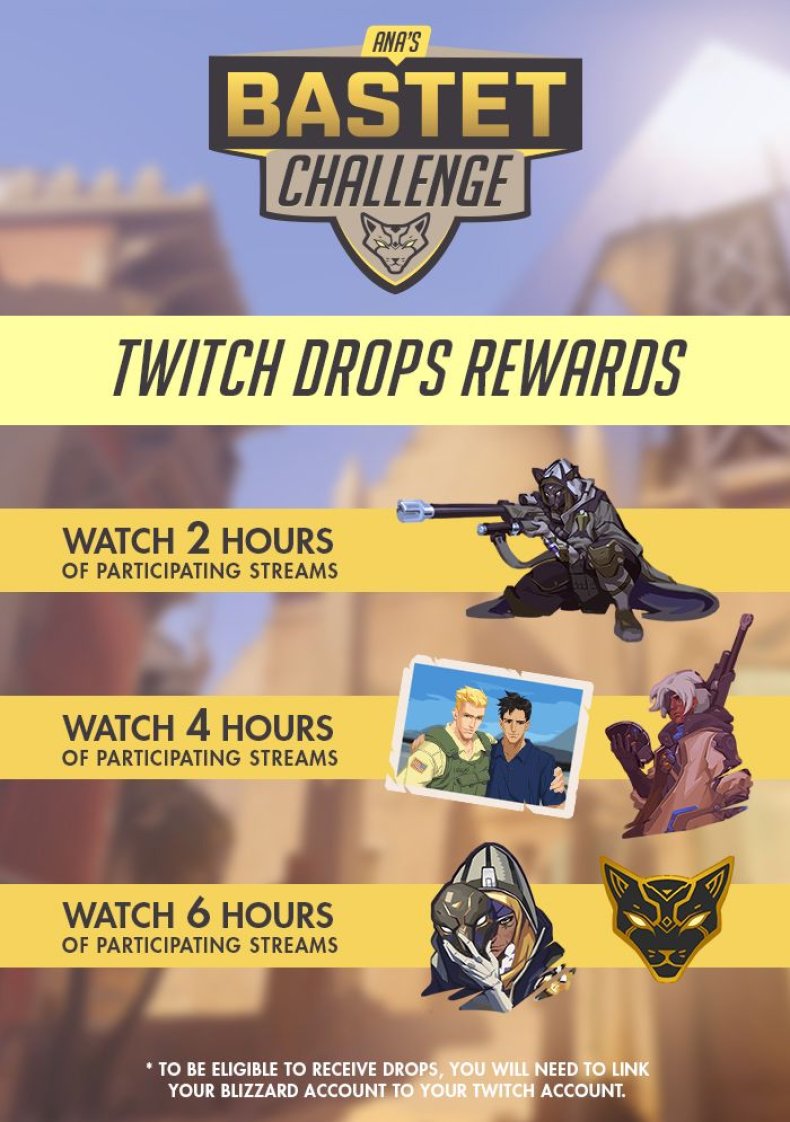 Watching specific Twitch streamers will earn you exclusive icons that won't be available anywhere else. These Twitch drops will "tell memorable moments from the short story" according to the press release. Here's the full list of streamers from the Blizzard website and what time you'll need to watch them to get Twitch Drops.
Emongg January 8 (11:00 - 23:00 PST)
Mickie January 9 (16:00 - 22:00 PST)
Tyr0din January 10 (19:00 - 23:00 PST)
Fran January 11 (15:00 - 20:00 PST)
Miro January 12 (03:00 - 09:00 PST)
Blue January 13 (00:00 - 08:00 PST)
Noserino January 14 (07:00 - 15:00 PST)
RocketLive January 15 (14:00 - 21:00 PST)
Death March Gaming January 16 (08:00 - 12:00 PST)
Kimjaewon January 17 (02:00 - 05:00 PST)
Elspeth January 18 (14:00 - 18:00 PST)
963Games January 19 (00:00 - 06:00 PST)
Alphacast January 20 (11:00 - 15:00 PST)
Aspen January 21 (09:00 - 16:00 PST)