'Overwatch' Developer Update: Experimental Card & Hero Pool Coming
Jeff Kaplan is back with an Overwatch Developer Update, this time shocking fans by wearing a plain shirt. Kaplan begins the video by saying the development team listens to fan feedback, especially regarding balance philosophy and shifts in the meta.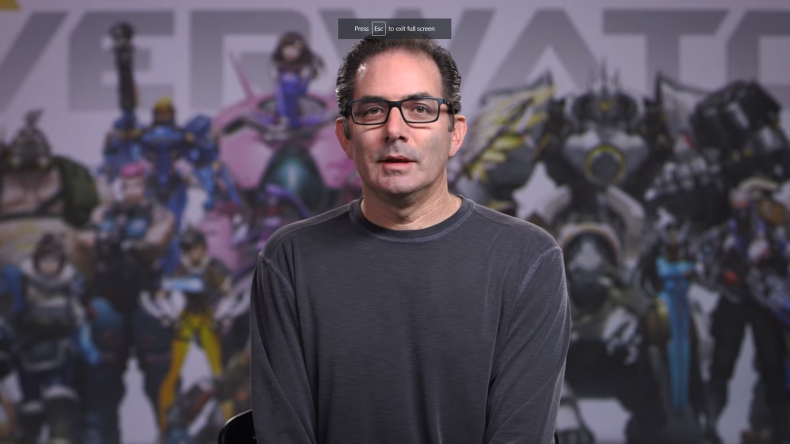 The Experimental Card- Currently, players can choose to play casual or competitive games by picking certain cards in the menu. "Soon," according to Kaplan, a new Experimental card will pop up "every now and then" with new balance updates and changes. It is intended to replace the old function of the Private Testing Realm, which was updated fairly infrequently before patches went live. This new Experimental option will allow the development team to test new updates and balance tweaks. Console and PC players will be able to access the Experimental card, and playing games in this mode will count towards experience and challenges.
"It should drive more players to help us test out changes," Kaplan said. "Also, unlike the PTR, the point isn't stability and bug testing... but gameplay changes and player reactions."
The first Experimental card should be added to Overwatch in a matter of weeks, according to Kaplan.
Balance Philosophy- More balance updates will be coming more frequently, with "pretty aggressive balance changes" that target the meta. The previous goal was to keep stability across the game for players, but now Overwatch's balance will be primarily focused on the meta. Changes may also be reverted a few weeks later if they don't work out, meaning balance will constantly be in flux.
Hero Pools- Coming with Season 21, which begins in March, hero pools will be coming to Overwatch. For each week, some heroes will not be able to be picked in competitive play. Quick Play and other modes will not have their hero pools limited, however. If this solution is not satisfactory, Kaplan and his team are willing to experiment and adjust due to player feedback. The Overwatch League will be using a version of hero pools during its third season.
Replays that can be shared and new anti-cheat software are also on the way.
These changes could breathe life back into Overwatch's stagnant ranked scene. The game came out four years ago, and plenty of other shooters have since usurped Blizzard's hero-based offering. These changes, targeted at the game's hardcore fan base, could potentially rejuvenate the franchise until Overwatch 2 comes out in the reasonably near future.