'Overwatch' Flying Ace Winston Skin: How to Get Overwatch league Tokens
Overwatch players will be able to unlock a brand new skin for Winston to celebrate the first season of the Overwatch League. From August 29 until September 16, players will be able to unlock the Flying Ace Winston skin, honoring the inaugural season winners, the London Spitfire. With teammate Gesture being one of the best Winston players in the world, there's no doubt why the honorary skin is for the giant, angry gorilla.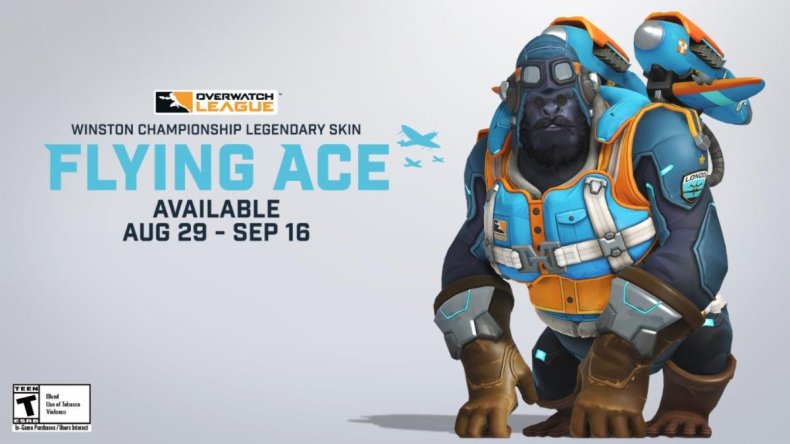 The Overwatch League has quickly become one of the most pervasive esports scenes, dominating Twitch with every broadcast. Its first championship between the Philadelphia Fusion and the London Spitfire at Barclays Center was a sold out show. Even with DJ Khaled performing a divisive set, the competition remainsl a milestone for professional gaming.
This skin was shown off to the members of Spitfire before it was announced and is a testament to their keyboard warrior skills.
How to Unlock Overwatch League Flying Ace Winston
Players can purchase the Flying Ace Winston skin using Overwatch League Tokens. You'll need 200 to buy the skin, which can be purchased with real-world money or by watching games on Twitch with a linked Battle.net account. For every hour of esports watched, fansget three Tokens added to their Blizzard accounts. After a map concludes, you'll have the chance to earn an extra 100 Tokens at random. If you really want Flying Ace, it might be worth it to open up your wallet to Blizzard for the standalone price of $19.99.
Interested parties can also use the new League Picks feature to earn Tokens by answering trivia questions about certain maps or matchups. You'll have to be watching on Twitch on a PC to use the overlay that lets you take part in the questionnaire, however. These questions range from guessing who might have the most DPS on a map to which player will be the most successful. Answering questions correctly helps you complete Challenges, which give you 20 Tokens when completed. Once you've completed a Challenge, an alert icon appears at the top of the page, which you must click before the Tokens are added into your account.
Will you be purchasing Flying Ace Winston? Tell us in the comments.