Overwatch League All-Stars Skins Leak? Mercy and Lucio Could Represent Atlantic and Pacific
This year's Overwatch League All Star skins may have leaked ahead of schedule. Reddit user bata112 posted images of the new Atlantic and Pacific Divisions skins that will be available for Lucio and Mercy. Last year, these skins were for Tracer and Genji and could be purchased with a special in-game currency, Overwatch league tokens. The leak has not been confirmed and this could all just be an elaborate trick by an Overwatch trickster.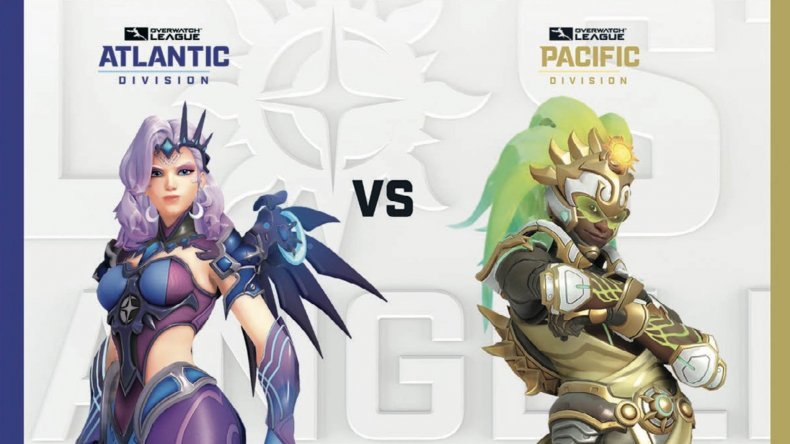 All-Star weekend will be held on May 15 and 16, in the middle of Stages two and three of the Overwatch League. Players will compete in less serious game modes and one-versus-one duels to help cool off while the OWL is on hiatus. These two new skins will be introduced officially during the OWL match to help get players hyped about these matches (and give them a reason to tune in) and will only be available for a limited time.
Overwatch League All-Star Skins Cost?
Last year's pair of Overwatch League All Star skins cost 200 OWL tokens each and it's expected these will be the same. You can spend $9.99 to buy a pack of 200 and unlock the skins easily, but these tokens can also be farmed by watching OWL matches. For every hour of Overwatch esports you watch, you'll earn three tokens. At the end of each game, 100 tokens will be randomly gifted to a couple of select viewers.
You need to hook up your Battle.net account to your Twitch account, which can be done by clicking the settings gear and then clicking "Connections" to add your account.
You can earn upwards of 80 credits per week, meaning you could technically earn these skins without spending any real money after watching every game in Stage One of OWL. Twitch does not check whether you are watching the content to grant the Tokens, meaning you can keep your browser on the matches muted while you go and do something else.
Do you think the Lucio and Mercy skins are legit? Tell us in the comments.