Overwatch League Adds GOAT Brigitte Skin: Will Its Esports Series Survive 2020?
The Overwatch League is about to start its 2020 season, and Blizzard is celebrating the occasion with a self-referential skin for players to purchase. GOAT Brigitte goes on sale February 6 through 19 for an estimated 200 Overwatch League Tokens, though the final price can change before the cosmetic launches. GOATS, which stands for greatest of all time, holds a special place in OWL's fans hearts, but not for the best reasons.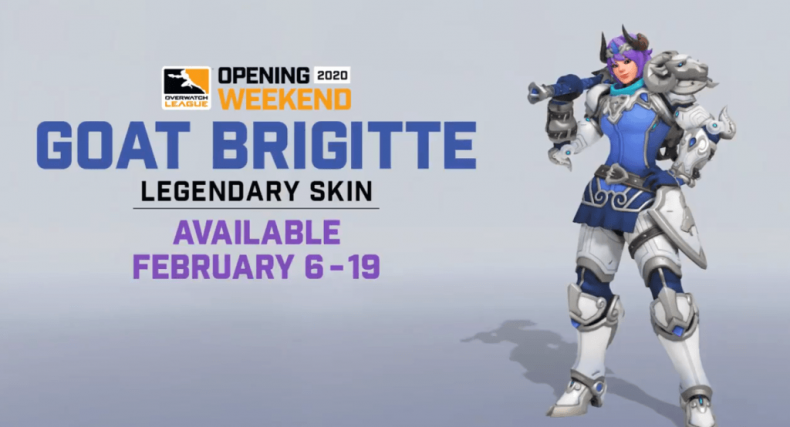 The skin itself is an homage to one of the rougher metas that plagued the Overwatch League during its 2019 season. The three-tank-and three-healer meta, used heroes like Brigitte, Lucio, D.Va, Reinhardt, Zarya and Moira to steamroll the competition. The speed and pure veracity of a tanky force that's constantly healing itself was hard to beat, and the OWL meta became engulfed in the speed force. It didn't help that the games were fairly boring to watch, with tanky characters constantly throwing out their ultimates, hoping to catch an enemy in a bad spot. If a Zarya or Reinhardt ultimate happened to connect, there was always a Lucio barrier or a Moira beam to heal them back up.
In July 2019, Blizzard announced a rule change that would essentially end the GOATs meta. Teams would now need to have two DPS, two tanks and two healers on their rosters to compete in OWL. This completely reshaped the meta overnight, forcing players to bring heroes like Reaper and Soldier:76 into their matches,
Blizzard is placing lots of emphasis on the 2020 season of OWL, which is intended to be one of its biggest. Teams are now going to play in their individual locations at stadiums or venues, flying around the globe twice per week. These changes potentially introduce outside factors like jetlag and third-party equipment difficulties to the already strenuous competitive formula.
There's also been an outflux of professional OWL casters and commentators leaving the league to pursue other opportunities. Malik Forte, Auguste "Semmler" Massonnat, Christopher "MonteCristo" Mykles and Erik "DoA" Lonnquist have all resigned from their positions or chose to not to renew their contracts at the Overwatch League mere weeks before the season start.
Overwatch is available now on PS4, Xbox One, Nintendo Switch and PC. The GOAT Brigitte skin arrives February 6 for around 200 Overwatch Tokens.
Will Brigitte and a band of esports faithfuls be enough to save the Overwatch League, or will esports suffer another crushing defeat? We will find out over the course of 2020.