'Overwatch' Hero Leak: Is Sigma Hero 31?
An image from the Overwatch World Cup Mexico Twitter account may have leaked the next hero, Sigma. Overwatch has just announced a new patch for the PTR which adds balance changes for heroes like Brigitte and a brand new role call system. Players will be able to call out which position they prefer, limiting the toxicity in the pick phase. There are two damage, two healing and two tanks role in each team.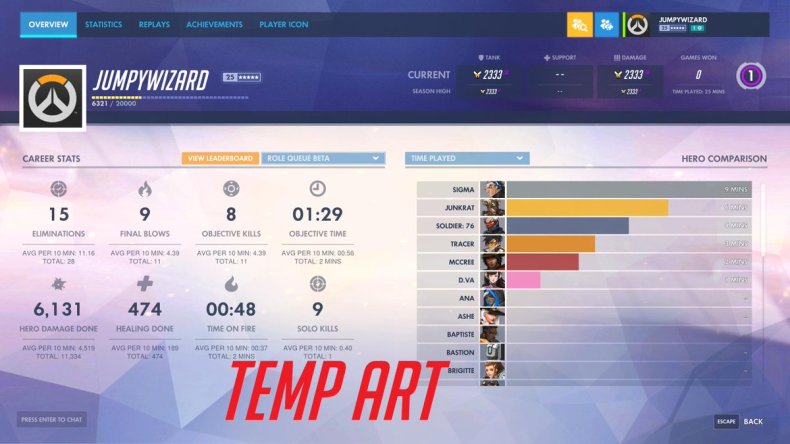 In a tweet announcing the role swap on the Overwatch World Cup Mexico account, a few images of the new system is shown. One of the images in the tweet features a hero we have never seen before with a new image. The stoic old man with a thousand yard stare is the first hero on the list, which is confusing fans. With a giant "TEMP ART" claus hanging out in the middle of the image, it is unclear if this is an actual leak or just a leftover asset from testing. If it is legitimate, then we now know who the next hero is going to be.
In a Developer Update released by Jeff Kaplan earlier this week, he announced that the next hero would be coming but not as soon as players would expect. Going by the three month cycle of hero releases like Orisa, Hammond and Baptiste, it would seem like the next hero would be releasing very soon. But, Kaplan admits that the next hero needs more testing and is fairly along in development. In Sigma is the next Overwatch hero, we still won't see him for at least a few weeks or months.
The link isn't very convincing, with this image being easily faked or miscommunicated. It's entirely possible for whoever had the image to be trolling or just inaccurate. Though it would be interesting to find Sigma in a random tweet discovered online, it seems unlikely. Blizzard is very strict about it's content policy and what it allows. The tweet with the image has been up for nearly two hours and multiple gaming websites have written about it. If someone at Blizzard PR knew about this, the image would most likely have been taken down.
The only reference to Sigma on the Overwatch wiki is that it is an "omnic fashion company" (though a reference to the leak was recently added.)
Newsweek has reached out to Blizzard for comment on the leak.