Overwatch fans have a lot to be thankful for in 2019. The Overwatch League is coming back for a second season, Soldier: 76 has a gay bae and Nerf just unleashed the Nerf Rivals line of blasters based off of the Overwatch roster. These guns have been in the works for the past year and Hasbro really took their time to develop some interesting firepower.
Hasbro sent us four different sets— McCree, Reaper, D.Va and Torbjorn. Every one of the three main blasters fires Nerf Rivals projectiles, called "high-impact rounds." They are squishy, aerodynamic and easy to lose, a modern version of the classic darts everyone remembers. If they got clogged, each gun has a small button that allows you to reach inside and pull the problem ball out. These blasters are made for users that are 14 and up; they aren't for small children to mess around with.
Each of their guns has their own unique style and flare that ties into their Overwatch hero, just in a coat of paint that helps distinguish them for real weaponry.
D. Va Blaster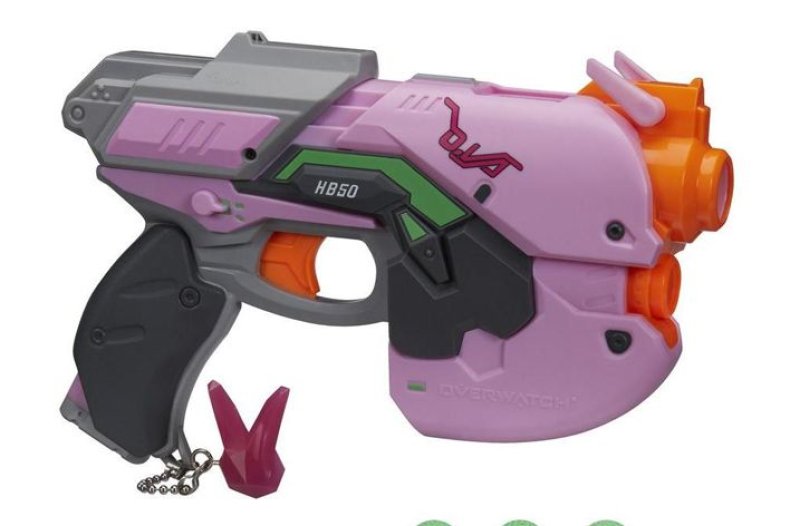 My favorite hero in Overwatch is Hana Song, also known as the robotic pilot D.Va. Holding her blaster (retailing for $29.99) in my hands feels almost surreal. The weapon that I've spent hours missing headshots on can now be wielded by my scrawny, hairy arms. The look of the blaster is spot-on, baring a huge resemblance to the in-game model. Since D.Va's weapon is the most "futuristic" of the bunch, Hasbro was really able to stay true to the source material without breaking any gun safety laws.
The weapon itself loads from the top and can hold three balls at a time. Firing involves pulling as far back on the slider as possible than pushing it back up. D.Va's blaster punches harder than any of the others on this list, make sure not to aim it any sad Winstons walking around.
Be careful about pressing the reset button on the back. Using it clogged out blaster, causing it to refuse to fire.
Reaper Blaster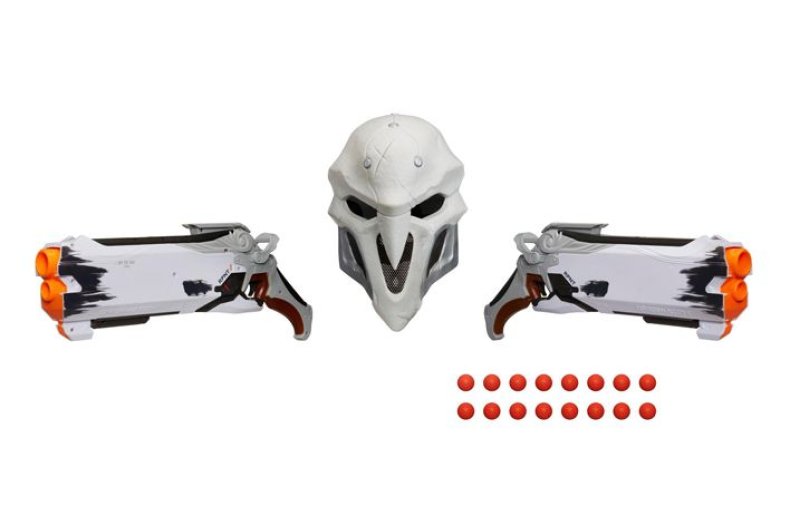 Who doesn't want to feel like Reaper? Overwatch's signature brooding bad guy has two shotguns that pack a serious punch. These Hasbro blasters capture that feeling of power you get when you use Death's Blossom on a packed up five-man enemy team. Like D.Va's, the gun fires from the top but can hold eight balls in it's chamber. To shoot, you pull back on the gun's handle and then push it back. The gun definitely hits hard, with a velocity of 90 feet per second.
Hasbro sent us the Wight edition, which retails for $129 and contains two blasters and a protective Reaper mask. You can fire one shot at a time while you are wielding two, making it impossible to really feel like you are Gabriel Reyes. The blaster is very front heavy, making holding two outwards like Reaper feel like a major workout. The mask itself is well made and would fit for any cosplayer trying their hand at becoming Overwatch's edgelord.
If you get this blaster, try wielding it with both hands. It might not be canon, but it will feel right in your hands.
McCree Blaster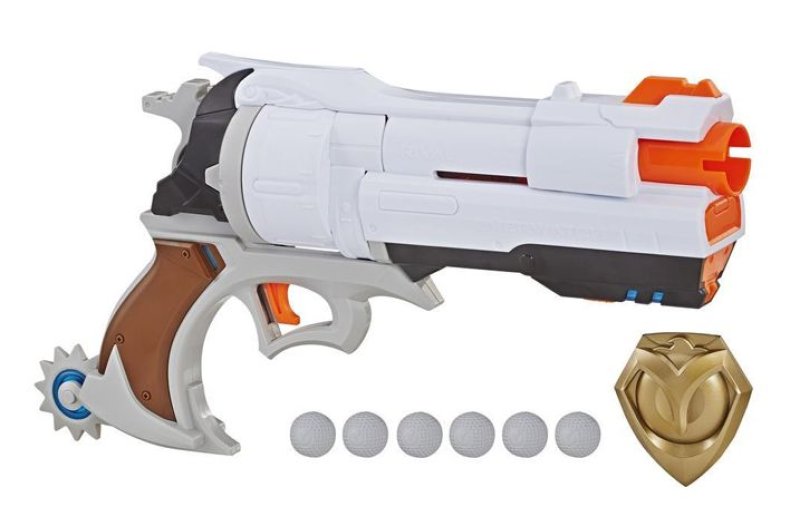 I have to say, McCree's Blaster ($29.99) is seriously disappointing. In game, McCree is a badass cowboy who wields a six-chamber revolver. His Nerf gun is a giant white monstrosity that can only fire and hold one bullet at a time. If you are in a fight with a Reaper and D.Va with full chambers, you only get one shot. Though "one shot, one kill" is a very McCree way to fight, is just doesn't make you feel very badass.
The boot of the gun has a spur which feels nice to tinker with. The box also comes with a diecast medal, the symbol from McCree's hat. The gun feels sorely lacking when compared to the others in the set, even with the extra add-ons. Hasbro couldn't have made a realistic revolver, but we've already seen Nerf guns that can hold six darts in it's chambers.
Torbjorn Mini-Gun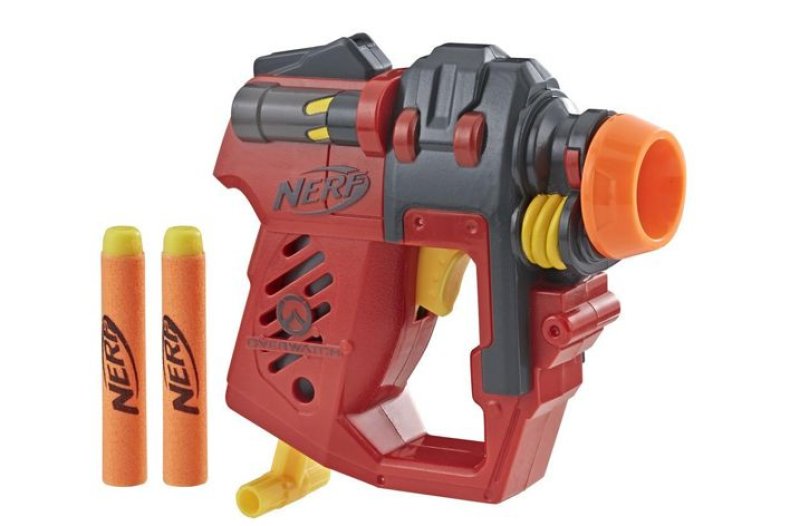 If you need something cheap and small ($9.99), this gun is perfect for you. You can find cheaper versions of these at the dollar store.
Have you tried these Overwatch Nerf Rivals Blasters? Tell us on twitter @RealNewsgeek.