'Overwatch' PTR Patch Adds Improved Communication Wheel and Bug Fixes
A massive patch has been added to the Overwatch Private Testing Realm (PTR), bringing much needed hero tweaks, tweaked queue times and an improved communications wheel to the hero shooter. You can read the full list of bug fixes and changes on Blizzard's forum.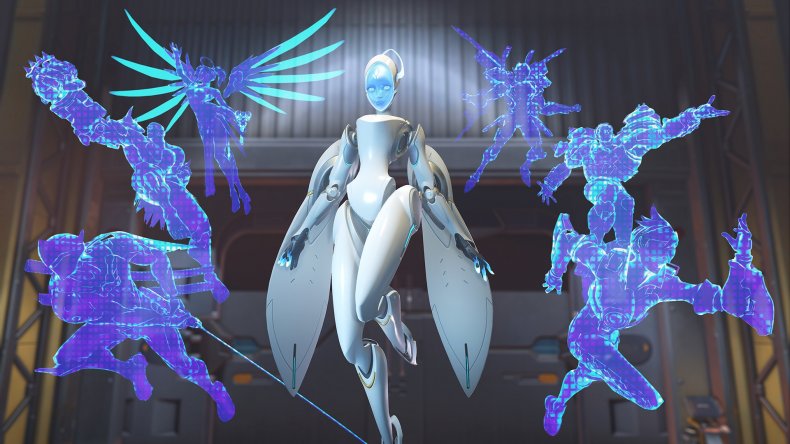 On the PTR, if you want to change your lines on the communication wheel, you need to go to the options menu and click on the "Control" tab. From there, you'll be able to choose from 26 different voice lines that are voiced by the hero's voice actor. Below is the full list of lines you can add to your game from reddit user DreyrrD. The voice lines are currently bugged but should be added soon.
Attack with me
Countdown
Defend with me
Fall back!
Go
Going in
Goodbye
Incoming
Need healing/buffs
Need help
No
I am on my way
Press the attack
Push forward!
Ready
Sorry
I'm with you.
Yes
You're welcome
This PTR patch includes a few experimental changes to heroes, redoing the head hit box on Reinhardt and Echo. There are also changes to the Workshop, adding new features for coders to implement in their game modes.
In a developer update video, game director Jeff Kaplan (who shot the clip from his phone) explained the issues his development team has had to overcome in the post COVID-19 world. "I really hope everyone around the world is being as safe and healthy as possible," Kaplan said. "I know there's a lot of anxiety, stress and suffering going out in the world right now—remember that everyone is trying to get through this together."
Though this isn't the largest game patch in terms of content, there are still a lot of necessary tweaks to make Overwatch less bug-ridden. The download of the PTR patch is over 1 GB since it's full to the brim with ways to hopefully improve the title. Normally, there would be a dump of hero balance changes, but with the Experimental tab launching on live servers, developers can let players in the full version of the game figure out how to best balance a hero.
With other shooters like Valorant and Warzone dominating the times of gamers, Overwatch needs to continuously adapt and improve. Communication wheels are nice but don't affect the amount of toxicity and hate players experience when trying to get through a ranked match.
This Overwatch PTR patch is currently available for those that have downloaded the client on PC.