'Overwatch' Retribution Release Date: What Time Can You Start Slaying Talon Agents?
"Overwatch" Uprising is on its way. Find out when the Retribution event begins, how to get the Legendary Mei pajama skin and more, here.
UPDATE: The patch is now live on Xbox, PS4 and PC.
Overwatch Retribution, the hero shooter's next event, is finally reaching the masses. From April 10 to April 30, players can tackle two lore-centric PVE missions. First, there's Uprising, where evil robot terrorists known as Null Sector invade King's Row and it's up to Tracer, Reinhardt, Torbjorn or Mercy to stop them. There's also a brand new game mode called Retribution, where players fight off hordes of Talon agents on the new Rialto map, as Moira, Genji or McCree. For fans looking for something new in the hero shooter, this is a mode you can't miss.
Overwatch Retribution Release Date: What Time Does The Event Start?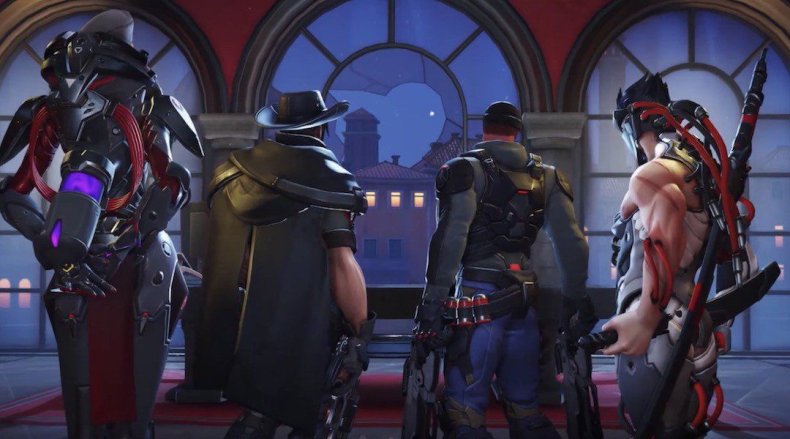 It's impossible to know precisely when Blizzard will roll out the Retribution patch, but my guess is April 10, around 2 to 3 p.m. EDT. When you start the game, you a new update should download straight to your computer, Xbox or PS4.
Overwatch Retribution Skins: Legendary Mei Pajama Skin and More
Like every Overwatch event, the will event will feature cosmetics galore. Over 60 new items have been added to the game, with skins for Hanzo, Doomfist, Mei and Sombra. The skins from last year's Uprising event, featuring my favorite OR-14 Orisa skin, will also be available in event-exclusive Loot Boxes. I'm going to be broke for the next few weeks, but it will be worth it when I pull an amazing Legendary Mei in pajamas skin I didn't even know I wanted.
There will also be a new Reaper Legendary skin, Soldier 24, but we still don't know what it's going to look like. Fans of Overwatch's lore still don't know much about the black cloud's transformation, other then that Moira showed him how to turn into a gas.