'Overwatch' Storm Rising Release Time: When Can You Capture Maximilien in Archive Event?
The next Overwatch event is another take on the Archives concept, throwing four of the team's rookies into deadly run-ins with an omnic boss. Don Rumbotico is a Cuban rum brand that's been recently sold to a seedy underground group, which Overwatch fans expect to be the evil Talon. While the details of the event are still unknown, players have been able to guess what adventure we will be having.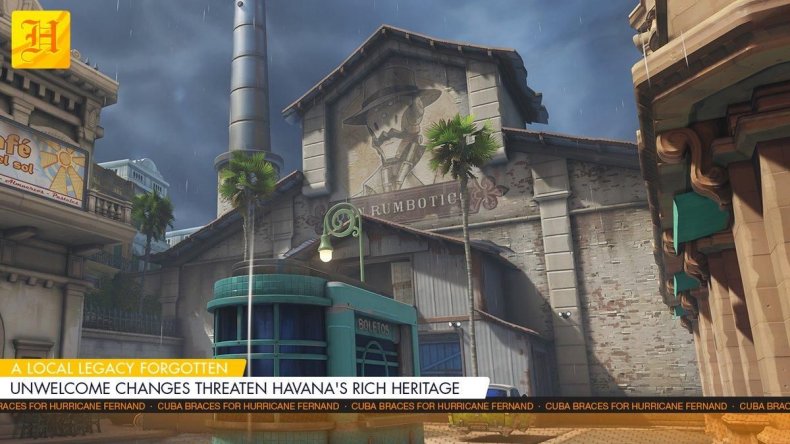 Overwatch Storm Rising Event Release Time
The Overwatch Storm Rising event will start on April 16 at 1 p.m. EDT. and end May 6 at around the same time. Blizzard may push back or change the start of the event due to bugs or other unforeseen issues, so that time is not a guarantee. This is the third Archive event, with players tackling the purple Omnic menace in 2017's Uprising and an army of Talon agent's in 2018 with Retribution. Both kicked off around the same time of day, as has nearly every other event the game has ever hosted.
Overwatch Storm Rising Event Maximillien
Storm Rising has players take control of four Overwatch members: Genji, Tracer, Winston and Mercy. The team has been deployed to Cuba to help kidnap Maximillien, who just happens to be one of the main leaders of Talon. We got our first glance at Max in the Masquerade comic. Doomfist, Widowmaker and Max discuss the future of the organization inside a dimly lit casino.
That might have been the only time we saw Maximillien, because he gets taken down by this Overwatch strike squad. Tracer might be new to the team, but she proved herself in King's Row, taking down armies of Omnic soldiers out for blood. Maximillien is inside of a limo during the event trailer, which could be the Payload players are going to have to transport.
This Overwatch event has a lot of promise for least a couple of days of solid entertainment. The lack of new content in Blizzard's hero shooter has kept me at bay, but this (combined with the glorious new skins) might be enough to pull me back in.
How do you feel about this Overwatch Storm Rising event? Tell us in the comments.