When Kids Are Fat, They Are Less Likely to Have Friends, Study Finds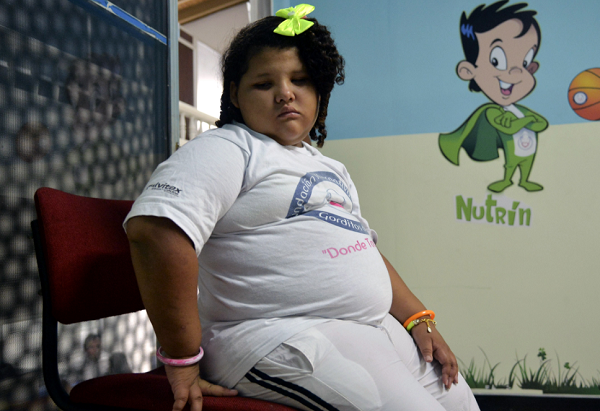 Childhood obesity has tripled in the U.S. since 1970, according to the Centers for Disease Control. While there have been a number of studies detailing the physical health risks that can arise in overweight children, a new study conducted by researchers at the University of Southern California's Keck School of Medicine is shedding light on some of the negative and positive implications a child's weight can have when it comes to social engagement among the youth.
The study, published in the journal PLOS One Wednesday, found that middle-school kids who were overweight tend to have fewer friends than their slimmer classmates, and they're more likely to be shunned by their peers.
"Overweight kids are being rejected by their peers," Kayla de la Haye, lead author of the study and an assistant preventive medicine professor at the university, told Live Science Wednesday. "It's not just exclusion, but there's also an overt rejection and dislike for these kids, and that is a serious risk factor for them [not] having healthy social development."
For the study, researchers measured the height and weight of 504 preteens across 28 classrooms in the Netherlands and asked them to list an unlimited number of other kids they considered among their "best friends." The children were also asked to list an unlimited number of classmates they "disliked." The scientists then analyzed each child's body mass index while comparing the lists of kids who were considered friends and those who were "disliked."
The results showed that the slimmer children were more likely to be considered friends compared to children who were overweight in 70 percent of the classrooms. Overweight kids were 1.7 times more likely to be disliked by their slimmer peers. And though the overweight children were 1.2 times more likely to dislike their peers, they were still more likely to list classmates as friends who did not include them in the same category.
With one out of every five school-aged children in the U.S. suffering from obesity, according to the CDC, researchers believe the study can be resourceful for addressing the stigmas associated with being overweight.
"There's no evidence that stigmatizing obesity motivates people to lose weight,"de la Haye said. "In fact, there is more evidence showing it's counterproductive. It leads to social and mental health-risk factors. We also know that kids who are ostracized are more like to eat [high-calorie] foods and are less likely to be active. And they end up in peer groups that tend to be less active."
Along with higher risks of developing Type 2 diabetes, high blood pressure and high cholesterol, the CDC has also said overweight children had higher chances of developing psychological conditions like depression and low self-esteem.