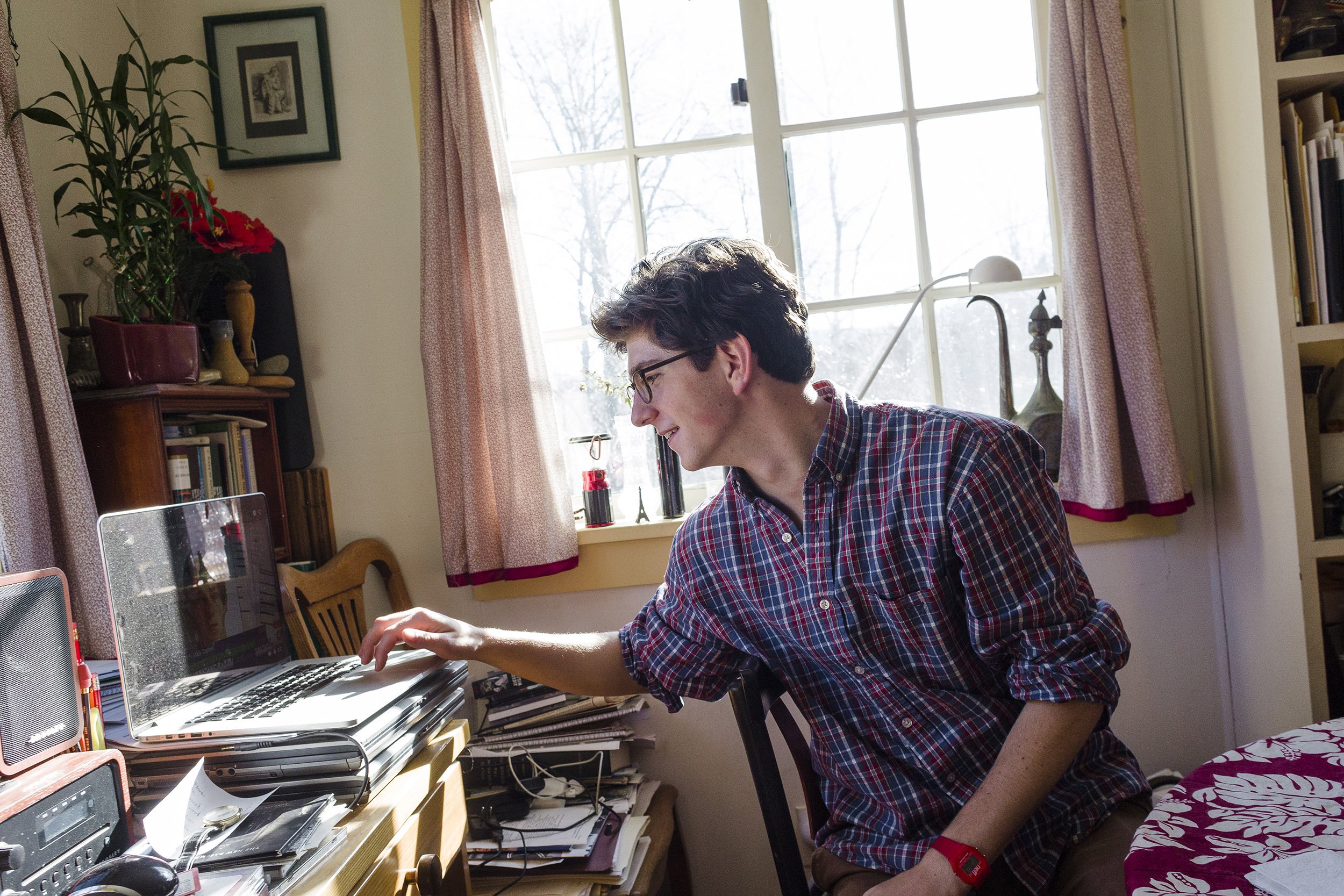 The student convicted in the sex case that rocked a prestigious New Hampshire prep school is asking for a new trial—and his latest petition raises questions for families across the country about computers, sex and the law.
The student is Owen Labrie, once a Harvard-bound graduate of the St. Paul's School in Concord, New Hampshire. In June 2014, when he was 18, Labrie and a girl at St. Paul's who was 15, and thus under the age of consent, had agreed to meet as part of a recent tradition called the senior salute, when graduating seniors ask out younger classmates. The girl contended that after some kissing and stripping to their underwear in the school's science building after hours, she told him to stop. She said he didn't and claimed sexual assault. Prosecutors believed her and pressed charges while Labrie protested his innocence.
Last year, the resulting trial drew television cameras from around the globe to Concord, New Hampshire. The jury rendered a mixed verdict, one that left both sides deeply unhappy. Labrie was acquitted of the most serious felony charge of aggravated sexual assault, but was found guilty of misdemeanor charges of having sex with a minor and, more ominously for him, violating a law that makes it a crime to solicit minors for sex using the internet.
That New Hampshire computer crimes law, which comes with a sentence of up to seven years in prison, supercharged Labrie's penalty. The judge suspended the prison sentence for the computer crimes charge and let Labrie serve the other sentences concurrently, for a total of one year in the county jail. But because of his conviction on the computer crimes charge, Labrie was put on the sex offenders list for life. If he had contacted the girl by talking to her after class, there would have been no computer crime and no felony. A telephone call? No felony. A text? No felony.
Across the country, other prosecutors, parents and police are also finding themselves in a combustible mix of sex, computers and the law. In this new world, the law hasn't necessarily caught up to technology—leaving mothers, fathers, teachers, police, judges, prosecutors and students in a legal morass. Earlier this month, an Iowa county prosecutor threatened to charge a 14-year-old girl with "sexual exploitation of a minor" for taking racy selfies and sending them to a male classmate. In Bedford, Michigan, prosecutors are considering what to do with at least nine teenagers ages 13 to 16 who've been caught sexting. In Canon City, Colorado, last year, it was discovered that dozens of high school students were trading nude photos of classmates—a legal thicket that could have ensnared parents on child pornography charges if pictures of underage kids wound up on their home computers. The Colorado prosecutor declined to prosecute.
The charges against Labrie were, of course, much more serious than, say, sending a lewd photo. Sexual assault, or rape, is a heinous crime that's widely considered to be underreported. He was acquitted of that charge although the jury wasn't buying his claim that no penetration took place. The girl in question has come forward to say she's going to devote herself to fighting sexual assault. Now 17, Chessy Prout is angry and says Labrie fooled the jury by convincing them to let him off the felony assault charge. She and her family are suing St. Paul's School in federal court for failing to protect her.
Meanwhile, Labrie's new counsel is offering a stunning proposition in dramatic new court filings. Because St. Paul's email system is self-contained on campus servers, Labrie's lawyers contend that he used an intranet to arrange to see Prout, not the internet, with its servers all over the world. The New Hampshire law does not specifically include the use of an intranet, applying only to "a computer on-line service, Internet service, or local bulletin board service to seduce, solicit, lure, or entice, or attempt to seduce, solicit, lure, or entice, a child." Labrie's lawyers are arguing in their petition that this fact is exculpatory and that, at the very least, his trial lawyers should have pursued the matter: "Failure to investigate the email communication relied upon by the State to convict Mr. Labrie of a serious felony charge in the face of evidence that such communication would not qualify as one utilizing an 'on-line' service was a catastrophic failure by trial counsel." The computer use for which he was convicted, they argue, wasn't a crime at all.
They have also argued that since he was acquitted of the underlying charge of aggravated sexual assault, the computer charge shouldn't apply. New Hampshire's Supreme Court may take up that particular question if he's not granted a new trial by a lower court. What is certain is that the law essentially weaponizes a smartphone. These computer crime laws were written in the 90s when concern was turning to adult internet predators preying on children on PCs. But now we're in an age where every teen has a phone. Leave the ugly St. Paul's case aside, and consider that any teen over the age of consent who contacts one under that age seeking sex is vulnerable to a felony charge whether they have sex or not.
To make matters even crazier, Labrie also used Facebook to arrange to meet Prout. But the indictment sent to the jury said Labrie had used the emails "and/or" Facebook to violate the law. Without knowing whether the jury made its decision based on the use of Facebook (an online service) or the emails (which were intranet), Labrie's lawyers argue, the verdict should be overturned.
Labrie's appeals team have other arguments they're using to get a new trial. Many have nothing to do with the computer law, such as asking why certain evidence wasn't sought, why certain lines of argument weren't followed and why certain witnesses weren't questioned. In February, there'll be a hearing to consider a new trial.
No matter what happens with Labrie, the larger issue of teens and computer crimes isn't going away. In the meantime, it seems odd to have disparate charges if an assailant uses a text instead of Facebook, or YikYak instead of just yakking in person. Punish crimes but it shouldn't matter if they were perpetrated by paper or pixels.