Owen McDonnell Talks Niko Polastri's Bad Luck In 'Killing Eve' Season 3
In an interview with Newsweek, actor Owen McDonnell talks about Niko Polastri, the unfortunate husband of MI6 agent Eve (Sandra Oh), who seems to have a never-ending streak of bad luck in the third season of Killing Eve.
A once proud teacher, Niko felt fulfilled living a rather humdrum and calm life. Unfortunately, his whole world turned upside down after meeting the vicious serial killer, Villanelle (Jodie Comer). During the second season, Niko helplessly watched as the trained assassin cruelly slit the throat of his closest friend, Gemma (Emma Pierson).
And now in the third season, Niko has been left traumatized from his near-death encounter. To recuperate from his post-traumatic stress, the former teacher moved far away from the love of his life and settled in Romania. Just when he had everything settled together, a pitchfork was sent flying straight through his throat. How much can this poor man take as the secret criminal organization, The Twelve, continues to execute his suffering.
Before landing a role on Killing Eve, the 46-year-old actor starred in the 2007 police drama, Single-Handed, as the strong and stoic sergeant Jack Driscoll. Seven years later, in the crime thriller, Silent Witness, the Irish actor played Ryan Kelvin, the primary suspect in the murder of Katie Bowman in the two-parter, "Fraternity." And now, McDonnell expresses the sadness and constant struggle of Niko's love for Eve.
Ahead of Sunday's all new episode on BBC America and AMC at 9 pm, McDonnell opens up about how his character arc has developed, working on a scene without the benefit of dialogue, and getting "pitchforked" by his co-star.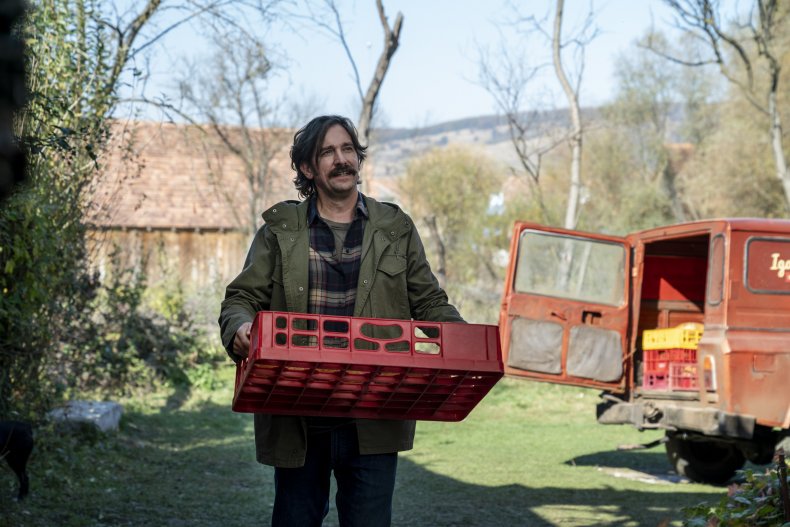 In the previous seasons, Niko has been faithful and remained by Eve's side throughout their marriage. Now it feels like a breakup between the two. Tell me about that.
Yeah, I think in the previous season, we changed. Niko laid down some rules that he didn't want Eve to cross in their relationship. And she kept crossing them! And he's not too happy. He just didn't want to go where she wanted to take the relationship.
But with Gemma's death, she was a friend and potential love interest. I think he is in a situation at the start of season three, where he really just wants to get away from Eve. Because in all that time, all the bad things that happened to him in the last year have basically come down to her.
I think he's had a lot of time to think. The only way forward is to break all ties, probably to leave Eve. It's like London, Eve, and everything else reminds him of what happened over the past year. He tried to do that, and it really didn't work out for him.
Tell me about working with Sandra Oh. The Niko/Eve relationship has gone through so much. It's great watching the on-screen chemistry between you both. That's been amazing to watch!
Good, good! I think you have two people who really love each other. When we first meet them at the start of season one, they're in a relationship. It's a good relationship, but they're just missing each other slightly within that relationship. They're in a position where they could realize that and really improve things. And then, Villanelle comes into their lives, and that fractures their relationship.
When you see him in the institute, in that scene Eve sees him in his PTSD treatment. It's not easy to say the things he says to her, but it'll feel better. Because he does love her, and he wants to live in a world where they could be happy. But he doesn't see how that world exists anymore, because of what's happened.
Yeah, it's an interesting place! Then, he talks about her a lot, about that relationship, and their goals. What happened between them, there's always stuff she couldn't recognize. No matter what extraordinary events are overtaking the couple, the relationship should be recognizable to the vast majority of people. Hopefully, fingers crossed!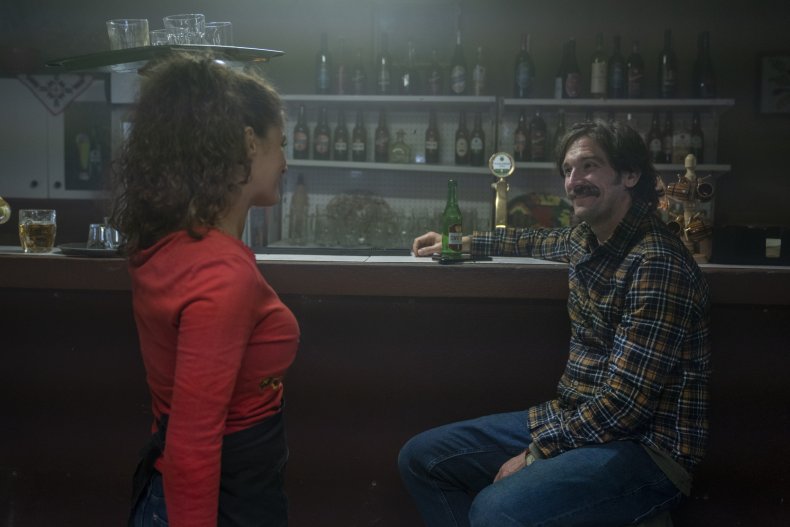 It was sad seeing Niko leaving his job as a teacher and becoming a delivery guy. Viewers saw a bit of Nico becoming social and flirting with a bartender. Do you think he found his happy place?
I don't think he's found his happy place. I think you can still see the kind of sadness in his eyes. But I think what he found is a possibility that there could be happiness in his future. That maybe he can escape this. Maybe everything he does won't be defined by those moments in the storage container with Villanelle and Gemma, and not be defined by his relationship with Eve. Maybe find out who he is, and that possibly, he could have been in another relationship. Maybe he could just be by himself, might even be able to understand how. He doesn't even think about Eve or those events in the past. I think what we see there is a possibility of the future. But then, before he ever gets the chance to realize it, he gets cut short tragically by Dasha and the pitchfork.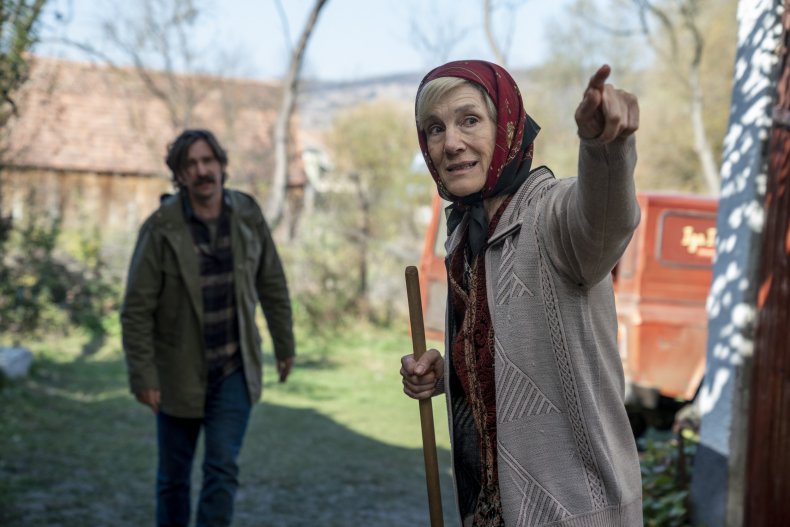 Tell me about working with Dame Harriet Walter, who plays the cold-hearted killer, Dasha. In order to get close to Niko, Dasha had to pretend to be this nonthreatening and kind elderly farmer.
Yeah, I deeply enjoyed working with her! She enjoyed playing this machiavellian character. She's amazing! She loved it! She's a really interesting, lovely person, and a pretty incredible performer as well. She really threw herself into that kind of nice old lady part. I think, because of the contrast with Dasha, it was great! How often do you get to get pitchforked by a Dame? It's not something that happens every day of the week! She was lovely and really interesting!
Because you're in this tiny village called Viscri [Romania], which had electricity since the 1990s. We were all staying in the same place together. We really got to know each other quite well there. Lovely experience!
You mentioned the pitchfork. What was that like, dealing with the makeup and special effects around your neck?
It was weird, because you have the pitchfork stuck there. You've got to wear a harness that you can spear an actual pitchfork into. And then, there's magnets imbedded under fake skin. So you can have the tip of the pitchfork speared into, kind of magnetized onto that, and protruding from your neck.
You get used to it after a while. It's like the most annoying person on the subway who walks around with this huge backpack and forgets about it, keeps on smacking people with it. Yeah, I mean I was fascinated by it! You read something like that in the script and you go, "How are you going to do that? How are we going to do that?" The rig they came up with was really genius!
And then, I had to rely on Harriet not to actually spear me. She didn't! She's very good!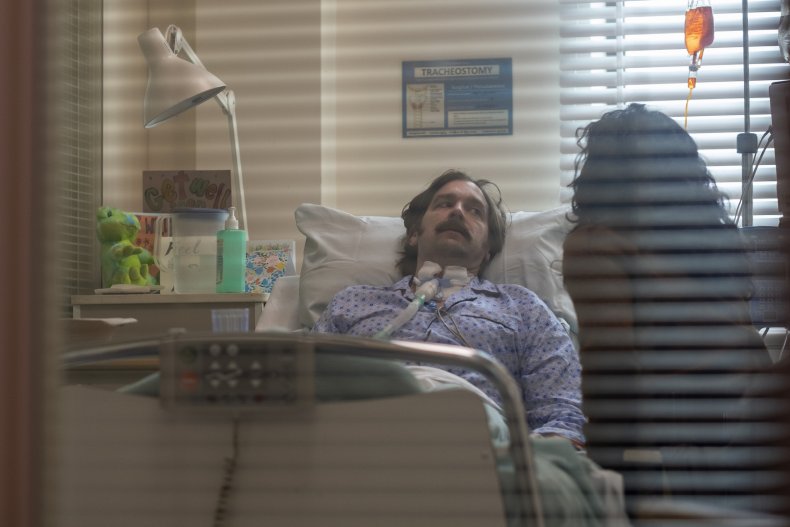 We last saw Niko alive, but just barely, in the hospital. He was unable to talk to Eve. Even though he is silent, you expressed so much of Niko's emotions through facial reactions. Tell me about the challenges of these dialogue-free scenes.
In some ways, they're liberating. Sandra's just so hypnotic as an actor to work against. I guess it's trying to do one thing and another. We really got very lucky because the scene is so emotional. I got a kick out of it! Because it's like an acting master class and you get to do it as well. I'm glad we got to do it. We talked through everything, and not everybody gets to give so much. I've been very lucky!
What are you working on next?
Good question! The world has come to a stop. I just finished a feature film in Northern Ireland, just before the lockdown. Then, there was another couple of things I'm working on. I don't know really when they'll start again. I recorded an audio book from inside a wardrobe in my spare room on Friday. It was quite fun! I don't know what form it's going to take. Yeah, everything's changed for the whole industry!