The Owl House Creators Talk Bringing Creepy Back to Disney With a Dash of Bosch
From Pinnochio's nightmarish equine transformations on Pleasure Island to the clown with the tearaway face from the Nightmare Before Christmas, Disney animation has never been afraid to express a spooky side. The latest Disney channel original series, The Owl House, continues that trend for a modern audience with a demonic twist.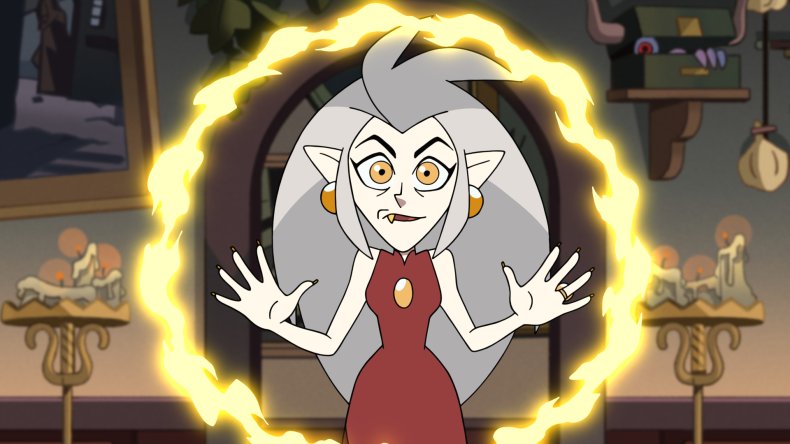 Creator Dana Terrace worked on Gravity Falls and the new DuckTales reboot before trying to devise her own series. "I was at an old job where I wasn't feeling quite fulfilled artistically or emotionally, and I wanted to create my own thing," Terrace told Newsweek back in October.
From Hieronymus Bosch to Mickey Mouse
Spending eight years growing up in Catholic school, Terrace developed an affinity for classic religious painters like John Bauer and Hieronymus Bosch, whose twisted takes on angels and demons would make for a "cool show in that art style."
"I was exorcising some demons by working from them," Terrace said.
Terrace handed off these influences to artist Ricky Cometa, who had previously worked as the art director on Cartoon Network's Steven Universe. "When Dana first approached me, she said that 'we're trying to make this demon realm a part of Disney,' which is something I didn't think would happen," Cometa said. "We really wanted to make this demon realm feel like home, and just had to figure out how to do it."
The character designers were given the green light to create what they felt would work. "It's a demon world, so we can do whatever we want," Terrace said. The lore of the show is "70 percent made up" by the writers and artists Terrace said, with names of demons and witches thrown in to add depth. The writers room for the show is full of books on witchcraft, witches and spells to take inspiration from.
Another huge influence on the show was Pokemon, Nintendo's monster-hunting franchise. The last gift Terrace received from her father before his passing was the original Pokemon Red video game, so she associates the series "with good family memories."
The Owl House stars Luz, a bright-eyed teenage human girl, who wanders into a portal that leads her to the Boiling Isles. In a world full of ghouls, monsters and demons, Luz finds comfort and aid with Eda the Owl Lady, a powerful sorceress who has her own fascination with human trinkets and doo-dads. Together with King, a pipsqueak demon with a desire for chaos, Luz spends her time learning the basics of witchcraft. The main antagonist of the pilot is the Warden, a monster wearing a plague doctor mask voiced by Roger Craig Smith.
The Owl Lady was the first character Terrace developed for the show. "She's based around the women who raised me. My aunts, my Nana and my mom, they're all in the Owl Lady," Terrace mused. Next came King, a trickster god turned tiny warrior, which Terrace relates the most to because "he's just a little guy that wants to be big."
Finally Luz was created, who gets her name and personality from Terrace's roommate who is a consultant and storyboard artist on the show (she asked for permission to use her name first). "Luz is such a real character who's weird, brave and funny," her voice actor Sarah Nicole Robles said. "Playing her is the biggest honor."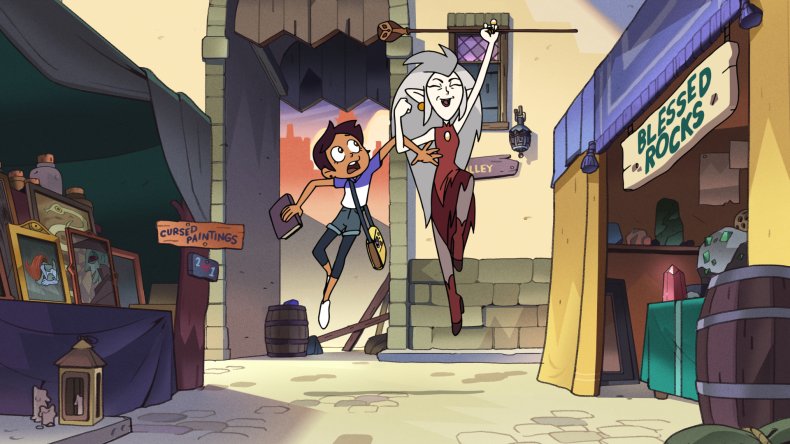 Grunkle Stan Meets the Owl Lady?
Terrace had worked under Alex Hirsch on his show, Gravity Falls, and brought him on as a creative consultant. He had done some test readings for Hooty, the Owl Lady's house, and they liked his take on the sassy dwelling.
"She wanted to pick my brain in the early days of the series, when the original pitch was 'girl hangs out with witch in hell,'" Hirsch said."I feel like Owl House is bringing back a world where you can laugh but also be grossed out and maybe a little scared."
Gravity Falls, which included its own mythos of cryptids and omnipresent triangle tricksters, has a "number of characters" that would get along with the cast of The Owl House Hirsch said. "If Disney ever asked for a Flintstones meets the Jetsons with these two shows, I'd pick up the phone."
Hirsch feels that The Owl House harkens back to the days of Aaahh!!! Real Monsters and Courage the Cowardly Dog, when animated television wasn't afraid to get eerie. There are episodes of The Owl House "where the stakes are higher and things do get scarier," but "If you want to stand out in a crowded media landscape, you should be interesting and weird," Hirsch suggested. "The Owl House might bring back a little bit of (Courage the Cowardly Dog episode) The Slab."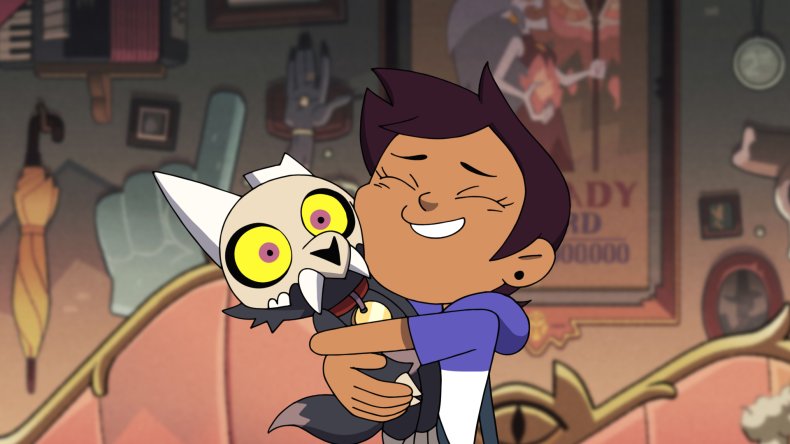 Getting Disney on board with this unique vision wasn't as difficult as he or Terrace predicted, but there was still push back. "I just do what I want, and I let Disney tell me if I'm going too far," Terrace described. "I am always trying to push them to go a little bit darker and weirder because I find that stuff fun."
"There is sometimes a concern with family networks for what is considered family friendly...because Disney is such a big company that in certain corners, they say that maybe they don't want to take those risks," Hirsch said. "Walt Disney took those risks, and that's why we are sitting in this building. You have to remind yourself that Disney is the full spectrum of emotions, creatures and scary things."
Leading up to its premiere, The Owl House has already been approved for a second season. Its creative team hopes that the show resonates with an audience looking for something fresh that isn't trying to talk down to them. The show is unique, with more female than male characters, and "an emotional heart that anyone can relate to."
"I hope that people are entertained and learn that if you are a little weird, if you don't feel at home somewhere, then there is a place for you somewhere. You just have to look a little," Terrace said.
The Owl House premieres on the Disney Channel on Friday, January 10 at 8:45 p.m. EST.