Owl Mistaken for 'Wicked Witch' on Broomstick After Stealing Child's Toy
In what has been dubbed "one of the best nature photographs ever taken" an owl has been captured taking to the sky with an unusual companion—a child's stick horse.
Eric Lind was at his parent's house in Eureka, Illinois when he captured the now viral pictures of the great horned owl.
The pictures have delighted the internet as the bird flew through the sky giving off a distinctly seasonal silhouette looking a little like someone flying through the sky on a broomstick—perfect for Halloween.
Lind told Newsweek: "My mom received a call from one of the neighbors telling her to look outside in the backyard at our pine tree. They had spotted the owl as it flew into the tree initially, but couldn't quite tell what it was carrying at first.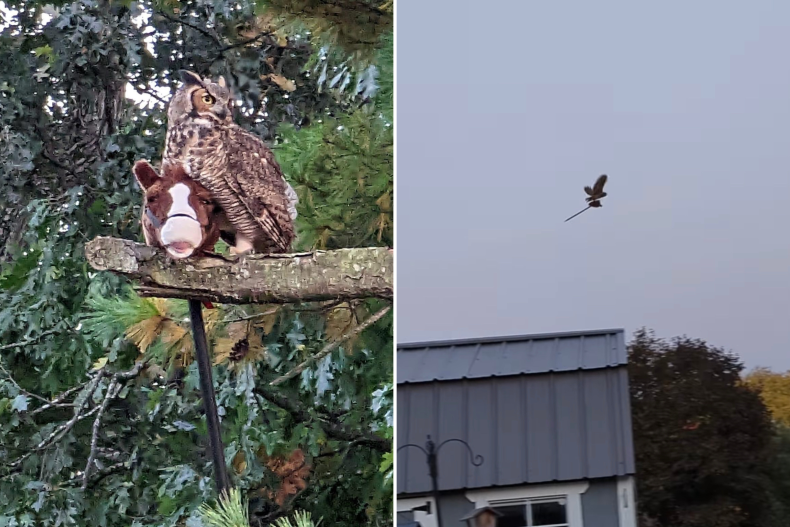 "We quickly spotted the owl and could immediately recognize that it was carrying a stick horse."
Why the bird has decided to befriend the inanimate object is unclear, but playing with objects is a behavior sometimes seen in other birds.
There are several reported cases of juvenile red-tailed hawks playing with inanimate objects like rocks and sticks, stalking them, dropping them, and pouncing in what is thought to be similar to hunting practice.
Other viewers have also suggested that the owl may have been drawn to the stick horse because the head is a similar size and texture to a small rodent such as a rabbit—something that would be the perfect prey for the great horned owl.
Lind shared the video and pictures on Facebook on October 14, where it has received thousands of reactions and comments. In the post, he wrote: "Hilldale/Forest Park/Ridge lane neighbors...If your child is missing their stick horse, you'll have to talk to the owl!!!"
Re-posted across the internet, the unusual pictures have left many in stitches. One Facebook user joked: "Owl Jr. doesn't quite understand quidditch," while another commenter wrote: "All it needs is the Wicked Witch of the West music."
"That is the funniest thing I've seen in a long time," said another reply to the unusual pictures.
"We were shocked and very surprised," said Lind: "I posted it because it brought a good laugh and smile to my family—so I thought others would enjoy it too. It has been great to read the comments by others who said it made them laugh or made their day."
The Halloween-friendly pictures have been re-shared across the internet, taking off on Twitter too where internet users said: "This owl and his stick horse made my day," and another commenter wrote: "Owl now owns the stick horse. I don't make the rules."
"Owls are my favorite animals," said another Twitter user: "They are such weirdos."
Do you have funny and adorable videos or pictures of your pet you want to share? Send them to life@newsweek.com with some details about your best friend and they could appear in our Pet of the Week lineup.