Owner of Ohio African Wildlife Safari Park Devastated After Fire Kills 10 Animals: 'It's Just Heartbreaking'
The co-owner of an Ohio safari park has spoken of her and her staff's devastation after 10 of their animals were killed in a Thanksgiving blaze.
Holly Hunt confirmed to Fox 8 Cleveland that three giraffes, three bongos, three red river hogs and a springbok died after fire broke out in the African Safari Wildlife Park in Port Clinton, roughly 70 miles west of Cleveland.
Crews from three fire departments responded to the fire, which broke out around 6 p.m. local time on Thursday, but were not able to rescue the animals enclosed in one of the site's barns.
"Our team, they work so hard to care for these animals, and it's just gut-wrenching that this could happen," Hunt told Fox 8 Cleveland.
"Our team works so hard every day to care for these animals. It's just heartbreaking."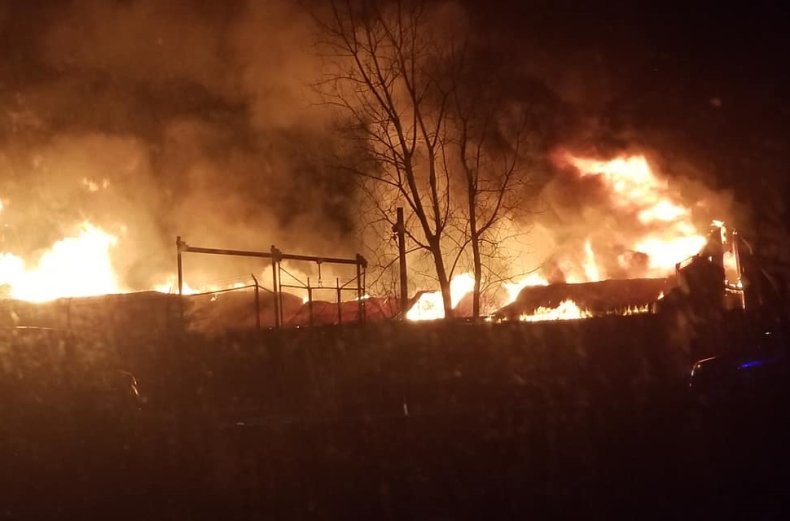 The sentiment was echoed by a statement shared on the park's Facebook page.
"Our African Safari Wildlife Park team is devastated by the loss of animals housed in a barn destroyed by fire that was discovered early Thanksgiving evening. We are grateful that our staff is safe and no one was injured, but the loss of the wildlife that we care for every day is tragic for our team members who love these animals," the statement said.
It added: "The animals lost in this tragedy were part of our African Safari family, and the Park will be closed on Friday as we mourn their loss and care for the other animals living on the 100-acre park.
"We deeply appreciate the first responders who worked on the holiday to try and save animals affected by the fire and thank the community for its support during this very difficult time.
"Again, we are grateful that our staff are safe, although we are all grief-stricken over this loss."
Fire crews responded from Danbury Township, Catawba Island and Port Clinton.
Rick Ramos, a safety officer for the Port Clinton Fire Department, told CBS News that the fire was reported at 6:18 p.m. and that the barn was already fully engulfed by the time crews arrived roughly five minutes later.
Crews also heard two explosions shortly after arrival and Ramos said these were likely caused by propane tanks stored in the barn.
Firefighters battled through Thanksgiving evening to extinguish the fire and it was mostly contained, but Ramos said firefighters would return on Friday to continue extinguishing the remaining flames.
Newsweek has contacted Downbury Township and Port Clinton fire departments for an update.