Owner Builds Impressive Living Room for Dogs Complete With TV and Bar Cart
Having your own space is important, and Atlanta-based dog owner @bam12008 on TikTok knows just how true that is, after building his three wiener dogs their very own living room.
In just one day, his TikTok videos of the elaborate room he built for his pets have gained a collective 14 million views on the app. Peaches, Mitzi and Challah have their very own space, enough to rival most people's actual apartments.
"Paying my dogs a visit in their mini living room," wrote @bam12008 as he filmed the room to the tune of "What a Wonderful World" by Louis Armstrong. The mid-century modern room appeared normal at first, until he stepped in, making him look giant-sized.
The room is kitted out with mini couches, lamps, rugs and even a bar cart, naturally. One dog can be seen lying on the couch, taking up the whole thing by itself, though they often prefer to double up on them.
"The idea really evolved over time," @bam12008, who wishes to stay anonymous, told Newsweek. "When I go to work, I keep my dogs in a spare bedroom, mainly so that they don't jump off the furniture in the rest of the house and hurt themselves (Dachshunds have spine problems, and all three of my dogs have injured their spine at some point, Peaches even had to have neurosurgery). But I did not want them to associate that space with anything negative. So originally I decided to get them height-appropriate dog couches."
"When they arrived, I was astounded at how well the furniture complements the style of the rest of the house. I started to add more and more decor using things I had around the house, but then eventually I started seeing things at various stores and my creative juices started flowing. Over the course of just over a month, the room came together. So the inspiration for the decor was actually the rest of my own house! I even tried to match some of my existing furniture," he added.
Another video reaching 6 million views showed exactly how the room's laid out, confirming that it is in fact a separate 10ft-by-10ft room, rather than part of the owner's living room: "That would be tacky," he wrote in a comment.
Good taste clearly runs in the family, from owner to pet, as the dogs were captured watching Schitt's Creek in one TikTok video—yes, they have their own mini TV. It's a 24-inch flat screen TV "that you can get from Walmart for cheap," said the owner.
It's the attention to detail that has taken aback most viewers, with pictures and even the light switch placed low on the walls, to line up with the dogs' eyesights.
The couches are also yellow and blue, the two colors that dogs can actually see due to their yellow-blue dichromatic vision, meaning they can't see shades of red and green well and instead appear as browns and greyscale, research suggests.
"Why get them things they can't see?" reasoned @bam12008 in a comment.
"The dogs really love the room," he told Newsweek. "The TV provides them with stimulation, and I think the fact that the decor is consistent with the rest of my house makes the space feel less separate for them. If there is anything remotely interesting going on in the rest of the house, the dogs will be in on the action, but if they know exactly where I am and are not worried I'm about to leave them, they will relax/nap on the mini couches."
The videos can also be seen here and here.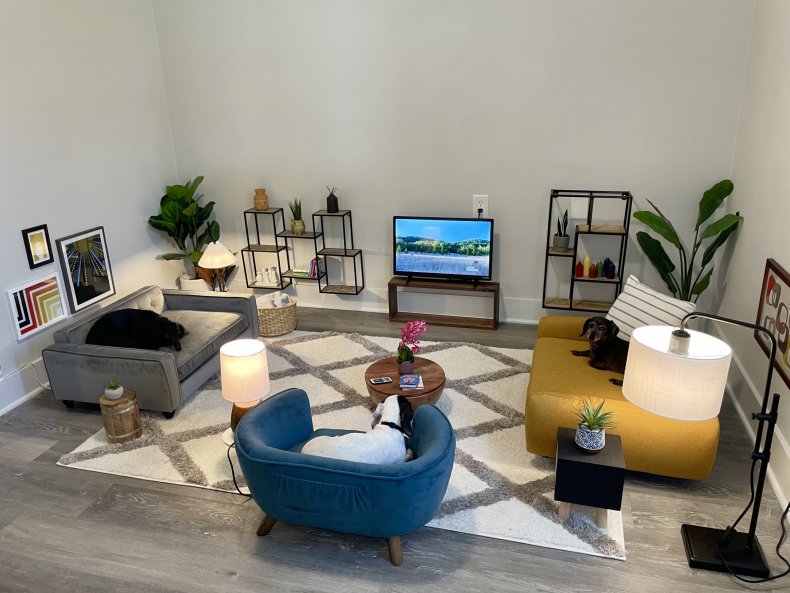 For those inspired by the living room and hoping to recreate their own for their pooches, the owner has fortunately detailed exactly how he put it together. Most of the furniture is simply repurposed objects.
"Mini dog furniture (other than dog couches) isn't really something that is easy to come by, so I had to resort to creative solutions like using a salad bowl and plate for the coffee table, a dessert stand for the white side table with lamp, and a bathroom organizer for the bar (bark) cart. The ironic/wonderful part of it is that it's MUCH cheaper to furnish a room with salad bowls and dessert stands than it is to use human furniture," said @bam12008.
The couches are all dog sofas from online retailer Wayfair. "I better get a cut if they get an uptick in mid-century modern dog couches," joked @bam12008.
After earning views in the millions, the videos have been complimented online with many in awe at just how luxurious the dogs are living. "Their living room looks better than my apartment," wrote one TikTok user.
The in-person reaction is just the same, said Peaches, Mitzi and Challa's owner, describing it as: "Absolutely hilarious! Because no one is expecting that, even if you forewarn them. But universally everyone has been extremely impressed and complimentary."
UPDATE 9/09/21, 9:34 a.m. ET: This article was updated to include comments from the dogs' owner.