Trainer of Derby Winner Medina Spirit Suspended for 2 Years from Churchill Downs After Drug Test
Horse trainer Bob Baffert has been suspended from Churchill Downs Racetrack after Medina Spirit, the horse he trained that won the 2021 Kentucky Derby, failed a second drug test. The horse tested positive for a banned steroid. Churchill Downs Racetrack hosts the annual Kentucky Derby horse race.
The ban will prevent Baffert from entering any horse into races at the track if he or his stables have trained them. Five horses trained by Baffert have failed drug tests this year. His horses have won the Kentucky Derby seven times, making him the trainer with the most wins ever.
"Mr. Baffert's record of testing failures threatens public confidence in thoroughbred racing and the reputation of the Kentucky Derby," Bill Carstanjen, the CEO of Churchill Downs, said, according to CNBC.
"Reckless practices and substance violations that jeopardize the safety of our equine and human athletes or compromise the integrity of our sport are not acceptable and as a company we must take measures to demonstrate that they will not be tolerated," he added.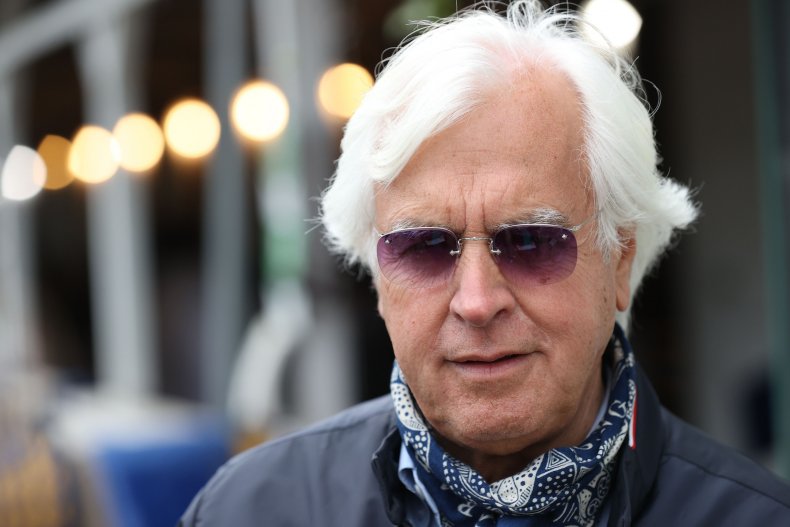 Baffert accused Churchill Down Racetrack of succumbing to "cancel culture" in its actions against him. The Kentucky Horse Racing Commission has yet to decide whether the two failed drug tests will invalidate Medina Spirit's Derby victory. Belmont Stakes, the third race in Triple Crown of Thoroughbred Racing, also banned Baffert's horses from competing.
On May 9, Baffert announced that Medina Spirit had tested positive for betamethasone in a blood sample taken a week before the horse won the Derby. The test detected 21 picograms of the chemical per milliliter of blood, more than double than the legal threshold allowed in Kentucky horse racing.
Betamethasone is a therapeutic steroid used to relieve osteoarthritic pain and inflammation in horses. Derby rules disqualify horses whose blood contains the chemical on racing day.
Baffert has said that the betamethasone may have come from a topical ointment called Otomax rather than an injection. Baffert said he used the ointment to treat the horse's dermatitis, a rash caused by skin irritation.
On Wednesday, a second blood test found betamethasone in Medina Spirit's blood. Clark Brewster, the attorney for the horse's owner Amr Zedan, told CNBC that the horse's trainer will provide a third blood sample for testing at a different lab.
Brewster has argued that the "infinitesimal" amount of steroid in the horse's blood cannot have possibly helped it win the Derby. The horse placed third in the Preakness Stakes race held on May 15, denying Baffert a potential Triple Crown win.
After Medina Spirit first tested positive for the steroid, Republican former President Donald Trump referred to the horse as "a junky." The word is a derogatory term for a drug addict.
Newsweek contacted the Kentucky Horse Racing Commission for comment.