Despite the general belief that cats and dogs do not get along, they can be besties too! And yet another video proves it.
A cat and a dog have gone viral for their unusual sibling dynamics, after a video of them approaching each other in their sleep was shared on Reddit, leaving the internet amused.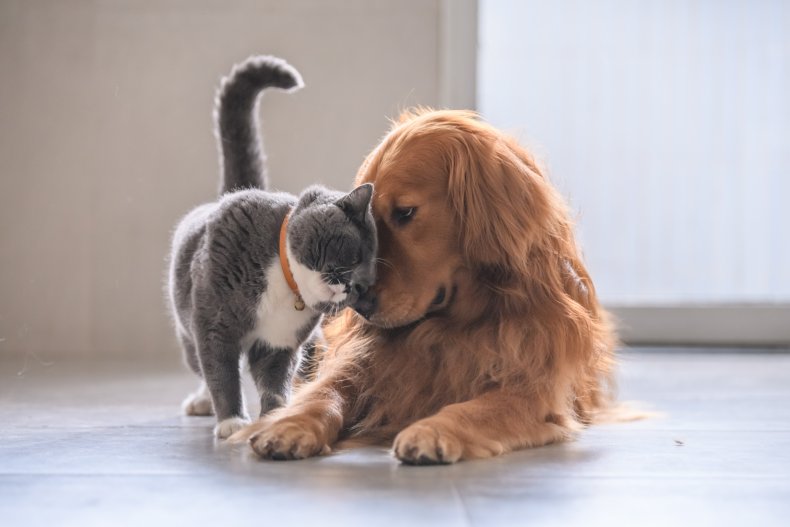 The video, which was shared by the pets' owner, who goes by the username elphaba16, shows two different clips, the first one of how Joules (dog) joins Kelvin (cat) for a nap and the second of how Kelvin joins Joules.
In the first clip, Joules can be seen very carefully positioning itself behind Kelvin, making sure not to wake the other up, while the second video shows Kelvin climbing right on top of sleeping Joules, headbutting the dog in the end.
The video, which was first shared on Wednesday on the subreddit r/aww, has so far reached over 176,000 upvotes and 1,400 comments, in less than 24 hours.
According to recent research published by the Oakhurst Veterinary hospital, dogs and cats are still the most popular pets in the United States.
With 76 million dogs living in homes in 2021, they still hold the first place as most wanted pets in the country. They are followed by cats, with about 58 million of them living in homes.
Most users knew exactly why the dog was cautious around its cat sibling. One user, HanabiraAsashi commented: "Cats are crazy unpredictable and dogs know it. I feel like this dog was cautiously approaching to cuddle without getting slapped."
Another user, Realtorbyday, said: "I think when the dog joins the cat, he's waiting for the cat to cuddle up to him." And NewSummerOrange added: "exactly, that dog was waiting for his little spoon to snuggle in."
Sixthandelm joked: "When dogs join cats they're thinking 'I just want to be near you,' and when cats join dogs they're thinking 'I just want to use you as a step stool/pillow/bed/heater.' I know they love them too, it just looks different."
Skobiak commented: "I think the dog was waiting to see if the cat would cuddle him or rapid fire smack him." And Fightfirewitbcn added: "Cats are like soccer hooligans, they headbutt because they love."
Another user, ded-a-check wrote: "Poor doggo looks like he doesn't know whether he's gonna get the shit smacked out of him or loved on. Just cat things."
Other users shared their own similar stories with their pets. Kicktoria1989 said: "My parents have this cat who headbutts anything with a very noticeable 'BONK' every time from just how much force he puts into them headbutts. Shins are always bruised after visiting with him and now and again you'll hear a door slam into a wall because of him lol." And EndR60 explained: "Actually, when they headbutt you, they basically declare you their property lol."
Amphibious_squirrel pointed out: "Loving the themed names." M0rris0n_hotel said: "Just need Celsius and Fahrenheit to really get things cooking." And UshankaBear added: "Do you have a Newton and a Pascal?"
Another user, supersalt12 said: "What a respectful pup." RealLarwood wrote: "Also just cos the dog is bigger, if it laid down on the cat like that it would hurt, which is a lesson probably well learnt long ago." And Scirax added: "That dog has taken more than a few beatings from the cat for laying down carelessly. He's careful like that cause of how scared he is, no doubt they both love each other [though]."
And Ngnyalshmleeb joked: "Me joining my girlfriend for a nap vs. her joining me for a nap."
Do you have funny and adorable videos or pictures of your pet you want to share? We want to see the best ones! Send them in to life@newsweek.com and they could appear on our site.