Owner Shares How 'Dogs Are the New Kids' With Bassinet Next to Her Bed
One pet owner appears to have taken dog parenting to another level in a recent video shared on TikTok. Footage of a French bulldog with its own bassinet, a bed reserved for human babies, has gone viral on TikTok, where it has received over 594,000 views.
The clip shared by TikTok user Rachel Mulherin (@rachelmulherin) was posted with a clip that said: "Dogs are the new kids [upside down smiley face] #dogmomlife #dink #dinkfam #frenchie #frenchiesoftiktok #AXERatioChallenge #frenchbulldog #dogmom #nycdogs #30something #marketplacefinds."
The video shows the bassinet pushed right up against the side of the bed, while a French bulldog stands on the bed, glancing at the camera. A message overlaid on the video read: "How did we get here? [crying laughing emoji]."
The owner in the latest video may be just one step away from joining the more than half of dog owners in the U.S. who allow their small pups to sleep with them.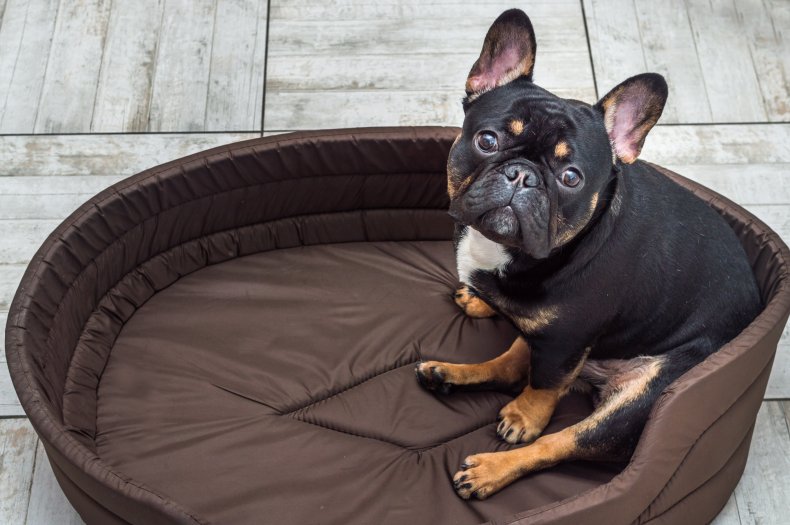 According to a survey by the American Pet Products Association, 62 percent of small dogs, 41 percent of medium-sized dogs and 32 percent of large dogs sleep with their owners, WebMD reported in April 2012.
Is it healthy to allow dogs to sleep with you in your bed?
The short answer? "It depends," veterinarians Ryan Llera and Lynn Buzhardt said in an article for VCA, one of North America's largest animal hospital chains.
Depending on the health of both the dog and the owner, allowing the pet to sleep with you may or may not be detrimental.
Some people may be allergic to dogs and having dogs sleep near them could trigger respiratory symptoms and allergies, with dust and pollen clinging to their fur when they're outdoors.
The veterinarians said: "Dogs carry certain intestinal parasites, fleas, and ticks that cause human illnesses" and sleeping with them increases your exposure to these diseases. Some dogs may also have musculoskeletal conditions, like arthritis, that may make it difficult to climb onto a bed.
Dogs may also prevent you from getting a good night's sleep. A November 2018 study of Australian dog owners, which was published in the journal Anthrozoös, said: "Co-sleeping appears to cause sleep disturbances (both arousals and wake ups), which is reinforced by poor scores on validated sleep measures."
Llera and Buzhardt also noted: "Part of that social structure relies on the fact that people tower above dogs. When lying down on the bed, a dog and his owner are on the same level which may encourage the dog to exhibit aggressive tendencies."
The latest TikTok video has seen users in stitches, with some admitting to doing the same or something similar with their dogs.
User Jay Marie said: "This is amazing," to which the poster replied: "He stayed in it 5 hours last night!! Progress!!"
Ellesse saod: "lmao [laughing my a** off], i did the same..it's the best thing ever."
Lady DaNate revealed: "Ours sleep in a crib beside our bed."
Dispatcher King said: "I do this with my senior dog rescues. Finally found my people!"
Do you have funny and adorable videos or pictures of your pet you want to share? Send them to life@newsweek.com with some details about your best friend and they could appear in our Pet of the Week lineup.