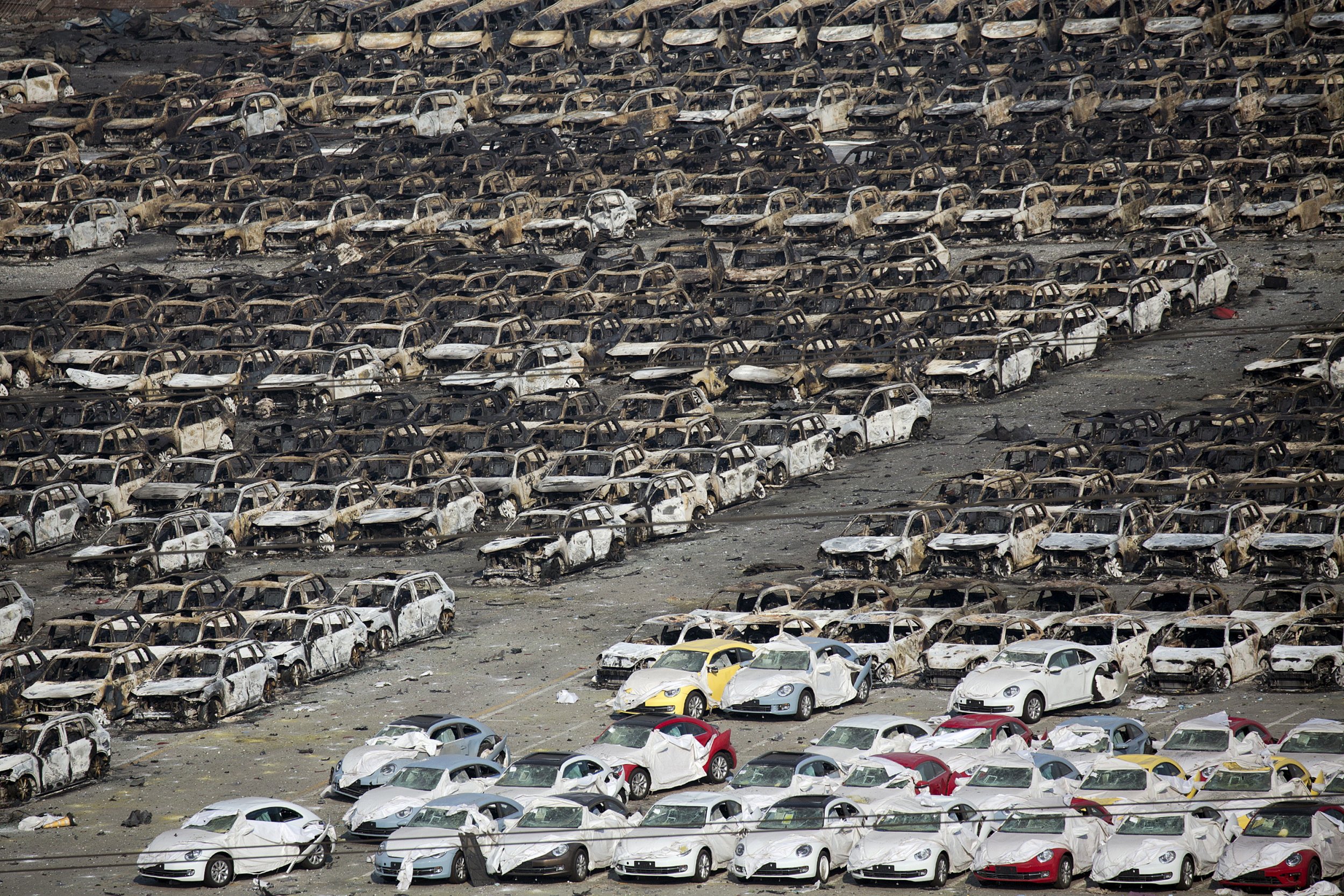 SHANGHAI (Reuters) - A Chinese company that specializes in handling dangerous goods and owns the Tianjin port warehouse where two massive explosions killed dozens of people violated packaging standards during a safety inspection two years ago, the safety bureau said.
Of 4,325 containers owned by Tianjin Dongjiang Port Ruihai International Logistics that were checked, five failed the inspection because packaging was sub-standard, the Tianjin Maritime Safety Administration said.
A warehouse belonging to Ruihai Logistics has been identified by the official Xinhua news agency as the site of the explosions late on Wednesday that were so large, they were seen by satellites in space.
The administration examined thousands of containers owned by Ruihai Logistics, which describes itself as a government-approved firm specializing in handling "dangerous goods", and four other companies, according to a report posted on the administration's website in January last year.
The report said it had inspected more than 14,000 containers in total and found that 29 from the five firms had failed the packaging checks, with the main problem being inappropriate "danger" labeling.
The inspection report did not provide further details about what was wrong with the packaging.
The state-backed China Daily newspaper said Ruihai Logistics was a private company and that its manager had been detained by police.
Reuters was unable to independently verify this information. An official with Tianjin police declined to comment and referred Reuters to the Binhai New District government. Calls to the Binhai New District government were not answered.
According to a report by government environmental inspectors in 2014, the facility was designed to store several dangerous chemicals including sodium cyanide, classified as "extremely harmful", as well as chemicals including explosives sodium nitrate and potassium nitrate.
Phone numbers listed on the firm's website were disconnected on Thursday and an email to the company went unanswered.
Founded in 2011 in the Dongjiang Free Trade Port Zone section of Tianjin, Ruihai Logistics oversaw a 46,000-square-metre facility that housed warehouses for storing and distributing hazardous materials, according to its website which had become inaccessible by Thursday morning.
It said it handled one million tonnes of cargo annually and has yearly revenues of at least 30 million yuan ($4.7 million).
The cause of Wednesday's blasts was unknown but industrial accidents are not uncommon in Chinafollowing three decades of breakneck economic growth. A blast at an auto parts factory in eastern Chinakilled 75 people a year ago when a room filled with metal dust exploded.
Xinhua said 1,000 firefighters and more than 140 fire engines had struggled to contain the blaze at the warehouse.
"The volatility of the goods means the fire is especially unpredictable and dangerous to approach," it said.