Oxford-AstraZeneca COVID Vaccine Hailed by Scientists As 3 Billion Doses Could Be Rolled Out Next Year
Scientists and lawmakers have welcomed news that the COVID-19 vaccine being developed by British-Swedish pharmaceutical giant AstraZeneca and Oxford University is reportedly "highly effective" against the disease.
Dr. David Nabarro, one of six World Health Organization special envoys on COVID-19, welcomed the announcement, which was made on Monday and based on early evidence from a large-scale clinical trial.
"It's wonderful news, it really is. Lots of features about this vaccine that make us feel super-happy," Nabarro told Sky News. "First of all it's a vaccine that can be stored at fridge temperature for longer periods."
"It's a vaccine that has high effectiveness in one of the dosage regimes that have been tried out. Fifty thousand volunteers have been involved in developing it. According to the reports, there aren't major safety challenges. All I can say to the people involved is thank you, thank you for what you've done. So important."
AstraZeneca says it is making "rapid progress" in manufacturing and may be able to produce up to three billion doses of the vaccine in 2021, pending regulatory approval.
British Prime Minister Boris Johnson was among those hailing the announcement on Monday, saying in a tweet: "Incredibly exciting news the Oxford vaccine has proved so effective in trials. There are still further safety checks ahead, but these are fantastic results. Well done to our brilliant scientists at @UniofOxford & @AstraZeneca, and all who volunteered in the trials."
On Monday, AstraZeneca and Oxford University announced interim data from a large Phase III vaccine trial, indicating its COVID-19 candidate is "effective at preventing COVID-19 and offers a high level of protection."
Despite the promising results, it is important to note that the Phase III trial has yet to be completed—and until the final results from the study are published and peer-reviewed, we won't be able to accurately assess the findings.
AstraZeneca and Oxford tested two different dose regimens in their study: one group was given a half dose followed by a full dose, while another was given two full doses.
In the latter group, the vaccine was found to be 62 percent effective, but, intriguingly, in the former efficacy rose to around 90 percent. When combining data from the two dosing regimens, Oxford said the vaccine is 70.4 effective.
"This is good news, even if not as exciting as the news from the mRNA vaccines," Stephen Evans, a professor from the London School of Hygiene & Tropical Medicine, said in a statement, referring to vaccines being developed by Pfizer and Moderna respectively that have been reported to be around 95 percent effective.
Just a few weeks ago, a COVID-19 vaccine candidate with more than 50 percent efficacy would have been considered a success. This figure is important to regulators as it represents the minimum threshold for effectiveness.
The graphic below, provided by Statista, shows the effectiveness of the top COVID-19 vaccine candidates.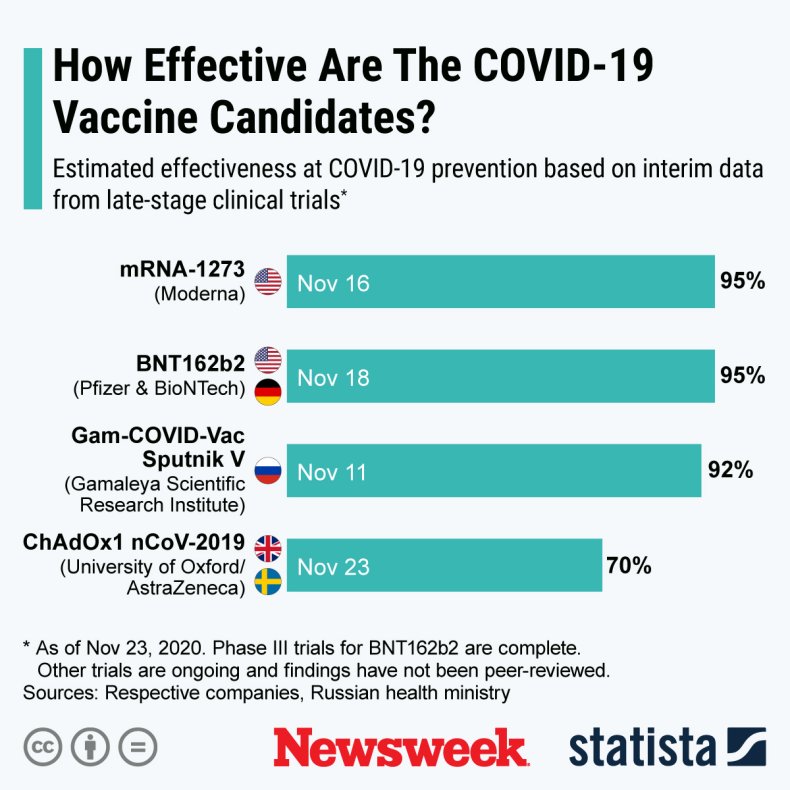 "There is little doubt that these data meet the criteria, based on numbers alone, for regulatory approval. Regulators will scrutinize all the detailed data before giving approval," Evans said.
Stephen Griffin, an associate professor from the School of Medicine at the University of Leeds, U.K., described the news as "tremendously exciting," given that one of the dose regimens appeared to generate 90 percent protection.
"Given the favorable stability seen for this vaccine, it has great potential to be delivered across the globe, achieving huge public health benefits," Griffin said in a statement.
"The overall figures are slightly reduced as they represent two dosing schedules combined, but this is simply a matter of sticking to the more efficient regimen. It may seem confusing that a higher initial dose gives a less favorable response, but this may just be due to a residual response in some patients to the disabled 'vehicle' chimpanzee adenovirus used to deliver the vaccine 'payload,' easily fixed by using the adjusted dose."
"Whilst we are all eagerly awaiting the full data, including efficacy across age groups, vulnerable patients and whether infection is prevented compared to severe symptoms, we can all be encouraged by yet another leap forward in the strategy to deal with this pandemic. Nevertheless, whilst this prepares us for the next potential wave of infection, we must remain vigilant and resilient during the ongoing crisis."
AstraZeneca's CEO, Pascal Soriot, said today marks an "important milestone" in the battle against the virus.
"This vaccine's efficacy and safety confirm that it will be highly effective against COVID-19 and will have an immediate impact on this public health emergency," he said.