Oxford Dictionaries Word of the Year Is Not a Word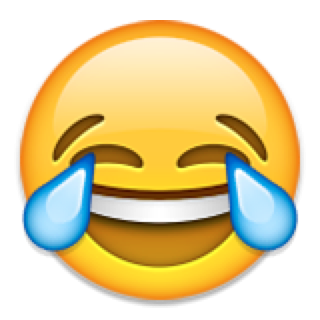 Last year it was vape. The year before that, it was selfie. Every year since 2004, Oxford Dictionaries has selected an official word of the year which, according to its Monday press release is "a word or expression chosen to reflect the passing year in language."
This year, candidates included lumbersexual, on fleek and refugee, but the winner turned out not to be a word at all, at least not in the traditional sense. Instead, Oxford Dictionaries chose an emoji whose verbal description is "face with tears of joy."
"You can see how traditional alphabet scripts have been struggling to meet the rapid-fire, visually focused demands of 21st century communication," Casper Grathwohl, president of Oxford Dictionaries, is quoted as saying in the release.
"It's not surprising that a pictographic script like emoji has stepped in to fill those gaps—it's flexible, immediate, and infuses tone beautifully. As a result emoji are becoming an increasingly rich form of communication, one that transcends linguistic borders," he added. "They can serve as insightful windows through which to view our cultural preoccupations, so it seemed appropriate to reflect this emoji obsession by selecting one as this year's 'word' of the year."
To determine which emoji would be named "word" of the year, Oxford partnered with SwiftKey, the mobile technology company behind the SwiftKey Keyboard app. According to SwiftKey research on emoji usage, the "face with tears of joy" emoji was the most commonly used around the world this year, including in the U.S. and U.K., where Oxford declares an annual word of the year. (The U.S. and U.K. words of the year are sometimes the same—like in 2013 and 2014—and other times are separate. In 2012, for example, the U.K. word of the year was omnishambles, while the U.S. winner was "GIF (verb)."
Every year, Oxford's selection team—composed of lexicographers and consultants to the dictionary team, and editorial, marketing, and publicity staff—discusses several options and selects a word, expression or in this case, emoji, "that is judged to reflect the ethos, mood, or preoccupations of that particular year." The 2015 shortlist included (definitions according to Oxford Dictionaries press release):
ad blocker, noun: A piece of software designed to prevent advertisements from appearing on a web page.
Brexit, noun: A term for the potential or hypothetical departure of the United Kingdom from the European Union.
Dark Web, noun: The part of the World Wide Web that is only accessible by means of special software, allowing users and website operators to remain anonymous or untraceable.
lumbersexual, noun: a young urban man who cultivates an appearance and style of dress (typified by a beard and checked shirt) suggestive of a rugged outdoor lifestyle.
on fleek, adjective (usually in phrase on fleek): extremely good, attractive or stylish.
refugee, noun: A person who has been forced to leave their country in order to escape war, persecution or natural disaster.
sharing economy, noun: An economic system in which assets or services are shared between private individuals, either free or for a fee, typically by means of the Internet.
they (singular), pronoun: Used to refer to a person of unspecified sex.
But "face with tears of joy" won out over the rest of the shortlisted candidates as the 2015 "word" of the year for both the U.S. and the U.K.
"The Face With Tears of Joy emoji has been in the top 10 emojis viewed on Emojipedia for the entirety of 2015," Emojipedia founder Jeremy Burge tells Newsweek via email. "Even with new emojis like the Hugging Face entering the top 10, the laughing-crying emoji seems to be a crowd favorite."