Oxford Police, Prosecutor Face Criticism for Allowing School Shooter's Parents To Get Away
The Oakland County prosecutor and local law enforcement have faced criticism after the parents of the Oxford High School shooting suspect left town following the shooting.
James and Jennifer Crumbley were reportedly labeled as "fugitives" by county officials after they left Oxford. Police had been attempting to arrest the pair on involuntary manslaughter charges after their son, 15-year-old Ethan Crumbley, allegedly killed four students during a mass shooting.
Oakland County prosecutor Karen McDonald announced the charges and issued a fugitive warrant for the pair, but the Crumbley's lawyers insisted that they weren't on the run, despite not having actually talked to them.
"On Thursday night we contacted the Oakland County prosecutor to discuss this matter and to advise her that James and Jennifer Crumbley would be turning themselves in to be arraigned," a statement from attorneys Shannon Smith and Mariell Lehman read. "They are not fleeing from law enforcement despite recent comments in media reports."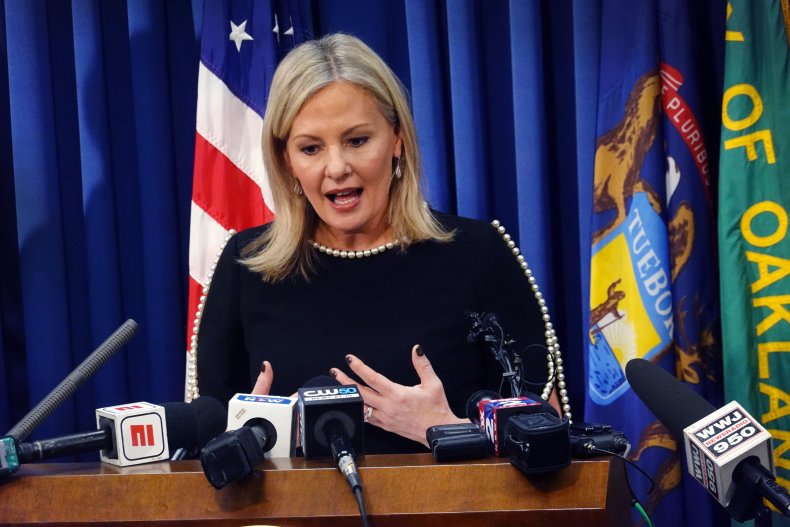 The couple had allegedly left Oxford during the night out of concerns over their safety, their attorney added, but it is not clear if their lawyers knew where the pair went. The Crumbleys had turned off their cell phones and had reportedly withdrawn $4,000 cash from their bank account, officials told CNN.
As the hours went on and no sign of the parents could be found, a massive law enforcement response ensued in an effort to locate the pair. This included the Federal Bureau of Investigation (FBI), numerous local police units, and the U.S. Marshals.
Across social media and news outlets, criticism was lobbed at the prosecutor's office as well as the law enforcement manhunt. Many questioned how the parents of a suspected school shooter could evade detection for so long.
Journalist Tariq Nasheed seemed to express doubt over the parents' story, tweeting "now the parents of the school shooting terrorist are 'missing'".
NBC News National Security Contributor Frank Figliuzzi asked if the investigation could "get anymore screwed up." He also criticized Karen McDonald after she held a press conference announcing charges against the Crumbleys despite the manhunt still being underway.
Figliuzzi questioned why charges against the parents were announced before they were in custody.
Although McDonald defended her actions, the press conference was also harshly criticized by CNN legal analyst Jeffrey Toobin.
Additionally, CNN senior law enforcement analyst Andrew McCabe stated on Anderson Cooper 360 that "press conferences are not done until after people are in custody."
"It's confounding that [prosecutors] would make a move like that without already having their hands on those two," McCabe continued.
Another tweet from author and spiritualist Ariaa Jaeger noted the apparent lack of coordination from the FBI, who lost track of the Crumbleys just months after a nationwide manhunt for Brian Laundrie, a suspect in his fiancée Gabby Petito's murder. Jaeger asked if anyone else felt that the bureau was "completely broken."
Oakland County Sheriff Michael Bouchard, when asked if the Crumbley parents were missing, simply said, "correct."
Newsweek has reached out to the Oakland County prosecutor's office for comment.