School Officials Met With Alleged Gunman's Parents Morning of Shooting for Behavior Issues
Oakland County Sheriff Michael Bouchard said during a Wednesday press conference that the parents of the suspect in Tuesday's shooting incident at Oxford High School had met with school officials on Tuesday morning.
Bouchard said the parents were called in over a behavioral issue with the suspect, who was identified as Ethan Crumbley by Oakland County Prosecutor Karen McDonald earlier on Wednesday. Bouchard said Crumbley was called in to join the meeting with his parents and school personnel.
Bouchard also said Crumbley had previously met with school officials the day before over some "concerning behavior." He also noted that the two meetings were for separate issues.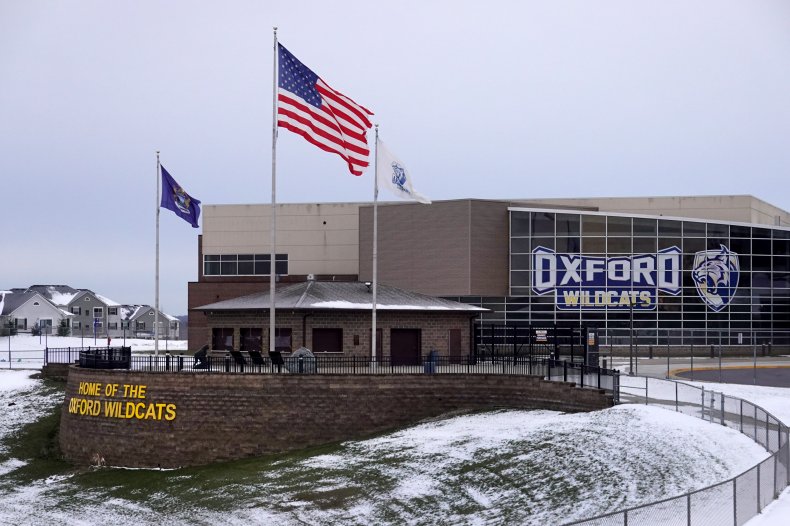 Bouchard said police were not aware of these meetings until after the shooting. The sheriff added he could not go into further details about the meetings because they are part of the investigation.
As indicated by the sheriff's remarks, Crumbley reportedly had been at the school before the alleged shootings and had allegedly brought the handgun to school with him. Bouchard also provided further details of the moments before the shooting spree began, saying Crumbley allegedly had gone inside a school bathroom immediately before the attack. Upon exiting the bathroom, Bouchard said he allegedly opened fire.
Bouchard said all the shootings transpired in school hallways, and the suspect reportedly never went into any rooms. A video reportedly shot inside a classroom during the incident that is circulating online appeared to indicate someone was knocking on classroom doors, but the sheriff said the person knocking was not Crumbley. Instead, that person was "more than likely" a plainclothes detective, he added.
No possible motive has been identified by Bouchard or McDonald.
"There is nothing that he could have faced that would warrant senseless, absolutely brutal violence on other kids," Bouchard said when asked about a motive.
"I have also asked the school if they had any records of him being bullied," Bouchard continued. "The coordinator of anti-bullying programs had no information that he didn't been bullied by anyone."
In regards to the victims, Bouchard said there was "no indication that these these students were specifically targeted."
McDonald had announced during her press conference that Crumbley, 15, will be charged as an adult with terrorism and first-degree murder.
Three students were initially killed during Tuesday's shooting. They were identified as Hana St. Juliana, 14; Madisyn Baldwin, 17; and Tate Myre, 16. A fourth student, 17-year-old Justin Shilling, died at about 10 a.m. on Wednesday.
Six other students and one teacher were also wounded during the shooting. Three were treated at a hospital and have since been released.
Update 12/01/21 4:40 p.m. ET: This story has been updated to include more comments from Sheriff Bouchard's press conference.